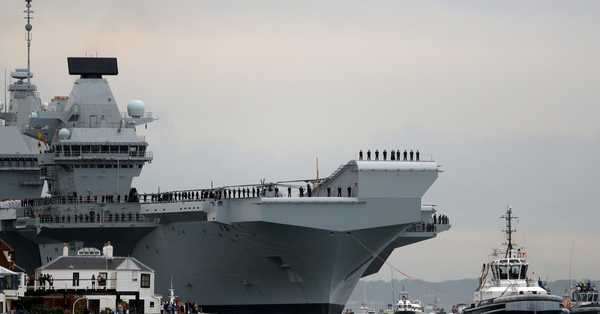 HMS Elizabeth is stationed on the Iraq-Syria border
The UK's HMS Queen Elizabeth Carrier Strike Group will participate in a full spectrum exercise with the Indian Navy to crack down on China in the Indo-Pacific region. This war exercise will be conducted in the Bay of West Bengal in July next month under the Konkan War Games. During this, the UK will deploy its first 65 thousand ton warship in the South China Sea.
India and the UK have decided to cooperate military in the Indo-Pacific to ensure 'Freedom of Navigation' in the South China Sea. Earlier, the Indian Navy exercised with the USS Ronald Reagan Carrier Strike Group off the Goa coast on 23-24 June. The reason for this was the return of the Nimitz-class warship before its operational deployment to the South China Sea.
HMS Elizabeth is stationed on the Iraq-Syria border
HMS Elizabeth is currently deployed on the Iraq-Syria border with a stealth fighter of the UK and US F-35B as part of the Anti-ISIS operation. This includes frigates and submarines from both the countries apart from the Netherlands. The warship left the UK on 22 May for navigation operations in the South China Sea. He will be posted for 28 weeks.
The date of the Konkan War Games is not fixed
here, the dates of the exercises in Konkan are being decided. The Carrier Group will conduct combat exercises with Indian submarines, P81 Anti-Submarine Warfare Planes and MiG-29K fighters around the Andaman and Nicobar Islands. Indian aircraft carrier INS Vikramaditya is undergoing maintenance. It will be taken out of deployment in 2021. Apart from this, before going to Britain, Elizabeth Carrier Strike Group will participate in the Tri-Service Exercise in the Arabian Sea with the Indian Armed Forces in October. This too will be held for three days.
Can do 100 attacks in a day
The cost of building HMS Elizabeth Warship was 30 thousand crores. Its length is more than the 'House of Parliament'. It weighs 65,000 tons (equivalent to 376 blue whales). It can carry out 108 air strikes in a day. The use of HMS Illustrius began after it was discontinued in 2014. HMS Queen Elizabeth was built at Portsmouth, Hampshire County, UK.

Indian Navy Conduct maneuvers with UK Navy with HMS Queen Elizabeth Warship in south China Sea.- Published by The Beyond News (Breaking News).