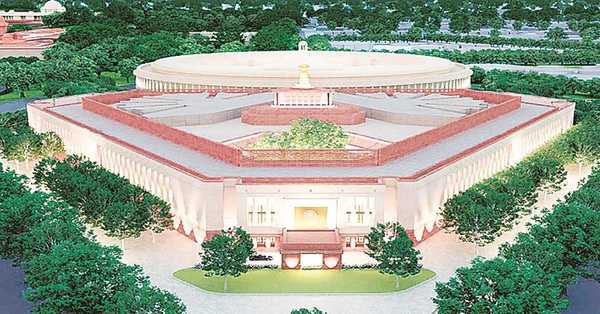 On Thursday Prime Minister Narendra Modi will perform Bhoomipujan of the new building of Parliament House in Delhi on Thursday.
Lok Sabha Speaker Om Birla had invited the Prime Minister. He also said that on the completion of 75 years of independence of the country in 2022, we will begin the session of both houses in the new Parliament House. 

The new building will have around 888 seats for Lok Sabha MPs and over 326 seats for Rajya Sabha MPs. A total of 1,224 ministers will be able to sit together in the Parliament. 
on December 7 on the manner of the Central Vista project of the new Parliament House. Hearing the petitions filed in the case, the Supreme Court had said that no construction, sabotage or tree cutting should be done under the Central Vista Project until the final verdict on the pending applications is heard.
was told by officials in September that the new building was designed in the Triangle shape. It will be built near the existing premises. approx budgets is Rs 861.90 crore. Tata Projects Limited took responsibility of making it. 

Larsen & Toubro (L&T), the country's largest engineering company, bid for Rs 865 crore. At the same time, a cost of Rs 940 crore was reported by the Central Public Works Department (CPWD). At last, the bet was won by Tata. 

Parliament House was built under the British rule. It was designed by Edwin Lutyens and Herbert Baker. He also did construction and planning of New Delhi. The Parliament House in round shape is one of the finest buildings in India. A statue of Mahatma Gandhi is built in front of it. In the same way, there are many more.