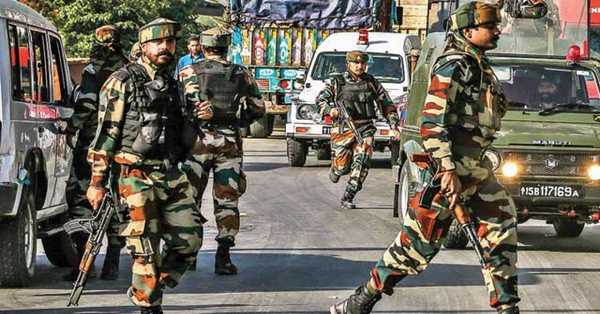 The terrorist opened fired in Jammu and Kashmir's shrinagar and killed Security guard on Monday morning.
Militants attacked the place of PDP pioneer Haji Pervez Ahmed in Natipora zone of ​​Srinagar on Monday. Parvez Ahmed's safety officer Manzoor Ahmed was shot in the assault. He kicked the bucket while going through treatment in the clinic. Police have cordoned off the territory and begun looking for psychological militants. Haji Parvez Ahmed has said that he has been gone after for the third time on the assault.
Suspected aggressors on Monday gave dead an individual safety officer of Peoples Democratic Party pioneer Haji Parvaiz Ahmad in Natipora zone of Jammu and Kashmir's Srinagar city.
Two assailants started shooting at constable Manzoor Ahmad and harmed him as he was attempting to secure the PDP pioneer, the Hindustan Times revealed. The constable was confessed to Bone and Joints Hospital, Srinagar, where he surrendered to his wounds, the police said.
The occurrence is the most recent in a progression of such assaults on regular citizens and security faculty. On December 9, five regular folks were harmed in a projectile blast at the fundamental market in the Singhpora neighborhood of Pattan in north Kashmir's Baramulla locale. A cop and a regular citizen were harmed on December 6 in cross-terminating after an experience broke out among assailants and security powers in Srinagar.
On December 4, unidentified attackers took shots at a possibility for the District Development Council surveys at Sagam Kokernag zone in Anantnag locale during the second period of casting a ballot. Anees-ul-Islam Ganie was challenging as an Independent from the Sagam electorate in Anantnag.
Two security power faculty were slaughtered in an associated assailant assault on the edges with Srinagar on November 26.
"In an aimless terminating by fear mongers, Manzoor Ahmad, Personal Security Officer of a PDP pioneer got harmed at Natipora in Srinagar. He has been moved to medical clinic. Region has been cordoned off. Further subtleties will follow," the Kashmir Zone Police prior tweeted.
2 psychological militants slaughtered in Poonch On Sunday, security powers killed 2 psychological oppressors of Jammu and Kashmir Ghaznavi Force in Poonch. Gotten a fear based oppressor. The names of the killed psychological oppressors were Sajid and Bilal. Insight reports uncovered for the current year that the Ghaznavi power has been set up by the Jaish-e-Mohammed, a Pakistan-based fear monger association, which incorporates psychological oppressors preparing for assaults like Pulwama