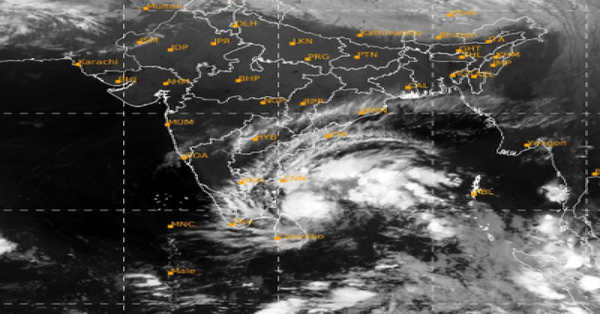 The India Meteorological Department (IMD), which had said prior that Cyclone Nivar planned to make landfall at night, refreshed the estimate to late Wednesday in its 6am notice
Cyclone Nivar is may touch land on Wednesday evening and is likely to pass Tamil Nadu and Puducherry coasts between Karaikal and Mamallapuram with a wind speed of 120-130 kmph, gusting up to 145 kmph. Authorities in Tamil Nadu and Puducherry, which are expected to take the brunt of cyclone Nivar, said precautionary measures were being taken while the central government assured all essential help.
Puducherry CM V Narayanasamy on Wednesday advised people to stay in home and asked those living in low-lying areas to go to safe places. "Eighty centres have been identified where food and medicines are being provided. We shall restore electricity within 12 hours," he said.
The Government of Tamil Nadu has declared a public holiday today, with only important services expected to run on time. Moreover, a public holiday has been declared on Thursday in 13 districts of Tamil Nadu, while the Puducherry government has declared a public holiday for public and private schools till Saturday.
Heavy to very heavy rain is likely at isolated places over Thanjavur, Tiruvarur, Nagapattinam,Cuddalore, Chennai, Kanchipuram,Chengalpattu, Myladuthirai, Ariyalur, Perambalur, Kallakurchi, Villupuram, Tiruvannamalai Dist of Tamil Nadu, Puducherry and Karaikal, the Met department has said. Vellore, Ranipet, Tiruvallur, Tirupattur, Krishnagiri, Tiruchirapalli, Salem and Dharmapuri districts of Tamil Nadu are also likely to witness heavy rain, it added. 
Mamallapuram experienced strong winds ahead of the expected landfall of Cyclone Nivar between Karaikal and Mamallapuram during midnight Wednesday or early hours Thursday.