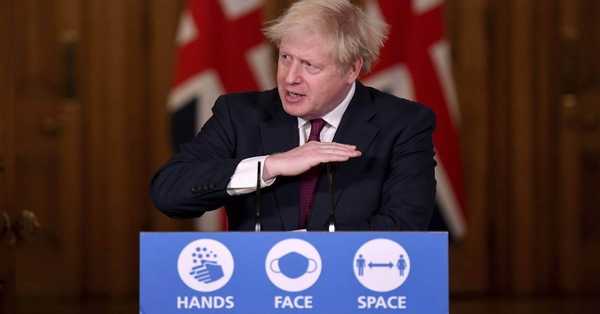 Primary and secondary schools are closed and hospitality places as well
England try to prevent against NHS by a surge in covid 19 and new strain, governent put a strict lockdown in every nation under UK. 
Primary and secondary schools will close to almost all pupils, and people will be instructed to stay at home.
Northern Ireland, Scotland and Wales are also under lockdown, with schools in Scotland closed until at least the end of January.
Rules of lockdown
Schools:
People in England will have to stay at home and only go out for essential reasons. Primary and secondary schools will move to online learning for all pupils apart from vulnerable and keyworker children.
Reasons to leave home include:
Work or volunteering where it is "unreasonable" to work from home. This includes work in someone else's home, such as that carried out by social workers, nannies, cleaners and tradespeople
Education, training, childcare and medical appointments and emergencies
Exercise outdoors (limited to once a day). This includes meeting one other person from another household in an open public space to exercise
Shopping for essentials such as food and medicine
Communal religious worship
Meeting your support or childcare bubble. Children can also move between separated parents
Activities related to moving house
Hospitality and Hospitals:
Those who are clinically extremely vulnerable will be advised to limit the time they spend outside the home. They should only go out for medical appointments, for exercise, or if it is otherwise essential, the government says, and not for work or education purposes.
International travel, or travel around the UK is only permitted for essential reasons.
Hospitality businesses such as pubs and restaurants and non-essential shops must close, as must indoor and outdoor sports facilities including gyms and tennis courts.
Essential businesses and services can stay open to the public. These include:
Supermarkets, food shops, pharmacies and garden centres
Places of worship
Petrol stations and MOT services
Laundrettes
Banks and post offices
Doctors and dentists' surgeries and vets
Car parks, public toilets and playgrounds
Restrictions in Scotland:
Scotland has its own restriction levels - from zero to four.
On Boxing Day, mainland Scotland went into a level four restrictions, while Orkney, Shetland, the Western Isles and other island communities are in level three.
From midnight on 4 January, the mainland will move to "enhanced level four restrictions" until at least the end of the month. During this time, schools will be closed to almost all pupils, First Minister Nicola Sturgeon says. The islands will stay in tier three.
From midnight on 4 January, all of mainland Scotland is under enhanced level four, or lockdown:
Nursery, primary and secondary schools will close to all but vulnerable pupils and the children of key workers until February. Learning will move online
People should only leave home for essential reasons such as caring responsibilities, essential shopping, exercise or seeing their extended household
Those who are shielding should not go into work, even if they cannot work from home
A maximum of two people from up to two households can meet outdoors (under-11s are not included in the limit and can play together outside)
Places of worship will close except for weddings (up to five people) and funeral services (up to 20 people). Wakes are not allowed.
The definition of an essential business will be tightened with premises such as ski centres, large retail showrooms, and cosmetic clinics required to close
Restaurants, cafes, pubs and bars must close - but takeaways can operate as normal
Holiday accommodation must close - but hotels, B&Bs and self-catering can open for essential customers (such as people staying for work)
Hotels and other accommodation providers can serve food up to 10pm to guests
Only essential shops can open, and must follow Covid-safe guidelines.
Homeware stores and garden centres must close
Click and collect, online services can open
Hairdressers, nail salons and other close contact services must close
Indoor sports facilities, including gyms, must close
You can meet others outdoors for informal exercise or sport - outdoor gyms can remain open
Outdoor non-contact sports are permitted
Leisure and entertainment premises, including cinemas, must close
Film and TV production can continue
Public buildings, such as libraries, must close - but libraries can operate click and collect
Places of worship can open with social distancing and a maximum 20 people
Wedding ceremonies and civil partnerships, are allowed with social distancing and a maximum 20 people
Wedding receptions are not allowed
Funerals and wakes can take place with a maximum of 20 guests