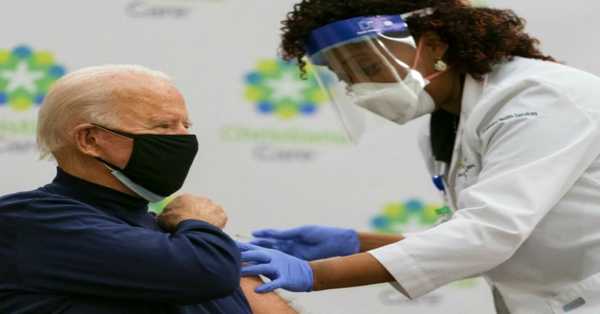 Amid fears over rising cases and vaccination in the US, President Elect Joe Biden introduced the first dose of the publisher Pfizer vaccine. Later on, be unperturbed, it is absolutely safe. A few hours before Biden's vaccination, his wife, Jill, also made vaccination.
President-elect Joe Biden will receive his first dose of the coronavirus vaccine on live television as part of a growing effort to convince the American public the inoculations are safe. Monday's event will come the same day that a second vaccine, produced by Moderna, will start arriving in states, joining Pfizer's in the nation's arsenal against the corona virus, which has now killed more than 317,000 people in the United States and upended life around the globe.
The US President Elect Joe Biden introduced the Pfizer company's vaccine on yesterday. This biggest leader of the Democrat Party was vaccinated in front of the cameras in mean of live and each and every can see that on the TV. Biden has just been given the first dose. A few days later, they will be given another dose. The date of the second dose will be decided by the medical team of the President Elect. When the vaccine was introduced, Biden told the medical team: "I am absolutely ready. After taking the first dose of the vaccine, he thanked the scientists and the team there. This is a great hope for us. Talking to media after a while, Biden said, "I want to assure everyone that there is no need to be afraid of vaccination. My wife, Jill, has already got this vaccine. You should trust your scientists and experts.
"What I want to say is we owe these folks an awful lot," Biden, donning a black mask, said after getting the shot at ChristianaCare Hospital in Newark, Delaware. "The scientists and the people who put this together, the front line workers, the people who were the ones who actually did the clinical work, it's just amazing. I wish we had time to take you through the whole hospital to see how busy and incredible you all are. And we owe you big. We really do."
Earlier on Friday, US Vice President Mike Pence received the Pfizer-BioNTech shot on live television, along with Surgeon General Jerome Adams to assure the people about the effectiveness of the vaccine. 
Israeli Prime Minister Benjamin Netanyahu received Covid-19 vaccination at Sheba Hospital in Tel Aviv, becoming the first  Israeli to be vaccinated with the Pfizer/BioNTech shot. The vaccination was shown live on Israel television as Netanyahu also became the first sitting prime minister publicly known to receive the Pfizer/BioNTech vaccine. Netanyahu was of the opinion that this small injection is a giant leap in the fight against the pandemic.