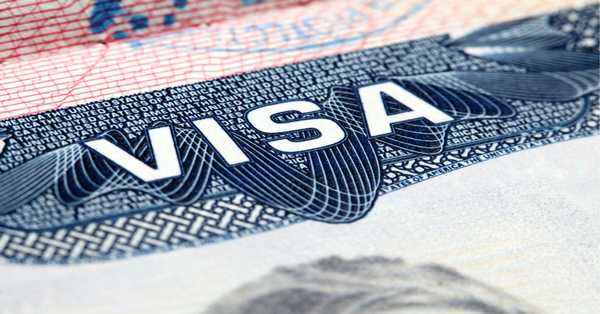 The new rules will take effect after 60 days and the next phase of the program will begin April 1
The United States has made changes to the H-1B visa selection process. American Citizenship and Immigration Services (USCIS) prioritizes salary and skill in H-1B visa selection. This would protect the interests of American citizens. Previously, the selection of this visa was done through lottery process.
The temporary employment program will further benefit foreign highly skilled professionals after the change in the rules. The H-1B visa selection process has been published in the Federal Register with new rules. The new rules will take effect in 60 days.
Joseph Adlow, USCIS's deputy director for policy, said employers were abusing the H-1B temporary visa program. They are using it primarily to fill primary level posts and reduce their business costs.
What is an H-1B visa?
The H-1B is a nonimmigrant visa, which allows American companies to hire foreign professionals in positions with specialized technical skills. Through this visa, companies in the technology sector hire thousands of employees every year from countries like India and China.
According to U.S. congressional rules, 85,000 H-1B visas are issued each year, of which 65,000 are issued to special occupants, while the remaining 20,000 are issued to foreign workers pursuing a master's or other equivalent degree from an American university.
Highlights of the new H-1B visa rule
Until now, H-1B work visas were processed through a random lottery system. It did not include salary, experience or other requirements. The biggest beneficiaries of this visa were Indian companies and Indian professionals.
The new rule will take effect 60 days after it is published in the Federal Register. The next phase of applying for the H-1B visa program will begin on April 1, 2021.
The new rule will only apply to H-1B visa registration. If the registration is canceled, the application will be applied only in the filing of those who have applied under H-1B cap.
American Citizenship and Immigration Services said the new rules would apply to both the H-1B regular cap and the H-1B advanced degree exemption. There will be no change in the order of selection in these two.
On April 1, 2020, USCIS (United States Citizenship and Immigration Services) received 2.5 million applications for H-1B work visas. Of this, 67 per cent or 1.84 lakh applications were made by Indians.
As soon as he took office as President of the United States, Donald Trump signaled a radical change in work visa rules. In November last year, the American House Judiciary passed legislation to raise the minimum salary for H-1B visa holders from 60 60,000 to 90 90,000 to marginalize Indian and Chinese companies.
Trump: India's friend or foe?
Considering himself a friend of India and Prime Minister Modi, Donald Trump has been making decisions in the name of 'America First' that hurt Indian immigrants. The decision, taken just a fortnight before his departure, is the fourth such decision he has made in the last one year.
Last year it imposed a 60-day ban on approval of all immigrant and nonimmigrant work visas, including H-1B.
In June 2020, he extended the ban until the end of 2020.
On August 5, 2020, Trump passed an executive order stating that from now on, no federal agency can employ H-1B visa holders and other foreign workers instead of American citizens or green card holders.
Within a week, however, he slightly modified the rule to allow certain H-1B visa holders to allow their American employer to work there.
In October, DHS (Department of Homeland Security) issued an interim order finalizing the current change, which is now published on January 8.
Tech companies oppose
changes to visa rules US bald technology companies have been protesting the Trump administration's policy of tightening H-1B visa rules. It also includes tech giants like Google, Facebook, Twitter, Microsoft. Of course, over time, Indian companies have reduced their reliance on US work permits, yet to a large extent, these companies are not spared without keeping the Indian brain in the field of technology.
H-1B visas are usually issued for three years. Eventually, the visa holders change jobs and continue to work for another company in the United States. In 2018-19, Google, Facebook and Apple hired more than 13,000 highly skilled IT workers with H-1B work visas. In addition to the new visas, they had already renewed the visas of employees working with other companies.