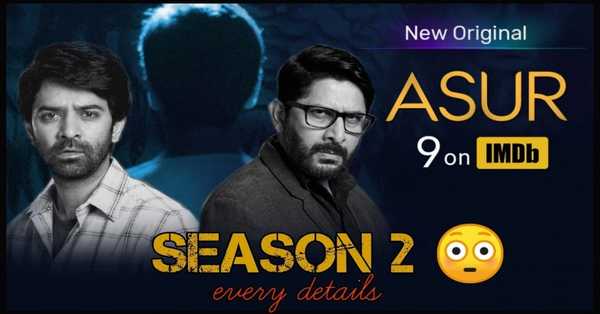 The first season of India's first mythological-thriller 'Asur' was appreciated. It is one of the top-rated Indian web series with an IMDb score of 8.4.
The popularity of streaming platforms witnessed a steep rise during the lockdown. During the lockdown, less popular streaming platforms like Voot, Zee5, and MX Player fetched huge viewership. At a time when the digital entertainment space was overcrowded, one show which has made its mark is Voot's mythological-thriller titled Asur. Starring Arshad Warsi and Barun Sobti, 'Asur' is a crime thriller that combines Hindu mythology with forensic science seamlessly.

Asur Season 2 Release Date: 
Asur is not only Voot's but one of the top-rated Hindi web series of 2020. It can be judged by the fact that the IMDb rating of the show is 8.4 (25000+ votes). Given the popularity, we are anticipating the second season to arrive sooner than expected.
As Arshad said that he will start filming in March. Considering that it takes four months to film and around two for post-production, we can expect Asur season 2 to release in the last quarter of 2021 or the first quarter of 2022.

Asur Season 2 Cast:
 
Arshad Warsi as Dhananjay Rajput
Barun Sobti as Nikhil Nair
Anupriya Goenka as Naina Nair
Ridhi Dogra as Nusrat Saeed
Amey Wagh as Rasool Shaikh
Pawan Chopra as Shashank Awasthi
Vishesh Bansal as Shubh

In the first season, we saw a cat and mouse game between a brutal serial killer and CBI team lead by forensic officer Nikhil Nair (Barun Sobti) and Dhananjay Rajpoot (Arshad Warsi). The second season promises more thrill as the game of "sur-asur" or good vs bad continues. In the first season, it became almost clear that Shubh (serial killer) is not alone. In the upcoming season, we may see the CBI team countering against a group of serial killers and criminals driven by some evil intentions.
 
Asur Season 2 Trailer & Teasers:
The trailer of the second season will release around a month before its premiere. 

Asur is one of the best crime-thriller in the Indian digital space. If you love thriller shows, Asur is a must-watch.

Asur Season 2 Web Series: release date, cast, story, teaser, trailer, first look, rating, reviews, box office collection and preview.. Published by - The Beyond News (Entertainment).