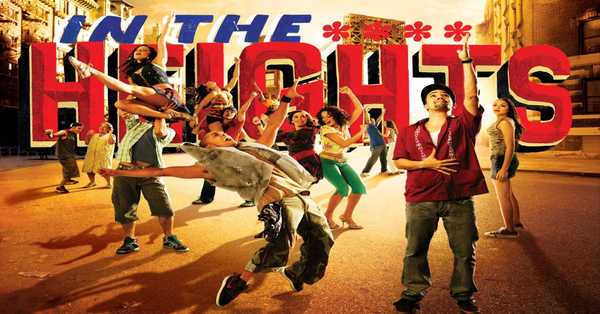 In the Heights was originally scheduled for release in 2020. With a new release, here's everything we know about the film adaptation of the musical.
"Hamilton" is arguably the most popular and influential musical to come out in the 21st century. Its fame only grew more exponentially when a stage performance of the Broadway musical was filmed and released on Disney+ in the summer of 2020. People who ordinarily wouldn't have had an opportunity to see the show could finally witness it in all of its glory, and it's all thanks to the brilliant mind of Lin-Manuel Miranda, but the thing a lot of people may not know about Miranda is that "Hamilton" is by no means his first musical. 
In The Heights Release Date: 
Mark a spot on the calendar because In the Heights will be released theatrically and to HBO Max June 18, 2021 — nearly a full year to the day of its originally scheduled debut. The film is one of many on the Warner Bros. slate, including Dune, that will be available for streaming on HBO Max, with the studio anticipating theatres will not be fully open yet and offering a way for audiences to continue watching big movies from the comfort of their homes. In the Heights will be available on the streaming service for 31 days after its initial release. 


In The Heights Cast:
* Anthony Ramos
* Corey Hawkins
* Leslie Grace
* Melissa Barrera
* Olga Merediz
* Daphne Rubin-Vega
* Gregory Diaz IV
* Jimmy Smits
In The Heights Movie 2021 Story Plot:
Ramos will play the main role of Usnavi, a character he also played during
In the Heights'
run at the Kennedy Center in 2018. Joining him will be Leslie Grace as Nina Rosario, Corey Hawkins as Benny, Melissa Barrera as Vanessa, Olga Merediz as Usnavi's grandmother Claudia (a role she originated in the
Broadway musical
), Daphne Rubin-Vega as Daniela, Gregory Diaz IV as Sonny de la Vega, Brooklyn Nine-Nine's Stephanie Beatriz as Carla, Russian Doll's Dascha Polanco as Cuca, Jimmy Smits as Kevin Rosario, and Marc Anthony as Mr. de la Vega. Miranda will also appear in a small role as Mr. Piraguero.  
In The Heights Trailer & Teasers:



In The Heights Movie 2021 Rating & Review: 

Review & Ratings will uploading soon.

Based on Lin-Manuel Miranda's 2008 Broadway musical, the film follows Usnavi (Ramos), a bodega owner with big dreams and a difficult decision to make regarding his store in Washington Heights. When his grandmother passes away, he inherits a sum of money, which he contemplates using to retire to the Dominican Republic. Miranda originated the role in the stage production, which won four Tony Awards, including Best Musical.
"It's a story of a block that was disappearing," Usnavi tells a group of neighbourhood children." In the barrio of Washington Heights, the streets were made of music." Taking place over three days in the neighbourhood, the story also explores immigration, with a reference to Dreamers in the trailer.

In The Heights Movie: release date, cast, story, teaser, trailer, first look, rating, reviews, box office collection and preview.. Published by - The Beyond News (Entertainment).