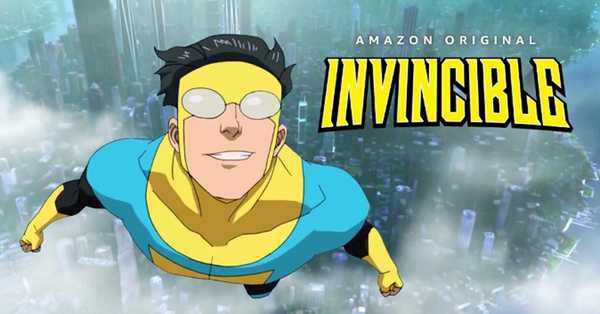 Invincible has been renewed for a season 2, and the comics provide a glimpse of what it might look like and where the story will go.
The new animated superhero show Invincible has just finished up season 1, and it has already been renewed for not only season 2, but a third instalment as well. Invincible has been a success for Amazon, garnering both critical praise and high viewership. These renewals show that Amazon has plenty of confidence in the show and its creators.

Invincible 2021 Release Date: 
Invincible is an American adult animated superhero television series, based on the Image Comics series of the same name by Robert Kirkman, which premiered on Amazon Prime Video on March 25, 2021 to critical acclaim.
 
Invincible 2021 Cast:

Mark Grayson/Invincible - Steven Yeun
Nolan Grayson/Omni-Man - J.K. Simmons
Debbie Grayson - Sandra Oh
Amber Bennett - Zazie Beetz
William Clockwell - Andrew Rannells
Cecil Stedman - Walton Goggins
Donald Ferguson - Chris Diamantopoulos
Damien Darkblood - Clancy Brown
The Mauler Twins - Kevin Michael Richardson
Art Rosenbaum - Mark Hamill

Invincible follows the story of teenager Mark Grayson (played by Steven Yeun) who after years of waiting finally develops superpowers inherited from his father Nolan, the world's most famous superhero Omni-Man (played by J.K. Simmons). Amazon's Invincible is based on the Image Comics series of the same name, created by Robert Kirkman, creator of The Walking Dead, and artist Cory Walker. The comic is known for blending heightened and silly superhero elements with adult drama and ultraviolence, and the Invincible show is aiming to capture that balance too.
 
Invincible 2021 Trailer & Teasers:



Details are scarce right now about Invincible season 2. Unlike other shows like Amazon's The Boys, Invincible was not renewed for second season before the first one debuted. The announcement came a day before the explosive finale aired, but little else has been said about it beyond that; however, certain details can be inferred by looking to the comics and what happened after Mark's devastating fight with Omni-Man.

Invincible 2021 TV Series: release date, cast, story, teaser, trailer, first look, rating, reviews, box office collection and preview.. Published by - The Beyond News (Entertainment).