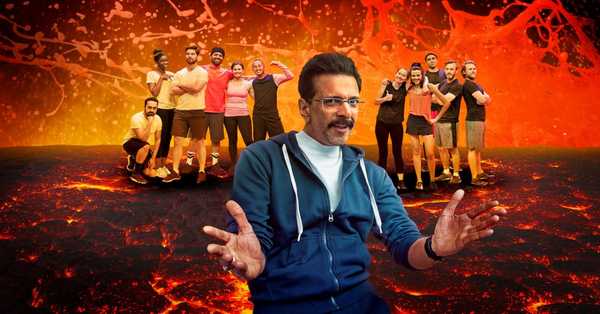 Actor Jaaved Jaferi is ready to present his signature humorous comedy to a brand-new show.
The ace dance judge and actor used to be the Hindi commentator on the hit Japanese game show, Takeshi's Castle. Now, Jaaved Jaferi is ready to take every 90s kid down memory lane with his brand-new Netflix show, Lava ka Dhaava. The upcoming Netflix show revolves around two teams who will face various physical challenges in every room that they enter. Just like Takeshi's Castle, Netflix's Lava Ka Dhaava episodes will also showcase obstacle course kind of sets for the contestants. But instead of falling into water or mud like the Japanese game show, the contestants will be eliminated if they fall in the make-believe lava.

Lava ka Dhaava Release Date: 
Lava Ka Dhaava is scheduled to release on Netflix on Wednesday, 5th May 2021.
5th May 2021 falls on the US national holiday National Hoagie Day. So, if you are in the US, get yourself a submarine sandwich and head to Netflix to watch Lava Ka Dhaava!

Lava ka Dhaava Cast:
Jaaved Jaaferi

The Floor is Lava is originally a children's game. Players pretend the floor is made up of lava and one must avoid touching the ground. The players stand on the furniture and are required to continuously move around as they pretend the piece of furniture will sink if they put weight on it for too long. Those who fall on the floor or touch it are out of the game.
Lava ka Dhaava Trailer & Teasers:
Viewers Can visit youtube for the trailer of the Lava ka Dhaava TV Show.

Jaaved Jafferi shared the Lava Ka Dhava trailer on his social media handles. Along with the trailer he wrote, "My new show. Lava ka dariya hai, aur doobne ka risk hai? Tayyar ho?" The announcement went viral in no time and fans flooded the post with plenty of comments. Most of these comments were about the show reminding them of Takeshi's Castle, and Jaaved Jaferi's iconic commentary.

Lava ka Dhaava TV Series: release date, cast, story, teaser, trailer, first look, rating, reviews, box office collection and preview.. Published by - The Beyond News (Entertainment).