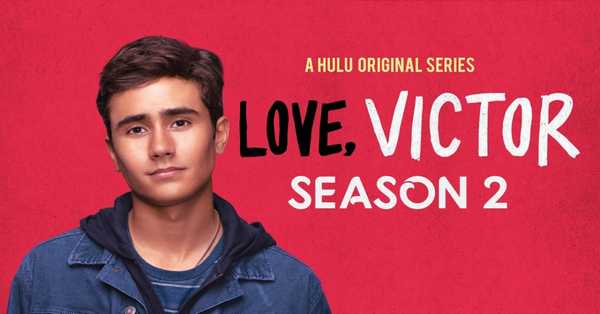 The "Love, Simon" spin-off series "Love, Victor" is officially returning for a second season - and may feature more characters from the original film.
The Hulu original series "Love, Victor" - a spin-off of the 2018 teen movie " Love, Simon" - wowed viewers when it premiered last June. The series will do the same with Love, Victor season 2, which is coming to the platform in time for Pride Month.

Love, Victor follows a similar premise to its predecessor, but this time the focus is on Victor Salazar, a high school student who recently moved from Texas to Atlanta, Georgia. He sees the move as a chance to find himself and define who he is - on his own terms.

But, like any coming-of-age story, his journey isn't easy. Victor questions his sexuality and is torn between his budding romance with the popular girl Mia Brooks and his developing feelings for his teenage dream Benji Campbell.

The course of love has never been smooth, but when a family with conservative views and meddling friends like Felix, Lake and Andrew are added to the mix, the sea of love gets pretty choppy. Luckily, Simon is there to help Victor figure out who he is and what he wants.

Love, Victor New Season 2021 Web Series Release Date: 

Season 2 of Love, Victor premieres Friday, June 11 on Hulu.


Love, Victor New Season 2021 Web Series Cast:
* Michael Cimino as Victor Salazar
* George Sear as Benjamin 'Benji' Campbell
* Rachel Hilson as Mia Brooks
* Nick Robinson as Simon Spier
* Anthony Turpel as Felix Weston
* Bebe Wood as Lake Meriwether
* Isabella Ferreira as Pilar Salazar
* Mason Gooding as  Andrew
* Ana Ortiz as Isabel Salazar
* James Martinez as Armando Salazar
* Mateo Fernandez as Adrian Salazar
* Lukas Gage as Derek
No official synopsis for Love, Victor season 2 has been released yet, but fans can expect to see the immediate aftermath of the cliffhanger they were left with in season one. Of course, that means the Salazars will be breaking new ground with both Isabel and Armando's breakup and Victor's coming out to his parents.
Victor will also have
to deal with the mess he caused by continuing his romantic relationship with Mia, despite knowing he's gay and has feelings for Benji. Unfortunately, she caught them kissing, which is sure to strain the possibility of a friendship between the two.
Not to mention, after finally expressing interest in each other, Victor and Benji will find out what a future together could mean. Love is in the air, but between his problems at home and embarking on his journey as an outed teen, Victor has a lot on his plate.
While the two look forward to finding out what happens between them, it's going to be a bumpy ride filled with mistakes.
Love, Victor New Season 2021 Web Series Trailer & Teasers: 



Love, Victor New Season 2021 Web Series: release date, cast, story, teaser, trailer, first look, rating, reviews, box office collection and preview.. Published by - The Beyond News (Entertainment).