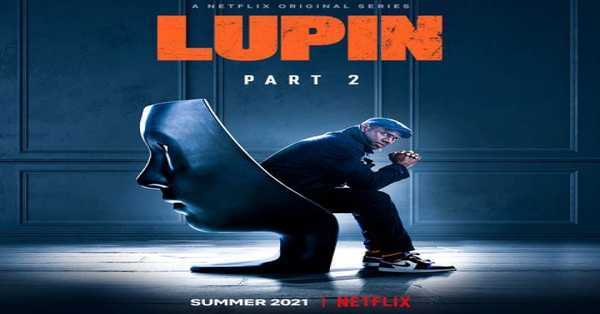 Netflix has shared the release date and first look at the continuation of the popular crime thriller.
The first five episodes of Netflix's Lupin debuted on Netflix on January 8, and the series quickly became the first French show to break into the streaming giant's U.S. Top 10. The fast-paced, winding heist plot set in Paris entertains, but it's the emotional backstory of the titular character that gives the show depth and heart. But the gripping tale of the suave gentleman burglar with a chip on his shoulder (Omar Sy) leaves us on a serious cliffhanger, and concludes with a screen that reads "It's Official: Part 2 is Coming Soon". Finally, we have a date.

Lupin : Part 2 Release Date: 
Netflix is releasing Lupin part 2 on Friday, June 11. 
According to the streamer's official synopsis, "Assane's quest for revenge against Hubert Pelligrini has torn his family to pieces. With his back to the wall, he now has to think of a new plan, even if it means putting himself in danger."

Lupin : Part 2 Cast:

Omar Sy
Vincent Londez
Ludivine Sagnier
Hervé Pierre
Soufiane Guerrab
Etan Simon
Nicolas Wanczycki
Shirine Boutella

In the series, French actor Omar Sy plays Assane Diop, a modern-day thief who models his life off Maurice Leblanc's iconic "gentleman burglar," Arsène Lupin. Found in books written in the early 20th century, think of Lupin as the equivalent to Sherlock Holmes in terms of cultural prominence, if not moral alignment. When new information comes to light about Assane's father's death in prison—and how, soon before, he was framed by his powerful employer, Hubert Pellegrini—Assane uses his skills for vengeance.
Lupin : Part 2 Trailer & Teasers:



Through five well-crafted episodes, Assane pulls off various exploits—from staging an impressive jewelry heist at the Louvre to kidnapping a police commissioner to interrogate his involvement in the cover-up—in an effort to get closer to exonerating his father and exposing Pellegrini's evil. He also painstakingly compartmentalizes his life, ensuring his ex-girlfriend Claire and their son Raoul remain ignorant of the perilous parts of his job, though Assane does attempt to bond with Raoul by introducing him to—and getting him hooked on—Arsène Lupin in much the same way his own father once ignited his passion for the novels.

Lupin : Part 2 Web Series: release date, cast, story, teaser, trailer, first look, rating, reviews, box office collection and preview.. Published by - The Beyond News (Entertainment).