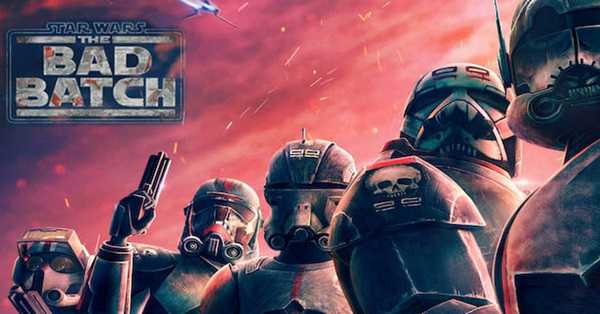 Star Wars fans are gearing up for the much-anticipated launch of The Bad Batch, the latest animated series from Lucasfilm that takes place in the dark days after the fall of the Republic.
The animated series premiered on Disney Plus and follows a group of clones who – as their name suggests – are far more wilfully-minded than clones in the Star Wars universe are designed to be.
Star Wars: The Bad Batch Release Date: 
Disney Plus has confirmed that Star Wars: The Bad Batch will debut with a 70-minute special episode on Tuesday, 4th May 2021. If you're wondering why the date is ringing a bell, well, it's Star Wars Day! Perfect timing – we see what you did there, Disney.
Star Wars: @TheBadBatch, an Original Series, arrives May the 4th on #DisneyPlus. #TheBadBatch pic.twitter.com/lfLp4bA0Jk

— Disney+ (@disneyplus) March 30, 2021
Star Wars: The Bad Batch Cast:
Dee Bradley Baker
Archie Panjabi
Michelle Ang
Ben Diskin
Matthew Wood
Freddie Prinze Jr.
Ian McDiarmid
Bob Bergen
Gwendoline Yeo
The main characters of Star Wars: The Bad Batch are the five clones who make up Clone Force 99. They are led by Hunter and the rest of its members are known as Wrecker, Tech, Crosshair, and Echo. Since they are all clones, Dee Bradley Baker provides the voice for each member, just as he's voiced the different clones in past animated Star Wars projects. Dee Bradley Baker will also provide the voice of Captain Rex, another clone who will appear in Star Wars: The Bad Batch. It is also known that
Ming-Na Wen will reprise her role from The Mandalorian as Fennec Shand
, while Stephen Stanton will voice Grand Moff Tarkin in yet another animated Star Wars show. Andrew Kishino voices Rogue One: A Star Wars Story's Saw Gerrera instead of Forest Whitaker returning to the role. The marketing has also shown that Emperor Palpatine will appear, but it is unknown if Sam Witwer will voice him again or if Ian McDiarmid will reprise his iconic role.
Star Wars: The Bad Batch Trailer & Teasers:



Star Wars: The Bad Batch continues Clone Force 99's story after the events of Star Wars: The Clone Wars season 7. The galaxy has just been taken over by the Empire, leaving the Bad Batch to try and figure out what their future holds. As exceptional soldiers due to their unique skills, each would be welcomed members of the Imperial Army. However, Star Wars: The Bad Batch will focus on them becoming mercenaries in the galaxy far, far away. This appears to include a visit to Kamino and recruiting a mysterious young kid named Omega to join their ragtag group.

Star Wars: The Bad Batch Web Series: release date, cast, story, teaser, trailer, first look, rating, reviews, box office collection and preview.. Published by - The Beyond News (Entertainment).