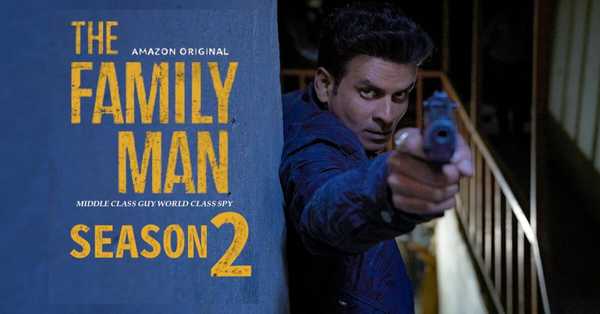 The Family Man 2 is all set to release on February 12. Here's everything you need to know about the Amazon Prime Video spy thriller, starring Manoj Bajpayee and Samantha Akkineni in the lead roles.
The official Family Man synopsis reads, "The Family Man is an edgy, action-drama series, which tells the story of a middle-class man, Srikant Tiwari, who works for a special cell of the National Investigation Agency. The series explores Srikant's tight-rope walk as he struggles to strike a balance between his secretive, low paying, high-pressure, high-stakes job and being a husband and a father. This is as much a satirical take on the geopolitics of the region as it is the story of a middle-class guy who is a world-class spy."

The Family man Season 2 Release Date: 
The Family Man season 2 was scheduled for release on Feb 12, 2021. However, due to controversy surrounding the other big show Tandav, Amazon Prime Video pushed the release indefinitely. As confirmed by directors Raj and DK, the show will premiere on Amazon Prime Video this summer.

The Family man Season 2 Cast:

Manoj Bajpayee
Priyamani
Samantha Akkineni
Sharib Hashmi
Neeraj Madhav
Pawan Chopra
Kishore Kumar G.
Sharad Kelkar
Gul Panag
Shreya Dhanwanthary
Sundeep Kishan
Shahab Ali
Mehek Thakur
Vedant Sinha

The Family man Season 2 Web Series Story Plot:

The Family Man 2 stars Manoj Bajpayee and Priyamani in the lead roles. The star cast includes Sharib Hashmi, Seema Biswas, Darshan Kumar, Sharad Kelkar, Sunny Hinduja, Shreya Dhanwanthary, Shahab Ali, Vedant Sinha and Mahek Thakur. Samantha Akkineni makes her digital debut with the show. The show's shoot was wrapped up in March 2020. The show also features an ensemble cast from Tamil cinema including Mime Gopi, Ravindra Vijay, Devadarshini Chetan, Anandsami and N Alagamperumal.
The Family man Season 2 Trailer & Teasers:


Srikant Tiwari (Manoj Bajpayee) will return to the sequel with his struggle to stop the chemical attack and balance his personal and professional life. He will be pitted against a new antagonist, Raji (Samantha Akkineni). Remember Moosa (Neeraj Madhav) who played the role of Srikant's nemesis in season 1? Well, Samatha will be occupying his position in the National Intelligence Agency but there are deeper secrets within her and a double-faced personality. Srikanth will also realise that Mission Zulfiqar. An uproar will be created in Srikant's life after he will get to know what transpired between Suchitra (Priyamani) and Arvind (Sharad Kelkar) in the hotel that night. Karim's girlfriend has got hold of the video which is a piece of important evidence in proving Karim innocent. Once the video releases on social media, TASC Srikant will be accused of killing an innocent person.

The Family man Season 2 Web Series Rating & Review: 

Yet to Release.

The Family man Season 2 Web Series: release date, cast, story, teaser, trailer, first look, rating, reviews, box office collection and preview.. Published by - The Beyond News (Entertainment).