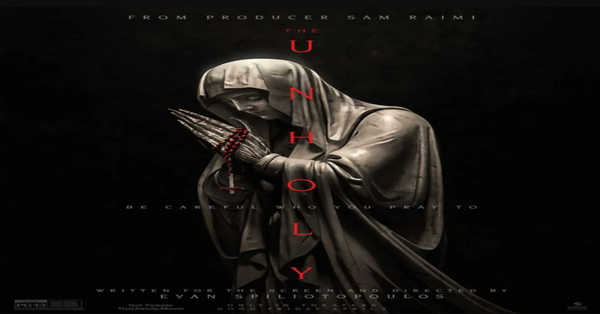 The Unholy Trailer: Jeffrey Dean Morgan Stars in Sony's New Horror Film
Sony Pictures' trailer for the new horror feature The Unholy teases a visitation from The Virgin Mary unlike any other. Evan Spiliotopoulos serves as writer-director in his feature directorial debut, with legendary horror icon Sam Raimi producing. Spiliotopoulos is known best for his screenplays, including his work on The Huntsman: Winter's War, Beauty and the Beast and the recent Elizabeth Banks-directed Charlie's Angels. The Walking Dead's Jeffrey Dean Morgan leads the film as a journalist investigating the works of a young woman performing holy miracles, with Katie Aselton, William Sadler, Diogo Morgado, Cricket Brown and Cary Elwes starring.
Release:
In March 2021, the film's new title was announced as The Unholy, along with a scheduled release date of April 2, 2021
Cast:
Jeffrey Dean Morgan as Gerry Fenn 

Katie Aselton as Natalie Gates 

William Sadler 

Diogo Morgado as Monsignor Delgarde 

Cricket Brown as Alice 

Marina Mazepa as Mary Elnor 

Christine Adams as Monica Slade 

Bates Wilder 

Cary Elwes as Bishop Gyles
Production 
On December 3, 2018, Deadline reported that Screen Gems and Sam Raimi would produce Shrine, a film adaptation of James Herbert's horror novel of the same name, with Evan Spiliotopoulos writing the script and making his directorial debut. On September 18, 2019, Jeffrey Dean Morgan was cast in the film. On November 12, 2019, Jordana Brewster joined the cast of the film. On February 27, 2020, Katie Aselton, William Sadler, Diogo Morgado, Cricket Brown, Marina Mazepa, Christine Adams, Bates Wilder and Cary Elwes joined the cast of the film, with Aselton replacing Brewster, and principal photography commencing in Boston, but on March 14, 2020, filming was suspended because of the COVID-19 pandemic.
Unholy Movie Teaser & Trailer:  


The Unholy starts with a young hearing-impaired girl named Alice (Brown) who can one day inexplicably hear, speak and heal the sick after a supposed visit from the Virgin Mary. A disgraced journalist (Morgan) hopes to revive his career by investigating this story. As terrifying events begin to escalate, he starts to question if these are the works of the Virgin Mary or something more sinister. 

The Unholy trailer sets up the premise nicely, with Morgan arriving in a New England town to report on a girl performing miracles after being blessed by the Virgin Mary. A lovely version of Schubert's "Ave Maria" plays in the background, but slowly becomes more and more menacing as ghastly events begin to occur. I am a sucker for the uncanny and gruesome imagery of Catholic horror movies — the bleeding Virgin Mary statues, shadowy nun figures, corrupt priests, and burning crosses. This certainly doesn't seem like a good movie to recommend to my mother, who is terrified by "devil stuff" — which means that it's right up my alley.

release date, cast, story, teaser, trailer, first look, rating, reviews, box office collection and preview.- Published by - The Beyond News (Entertainment).