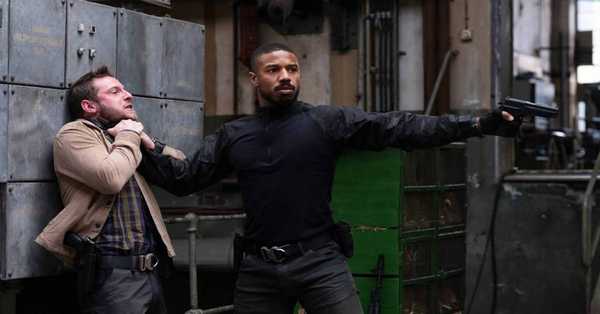 Tom Clancy's Without Remorse, or simply Without Remorse, is an upcoming American action thriller film directed by Stefano Sollima and written by Taylor Sheridan and Will Staples. It is based on the 1993 novel of the same name by Tom Clancy and a spin-off of the Jack Ryan film series.
Amazon has set a Prime Video release date for Without Remorse, the Tom Clancy thriller starring Michael B. Jordan, after acquiring the former theatrical release from Paramount Pictures. The announcement of the film's streaming debut comes just as Jordan's production banner Outlier Society has expanded its first-look deal with Amazon.
Amazon has finally revealed when we can see Michael B. Jordan go full Navy SEAL in Tom Clancy's Without Remorse. We got a brief reminder that Without Remorse would be coming soon to Amazon on Super Bowl Sunday with a steamy commercial for the new Alexa model starring Jordan. But, for the most part, updates about Without Remorse have been few and far between 2021.
Without Remorse Release Date: Amazon Prime Video has shared Without Remorse release date along with its first poster. It features Michael B. Jordan in a stealth suit holding a gun behind a wall that has bullet holes. Directed by Stefano Sollima, the screenplay is written by Taylor Sheridan and Will Staples. The movie also features Jamie Bell, Jodie Turner-Smith, Jack Kesy, Luke Mitchell, Brett Gelman, and Colman Domingo. Tom Clancy's Without Remorse release date is set for April 30, 2021, on the amazon prime video
Without Remorse:
Rating: R (Violence) 
Genre: Mystery And Thriller 
Original Language: English 
Director: Stefano Sollima 
Producer: Akiva Goldsman, Michael B. Jordan, Josh Appelbaum, Andre Nemec, David Ellison, Dana Goldberg, Don Granger 
Writer: Taylor Sheridan 
Without Remorse Cast:
Michael B. Jordan as John Clark
Jamie Bell as Robert Ritter
Jodie Turner-Smith as Karen Greer
Luke Mitchell as Rowdy
Jack Kesy as Thunder
Brett Gelman as Victor Rykov
Colman Domingo as Pastor West
Guy Pearce as Secretary Clay
Jacob Scipio as Hatchet
Cam Gigandet as Keith Webb
Todd Lasance as Dallas
Without Remorse Teaser & Trailer: 


TBN Rankings for Without Remorse: 5.7/10.0
Without Remorse feels like a movie that could've been better than it is. Solid action set-pieces and a stellar cast are ultimately weighed down by its unoriginal tale of revenge, which would've benefitted from some unexpected plot twists and more tension-building moments.
Without Remorse Reviews:
The plot of Amazon's "Tom Clancy's Without Remorse" is so indecipherable that I could just type that symbol Prince once used and it would serve as a valid synopsis. The gist of the film is easy: angry Navy SEAL seeks revenge after his very pregnant wife is brutally riddled with bullet holes onscreen. The confusion comes in answering the questions of why she was killed, who did it and what this has to do with the U.S. government. This is one of those super-convoluted conspiracy theory movies where nothing makes sense and you simply stop caring. Saviors show up inexplicably at just the right time. People come off as evil for the sole purpose of misleading us. There's no character development, a lot of patriotic posturing, and the villain gives a lecture that must have been written before they cast a Black actor as its recipient. Despite endless gunfire and a lot of shit blowing up, most of the action sequences fail to quicken the pulse.
The Tom Clancy variation was one of the many film setbacks of COVID-19, with Paramount constantly deferring its delivery prior to giving it over to Amazon late the previous summer. Amazon — which has seen achievement recently with its procurement of previous dramatic deliveries like a year ago's hit continuation Borat Subsequent Moviefilm — readily got Without Remorse from Paramount, and took the risk to grow its relationship with star Michael B. Jordan.  

Jordan as of now has a relationship with Amazon, since his creation organization has a first-turn TV bargain set upward there, yet Amazon Studios and Outlier Society are extending their current arrangement to now highlight a restrictive in general relationship in TV and a first-look film bargain. Exception Society will currently create and obtain films "exhibiting different, intense producers and ability for the studio's always developing unique motion pictures record."  

"Presenting to Outlier Society's record of film, TV and multi-media content all under a similar rooftop is an energizing next part for us," Jordan said in an articulation. "Amazon's worldwide and sweeping arrive at offers us the capacity to engage constantly our crowd creatively, while keeping up our obligation to supporting a wide scope of stories and narrators. I'm excited to commence the organization with Without Remorse this Spring.
Without Remorse: release date, cast, story, teaser, trailer, first look, rating, reviews, box office collection and preview. published by - The Beyond News (Entertainment)