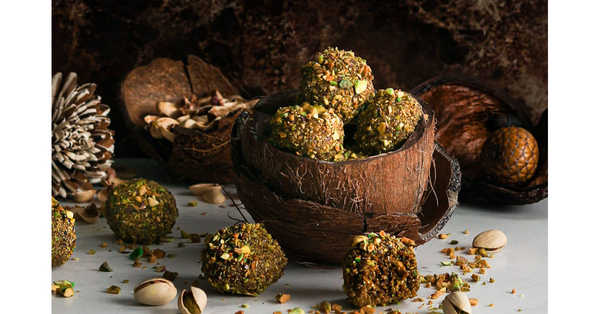 Here is the introduction of Brownie Laddoos - Vegan Rasmalai - Vegan Gajar Ka Halwa - Vegan Barfi and many more.
1.Brownie Laddoos
No Indian festival is complete without the good old laddoos. Kolkata-based Krity Mehra, who is on a mission to prove that healthy doesn't mean boring, by giving an innovative and pretty touch to traditional and unconventional recipes, says, "These laddoos are 100 per cent vegan and gluten-free. They are flourless, have zero refined sugar and made using vegan dark chocolate and almond flour, which is incredibly nutritious. Sweetened with maple syrup and jaggery sugar, these laddoos have coconut oil and almond butter instead of regular butter.
2.Vegan Rasmalai
Rasmalai is one of the most popular desserts. But did you know that a few tweaks can turn it into a healthy treat? Krity makes it possible in her version where the regular sweet cottage cheese balls are replaced with balls made of soya, which is rich in protein. Instead of sugar, she uses jaggery, which gives the dish a sweet, earthy fragrance, and instead of regular milk, almond and soy milk is used. "It tastes as good as the traditional recipe we've grown up eating and the best part is you can indulge in it with no guilt. The golden colour is from the saffron infused milk, which also gives it that sweet aroma. Garnish it with a generous amount of pistachios and almonds," shares Krity.
3.Vegan Gajar Ka Halwa 
Ghee and mawa are the core ingredients in Gajar ka halwa. But vegans, you can replace these ingredients with almond flour and refined coconut oil. "Since both mawa and ghee inherently have a salty flavour to it, in order to achieve that in the almond and coconut oil mixture, you can add 3/4th teaspoon of salt. The rest of the preparation remains the same. You can add cardamom for flavour and roasted nuts for garnish," say Richa Hingle, a food blogger, who specialises in vegan food items.
4.Vegan Barfi
For those who have a sweeth tooth but do not want to indulge in sugar, Richa suggests trying the no-cook barfi with dates and figs. "All you need is fresh figs and dates. Process them in a food processor, add finely chopped nuts to the paste and a little salt. Then shape the mixture in the shape of a log and freeze. Once it's settled, you can enjoy the healthy and festive treat," says Richa.
5.Raw Vegan Kheer
Yes, kheer, can be vegan too! In fact, the vegan version is much easier to make according to Jaya Rai, who owns Granny's Bowl, a Pune-based vegan restaurant. "This is a raw, vegan preparation. You don't have to cook anything in this process. All you need is coconut milk, grated coconut, date, manuka, soaked basil seeds, cardamon and cashew nuts. Blend all the dry ingredients, mix it all in the coconut milk, top it with saffron strands and soaked basil seeds, put it in the refrigerator to set, and then serve chilled," says Jaya.