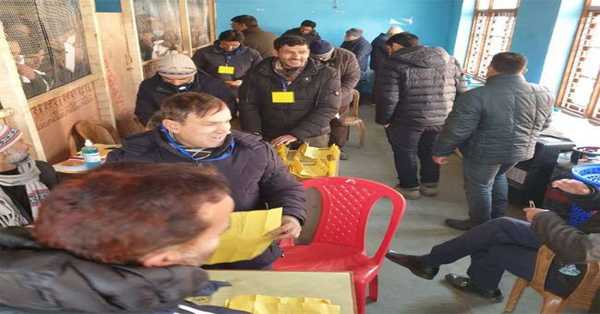 Jammu and Kashmir (J&K) DDC Election Results 2020 Live Updates: The elections, held in eight phases, began on November 28 and ended on December 19. Officials in the State Election Commission said a total of 2,181 candidates, including over 450 women, were in the fray for the 280 DDC seats.
In Jammu and Kashmir, counting is continuing for 280 seats of the District Development Council (DCC) elections. There is good news for the BJP. With 3 seats, he has opened an account in Kashmir for the first time. Talking about Jammu and Kashmir, the BJP has won 8 seats and is ahead on 48. However, the People's Alliance for The Gupkar Declaration (PAGD) is at the forefront. The alliance has won 25 seats and has an edge over 71. The Congress has an edge over 19. The other 38 seats are going ahead or have won them.
Mehbooba Mufti's party PDP leader Waheed Para has won the election. He was arrested by the NIA a few days ago. Excited by the victory, the Gupkar Alliance said, "This is a reference on article 370.
In which phase how many votes were there?
1st Phase:
51.79%Second Phase: 48.62%
ThirdPhase: 50.53%
FourthPhase: 50.08%
FifthPhase: 51.20%
SixthPhase: 51.51%
Seventh Phase: 57.22%
EighthPhase: 51.5%
The trends in most seats in the maiden DDC elections are in accordance with expectations – the BJP strengthening its position in Jammu division while the PAGD, which includes regional heavyweights National Conference and People's Democratic Party, is ahead in the Valley. The BJP has made gains in Bandipora's Gurez area with leads in two seats. PDP leader Waheed Para, under arrest for his alleged links with militants, was leading in his Pulwama constituency by a huge margin.
In South Kashmir, the Alliance candidates are set to sweep the polls as they are leading on 34 (NC 15, PDP 14, and CPIM 5) out of the 49 seats declared so far. While the independents are leading on 10 seats, Congress is ahead on 5 seats. The North Kashmir has thrown a mixed result with Alliance candidates ahead on 13 out of 34 leads declared so far. The Alliance is followed by independent candidates leading on 11 seats.
Seven political parties, including the National Conference and the Peoples Democratic Party, contested the polls in an alliance, under the banner of the Peoples Alliance for Gupkar Declaration (PAGD) formed for restoration of Article 370. The Congress was initially a part of the PAGD but distanced itself when the BJP targeted the opposition party for being in league with the 'Gupkar Gang'. The elections will decide the fate of nearly 2,181 candidates for the 280 DDC seats in Jammu and Kashmir. The elections, held in eight phases, began on November 28 and ended on December 19.