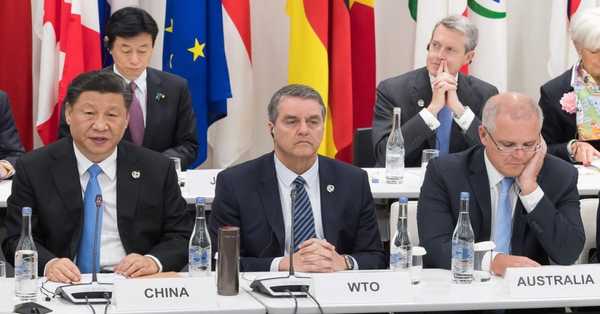 On Monday China's foreign ministry spokesman Zhao Lijian posted this fake picture on Twitter
We've obscured out a piece of it, however the image shows a smiling Australian officer holding a bloodied blade to the throat of an Afghan youngster.  

"Stunned by murder of Afghan regular people and detainees by Australian officers. We unequivocally denounce such acts, and call for considering them responsible," he composed.  

Under two hours after the fact, an enraged Scott Morrison, Australia's leader, was on public TV requesting a statement of regret from Beijing. Sending his most undiplomatic language to date, he called it "really disgusting, profoundly hostile, absolutely absurd".  

He added that Australia had set up a straightforward cycle to examine the supposed atrocities, as was anticipated from a "majority rule, liberal" nation.
Be that as it may, he likewise bid for China to answer Australia's calls for discretionary talks, asking them "to reconnect".  

Beijing appeared to be less sharp: a couple of hours after the fact, the riposte came from Hua Chunying, a Chinese unfamiliar service representative. "It's not China which should be embarrassed, but rather Australia," she said.  

On Weibo, a Chinese web-based media stage, the craftsman behind the picture ringed in as well, posting that he hadn't anticipated "Old Morrison" to answer.  

It didn't take long for different nations to swim in, many agreeing with Australia's position.  

France called the picture "stunning and annoying" to nations which had battled in Afghanistan, New Zealand's PM Jacinda Ardern said she'd raised worries with China about the "unfactual post",