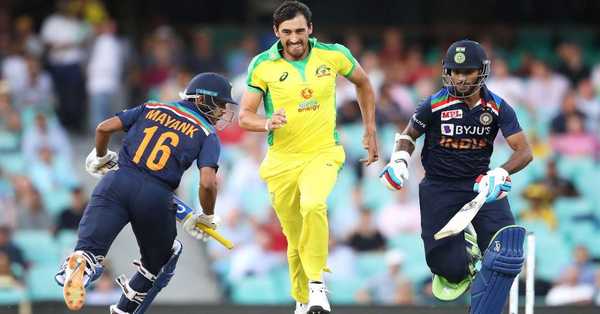 India and Australia again on the ground at Adelaide Oval
Score   36/9 (21.2)
J. Hazlewood to H. Vihari, OUT! CAUGHT! 9 down are India! A lead of 84 runs is what they have. What is happening here. Hazlewood gets a 5-fer. What a time to get to it. Josh bowls it around off, and gets it to nip away from Vihari. Hanuma who looks to have a feel for the ball can only manage to get a thick outside edge which is gobbled up by the keeper who goes to his right and pouches it.
J. Hazlewood to R. Ashwin, OUT! CAUGHT! Australia into the Indian tail now with this wicket! Brilliant from Josh there. He bowls one around off and Ashwin who is caught on the back foot within the crease can only manage to get a faint tickle behind to the keeper. Tim Paine there takes the catch and goes up in an appeal joined by his bowler. The umpire too raises his finger after the appeal. Ashwin though is not convinced and challenges the decision taking it to third umpire. Replays roll in and it is a legal delivery as we move to HotSpot but nothing  on it though. Now we move to RTS and there is a spike as the ball goes past the outside edge. Keep walking Ashwin there.
P. Cummins to V. Kohli, OUT! c Cameron Green b Pat Cummins.
J. Hazlewood to A. Rahane, OUT! CAUGHT! Another one bites the dust! Rahane departs for a duck! India in all sorts of trouble here. From 6/1 there are 15/5 in no time. Hazlewood bowls a fuller one this time in that channel around off, Rahane goes for the defensive push with hard hands but ends up getting a thick outside edge behind to the keeper who accepts it gleefully.
J. Hazlewood to M. Agarwal, OUT! CAUGHT! Perfect from Hazlewood. Bowls it on a good length and around off, Agarwal does the same mistake as that of Pujara as he too goes to defend off the back foot. The ball just about shapes away from the batsman to catch the outside edge. This time though it goes at a good height to Paine who takes it with ease. Looks like India are losing the plot here.
P. Cummins to C. Pujara, OUT! CAUGHT! Cummins strikes once again! Pujara departs! Excellent from Pat there. He keeps bowling in that channel outside off and gets this one to come a bit inward and then takes it away from the batter. Pujara who is caught on the crease fails to get to the pitch of the ball as he pokes it tentatively. The ball though kisses the outside edge and goes low towards Tim Paine where he does well to go low and take it.
That was so unfortunate. Rahane plays the shot to the left of mid-off and starts to run after making the call. After taking a few steps and then sends Kohli back. But it was too late as the Indian skipper was halfway down the pitch. A brilliantly controlled knock comes to a weird end. Kohli departs for 74, IND - 188/4 after 77 overs.
Wicket! Nathan Lyon strikes to break the 68-run stand between Kohli and Pujara. Pujara tried to defend, gets a thick edge that hits the thigh pad and flies to short leg. Labuschagne takes the catch. Pujara seemed to start walking back but he stopped. Aussies were confident and the review was obvious. IND - 100/3 after 49.4 overs.
P. Cummins to M. Agarwal, OUT! CASTLED! Oh my, oh my! He was looking so good so far and now a bit of lapse in concentration and Agarwal has to depart. Cummins bowls it around off and makes the ball jag back a bit inward. Agarwal, who is lining up for a defensive stroke is done in by the inward movement. The ball just about sneaks in between the gap between the bat and pad to hit the top of off. Brilliant bowling from Cummins, he was constantly bowling that testing line and finally he has his man.
Prithvi Shaw's chopped one-second ball and is gone for a duck. Its the length that did him in, angling away from off, Shaw pushes loosely away from the body.
India:
Prithvi Shaw, Mayank Agarwal, Cheteshwar Pujara, Virat Kohli(c), Ajinkya Rahane, Hanuma Vihari, Wriddhiman Saha(w), Ravichandran Ashwin, Umesh Yadav, Mohammed Shami, Jasprit Bumrah
Australia:
Joe Burns, Matthew Wade, Marnus Labuschagne, Steven Smith, Travis Head(w/c), Cameron Green, Tim Paine, Pat Cummins, Mitchell Starc, Nathan Lyon, Josh Hazlewood
India elected to bet first