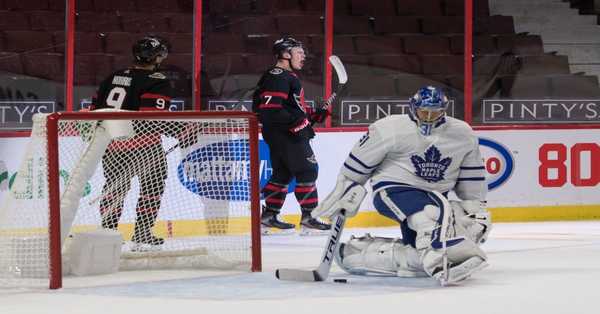 Ottawa didn't generate many chances against Toronto
This was supposed to be a battle of contender versus pretender. For roughly the first half of their second game of the regular season, the Maple Leafs played to that script against an Ottawa Senators club that hasn't played a game since March.
The Maple Leafs had a 2-1 lead after Alex Kerfoot's shot from the point beat Senators goaltender Matt Murray at 9:15 of the second period. Toronto had limited Ottawa to just one shot on goal in the middle stanza until the Senators scored three goals in 4:15 before defeating the Maple Leafs 5-3 at Canadian Tire Centre on Friday Night.
"If we want to be a team that's going to accomplish anything, the game should be over," Keefe said about his team's play after Kerfoot's goal. "From there, we should be able to take care of the lead and build on the lead; obviously, we're not there yet."
A lack of finish and response haunted the Maple Leafs for much of last season, prompting the team to add some veteran players to help develop a killer instinct.
When the offense wasn't there, they were supposed to be bolstered by improvements on defense.
Ottawa didn't generate many chances against Toronto. But when they did, the Maple Leafs were caught out of position on the back end. The Senators scored from the middle of the ice and close to the goal.
"I don't think we're good enough to take shifts off," Maple Leafs forward Zach Hyman said of his team's effort. "Everyone can be better defensively and those mental lapses turned out to go into our net."
Frederik Andersen allowed five goals on 24 shots. He wasn't to blame for the team's loss, but a timely save could have prevented an implosion. When Andersen made saves, the Danish netminder appeared to be fighting the puck.
One instance that stood out was an innocent shot from Ottawa's Brayden Coburn that resulted in a juicy rebound in the crease. Andersen made the save only after finding himself on his stomach, swimming for a puck while caught out of position.
"I know I have to better," said Andersen, who has given up nine goals through two games. "But that's the beauty of the hockey, and as a goalie, there are really small differences between playing really good and not so good."
If the Maple Leafs had not had any of the three issues creep up on them, Toronto would find themselves 2-0-0 to start the season. But they those issues are there and it caused questions from the offseason to resurface.
Will the Leafs get that killer instinct to put their opponents away when needed?
"I think we were a little too loose," Auston Matthews said. "We can't take our foot off the gas; that's on all of us."
Has Toronto's defense really improved with the additions of T.J. Brodie and Zack Bogosian?
Brodie was a -3 and had the worst five-on-five possession numbers of any Maple Leaf player at 32 percent.
T.J has been for fine for us and I thought he was a standout for us in the Montreal game," Keefe said of his defenseman. "Nobody was a standout for us today, obviously, but he's been fine."
Bogosian made some costly penalties against Montreal on Wednesday night. That put Toronto in a hole that the team climbed out of in a 5-4 overtime victory.
Will the Leafs get that killer instinct to put their opponents away when needed?
Joe Thornton saw his ice time increase from over 17 minutes in the opener to 18:25. He was a -3 on the evening.
Andersen has been notorious for slow starts to the season during his tenure with the Maple Leafs. He has managed to level his play as the seasons progressed.
Entering the final year of a five-year contract, Andersen isn't short on motivation. 
It's too early to answer all of these questions with just two games played out of 56. But the silver lining here is that it took a perfect storm of problems for the Maple Leafs to lose to the Senators. With no preseason games under their belt, these serve as reminders they need now and not when fighting for a playoff spot, or worse, during the playoffs.
The 'Battle of Ontario' a sequel on Saturday. Let's see what the Maple Leafs have learned.