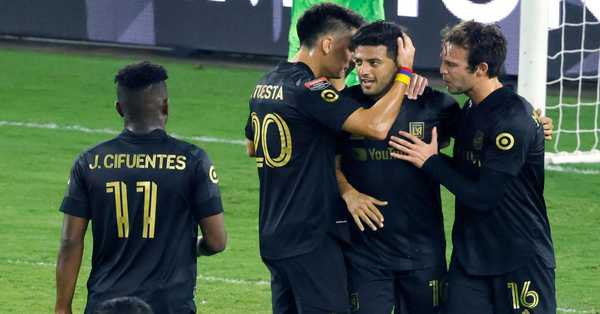 "We're too naive. We're too nice. We've got to have that mentality." Players
LAFC's run to the Concacaf Champions League final is in some ways unprecedented and in others a throwback to the past, but it's impressive and telling either way given what it's had to overcome.
That star player was Jaime Moreno, and he said that 15 years ago. Time has passed, but MLS teams are still struggling and failing. And "mentality"—or whatever term you want to use for the phenomenon: "gamesmanship," "picaro," "cheating," etc.—has remained a stubborn calling card of the Concacaf Champions League. It's practically part of the brand, so much so that there's even a term for it. Everyone now knows what "Getting Concacafed" means, and MLS has made it a habit. It just can't solve the puzzle. Liga MX clubs have won 14 straight titles.
Los Angeles FC would've been excused if it entered its locker room at halftime of Saturday night's CCL semifinal convinced it had been Concacafed. Club América goalkeeper Guillermo Ochoa, who at 35 is as wily a Concacaf veteran as there is, had suckered another referee into falling for the same age-old antics.
Ochoa was on the ground, kicking and writhing and holding his face, and so LAFC's Eduard Atuesta—who'd been fouled in the penalty area just a moment before—was ejected for a headbutt that didn't happen. There is no VAR in the CCL, but even that may not have been enough to alter this deep-seated competitive culture. Instead of lining up for a penalty kick that could've tied the score at 1–1, LAFC headed into halftime down a goal and down a man against Concacaf's most decorated club.
LAFC might have felt the world was against it. But coach Bob Bradley has seen it all, forward Carlos Vela can do it all and this was a team that had learned from previous big-game moments.
"We've constantly tried to find a way that we can develop that kind of mentality to win tough games, to get to finals. I think we've learned from some of the moments that slipped away from us, and tonight you could see the concentration of so many guys," Bradley said afterward. "There's a sense that we're going in the right direction, that we understand better what big games are all about. We still want to try to play the best football we can, but in different moments in these kind of games, your ability to be smart, to be aggressive, to know how to deal with tough situations, all these different things come into play."
América's gamesmanship would be neutralized with a different sort of guile.
"At halftime, we felt that we could still win the game," Bradley said.
Vela scored twice in the opening moments of the second stanza, América's Luis Reyes hit the self-destruct button and was sent off for a pointless two-footed tackle (meltdowns are another CCL staple), and LAFC's Latif Blessing scored in stoppage time to provide the final 3–1 margin. Los Angeles was through to the final, where it will face another Mexican power, Tigres UANL, on Tuesday night.
This is the seventh time an MLS side has advanced to the regional final, but the first three—the LA Galaxy in 1997 and 2000 and D.C. United in 1998—largely are ignored because Concacaf renamed its top club tournament in 2008. Even MLS is selling those original achievements short. The three finalists since the rebrand—Real Salt Lake in 2011, Montreal Impact in 2015 and Toronto FC in 2018—all lost.