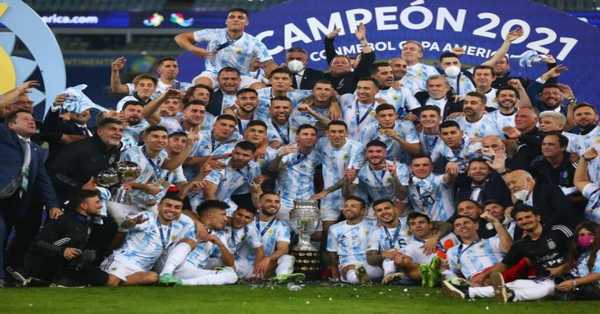 Argentina have won the Copa America after beating Brazil 1-0 and in doing so equalled Uruguay's all-time record of 15 titles.
The Albiceleste edged a disappointing final thanks to a moment of magic from Angel Di Maria, who lobbed Ederson after a fine through ball from Rodrigo de Paul.
The showpiece finale between two eternal rivals was otherwise a drab affair, dominated by fouls and players on the floor, followed by more fouls.
Argentina likely won't mind much, though, having done just enough to secure a historic win and bring a taste of success to a generation of fans who haven't tasted it before.
The trophy was the nation's first at senior level since 1993 and, therefore, Lionel Messi's first as well. In truth, the no.10 was quiet in a match where both teams seemed to forget about the ball.
A stop-start game with more arguing than football was perhaps not the spectacle neutrals had been salivating over in anticipation and neither Messi nor Neymar unable to shine on a stage which many had thought set for them.
Indeed, if Argentina had a standout performer it was Emiliano Martinez, whose saves in the second half preserved his team's lead.
Perhaps the occasion was simply too much to generate the sort of entertainment fans had been hoping for. Both teams arrived at the game on incredible unbeaten runs and sometimes when an unstoppable force meets an immovable object, nothing happens.

For Brazil, this was their first competitive defeat since the 2018 World Cup quarter-final against Belgium. Argentina's last defeat was against Brazil in the 2019 Copa America semi-final.
For the Albiceleste, the run continues thanks to a wonderful through ball from Rodrigo de Paul - heavily linked with Atletico Madrid - and an excellent, calm finish from Di Maria who lifted the ball over Ederson in the 22nd minute.
Argentina's first major title in 28 years sent the nation into a frenzy of celebrations on Sunday with the Copa America victory over arch-rivals Brazil instilling hope they may once again rise to be serious World Cup contenders.
Argentina beat Brazil 1-0 at the Maracana stadium in Rio de Janeiro on Saturday night to claim their first Copa since 1993 and give captain Lionel Messi a long-coveted first medal for the national team to join his multiple accolades with Barcelona.
It was a hard-fought match, with 41 fouls, nine yellow cards, and Argentina spending much of the second half defending their first half lead from Angel Di Maria's goal.
Yet the details were unimportant to the hundreds of thousands of people celebrating across Argentina. All that mattered was the long and painful drought was over.
"I had been very close (to winning a title) for many years. I knew that it was going to come right at some point, and I think there is no better moment than this," said a jubilant Messi, who had been desperate to emulate World Cup winner Diego Maradona's international success with Argentina.
"We are still not aware of what we did, but it will be a match that will remain in history not only for being champions of America, but also for beating Brazil in Brazil," added Messi, who was joint player of the tournament.

Argentina crowned Copa America champions, Beats Brazil in Maracana Stadium with the only goal of Angel Di Maria.- Published by The Beyond News (Sports).