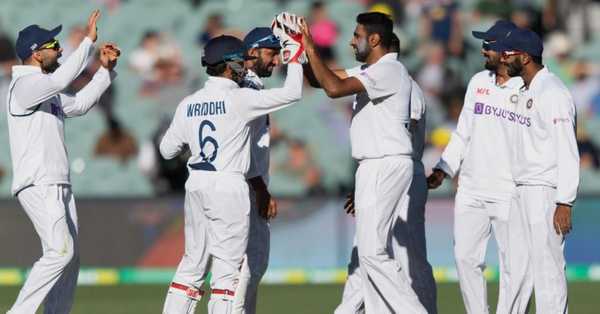 Umesh got injured in match, Marnus Labuschagne, Steve Smith and Joe Burns took a step towards pavilion
Siraj to Head, out Caught by Agarwal!! Very loose. No feet, just hard desperately flashy hands throwing it at the ball, and quite justly nicks off. A new spell, and Siraj keeps it rather simple with an away-angler just outside off. Head could've really left this alone, but perhaps in a bid to put pressure straight on, he chases it away from his body in trying to punch it on the up, and the thick outside edge flies quickly to second slip where Agarwal makes sure to not do an Australia.
The fourth ball of the 35th over of the second innings to Matthew Wade's helmet. This was done by Bouncer Bumrah. The ball was so fast that the helmet was damaged. For this reason Matthew Wade had to change this immediately. The good thing is that Wade suffered no injuries.
The second match of the 4 Test series between India and Australia is being played in Melbourne. On the third day of this Boxing-Day Test, Team India scored 326 runs in the first innings. Australia team scored 195 runs in their first innings. In this context, India took a lead of 131 runs in the first innings. In reply, Australia lost 3 wickets for 71 runs. Right now, Matthew Wade and Travis are at the head crease.
Steve Smith was a flop in the second consecutive innings. He scored 0 runs and was dismissed. He was bowled clean by Jaspreet Bumrah. He could not even open an account in the first innings. This is his second lowest score in a match in a Test career. Earlier, he scored 3 (2 and 1) against England in the 2013 Lord's Test.
Marnus Labuschen returned to the pavilion for 28 runs. Ajinkya Rahane caught his catch at slip off Ravichandran Ashwin. Umesh Yadav gave Australia the first blow. He sent Joe Burns to the pavilion for 4 runs. Wicket-keeper Rishabh Pant caught Burns.
Indian fast bowler Umesh Yadav has gone out of the ground due to injury in the 8th over of Australia's second innings. He complained of leg pain. Umesh could bowl only 3.3 overs and took a wicket. His over was completed by Mohammad Siraj.
Team India also took the lead in the first innings of the first Test of the series. In this context, India equaled a record of 35 years old. In 1985–86, India took the lead in two consecutive Tests against Australia. India scored 520 runs in response to the 381 runs scored by the first Adelaide Test Australia. Whereas in the second Test of the same series played in Melbourne, Team India scored 445 runs in response to Australia's score of 262. Although both matches were drawn.
First innings Indian captain Ajinkya Rahane scored the highest 112 off 223 balls and all-rounder Ravindra Jadeja scored 57 runs off 159 balls. Shubman Gill missed the Fifty in the debut match, scoring 45 runs. Mitchell Starc took the most 3 wickets for Australia. Pat Cummins and Nathan Lyon had 2–2 successes apart from them.
Like the first Test of the series, India's first innings in this match was not a good start. Mayank Agarwal returned to the pavilion in the very first over of the innings without opening an account. Subsequently, Shubman, who was playing a debut match, took over the innings with a 61-run partnership with Cheteshwar Pujara. Here the team lost two more wickets for 64 runs. Shubman and Pujara were also out.
Third day, Team India started playing by 277 runs for 5 wickets. Rahane and Jadeja completed the century partnership, but Rahane was runout due to taking a run. This was the turning point of the innings. The team could not manage from here. Team India's score on the third day was 5 wickets for 293 runs. After this, the team lost 5 wickets in scoring 32 runs.
Rahane is the 12th Indian captain to score a century in Tests. At the same time, he is the 5th Indian captain to score a Test century in Australia. Rahane has scored 2 centuries in MCG. He is the second Indian captain to do so. Earlier, former cricketer Sachin Tendulkar achieved this feat in the 1999/00 series.