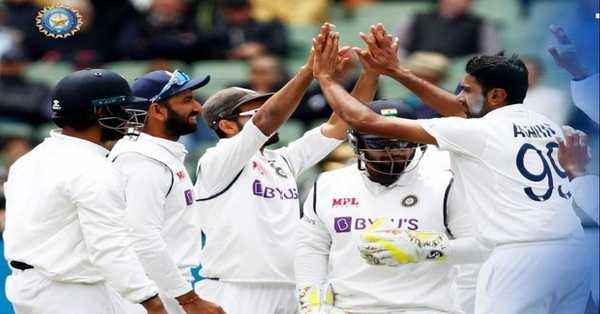 Australia start betting on first day of third test
Australia 166/2 (55.00)
M. Labuschagne : 67(149) 
S. Smith : 31(64)
India 
R. Ashwin: 0/56 (17.0)
N. Saini 1/32 (7.0)
First day of 3rd test is completed with huge score of Australia 
Navdeep Saini dismissed Will Pucovski to pick up his maiden Test wicket for India. Just before the tea interval, Pucovski scored a brilliant half-century on debut. India had a couple of chances let go by Rishabh Pant, who, twice in two overs, dropped the Australia opener. Pucovski and Labuschagne have added 87 runs as Australia prolong India's search for a second wicket. Australia resumed at 21/1 after play commenced following a lengthy rain break. 57 more overs are to be bowled in the day with rain washing out more than three hours. Early lunch was taken on Day 1 of the Sydney Test. Just 7.1 overs possible in the first session in which Australia scored 21 runs and lost the wicket of David Warner. Rain at the Sydney Cricket Ground forced the players to go off the field in 8th over of the third Test. This happened after Mohammed Siraj dismissed Warner for 5. Australia had opted to bat first after winning the toss in the third Test against India. Bio-bubble breach investigations, reports of India's unwillingness to travel to Brisbane if stricter quarantine rules are forced on them, former Australian cricketers and media throwing jibes, we've had everything that could spice-up the proceedings in the third Test at the Sydney Cricket Ground. 
There you go, Navdeep Saini has his moment under the sun. The happiness of playing your maiden Test followed by the joy of picking up first Test wicket. And it's the wicket he and India wanted - Will Pucovski out for 62.
It's been a while since one of the bars reflected a yellow bar, but Australia finally have a session they should be proud of. They ruled this one with Pucovski and Labuschagne battling the Indian attack on a surface that is appearing slow at the moment. Full credit to the youngster playing his maiden Test match, but Labuschagne has been equally good for 34* off 78 balls.
51.6
Ashwin to Smith, no run, flatter and quicker on leg, Smith doesn't offer a shot, pads it away
51.5
Ashwin to Labuschagne, 1 run, walks down the track and clips it through mid-wicket for a single
51.4
Ashwin to Labuschagne, no run, sharp turn again, Labuschagne was back in his crease as he chops it into the off side
51.3
Ashwin to Labuschagne, no run, spinning on the batsman's pads, Labuschagne goes down on his knee as he fails to connect it
51.2
Ashwin to Labuschagne, no run, down the track as the ball is converted into a full toss, Labuschagne plays a straight drive that Ashwin collects
51.1
Ashwin to Labuschagne, no run, turns this in front of the fielder at mid-wicket