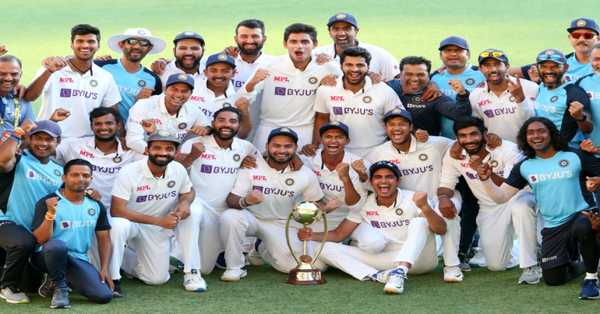 AUS 369 & 294 | IND 336 & 329/7
96.6
Hazlewood to Pant, FOUR, Rishabh Pant crunches the cannon-ball to long-off that at last, at long last, breaches the Gabba fortress! 32 years, and the mighty Australians have been dismantled, destroyed, at their beloved fortress. The Indians couldn't wait to see Paine (and the rest) at the Gabba.

Harsha Bhogle: Isn't it brilliant that young players like Shubman Gill and Rishabh Pant are drawing people into Test cricket?
Nathan Lyon is the man for Australia. Gets his line right outside off, gets Shubman driving and draws the outside edge to Steve Smith at slip. But what an enterprising innings this from Shubman. He took on the short balls like no other batsman has done in this series and kept India afloat. Rahane now joins Pujara in the middle, not Pant.
Deepu says: At 259 runs, Shubman is currently the highest scorer for India in this series. Rahane is second with 244.
100-run stand
Gill with 6, 4 and 4 against Mitchell Starc. All short balls and all attacking shots. First one a pull, second one a jumping upper cut, and the third one a pull again. Oh this is fun to watch.
Hazlewood to Pujara, no run, good length delivery on the off stump, Pujara defends
That wicket of Gill will surely ensure India will be back to their restrained self. They would need another resurrection before they can have one final dash. India would do well not to get carried away as there is enough time remaining for Aussies to skittle out the Indians. The ghosts of '36' surely don't want to come alive again is what the Indian fans would be praying for. And Pujara will continue
Hazlewood to Pujara, no run, just hope it isn't a broken finger! Flinched his right hand straightaway as the delivery shot up from a back of a length spot to hit him on the right glove. He dropped his bat almost immediately after being hit. The physio having a look. That finger will be numb for the rest of the day. A few pain killers, the magic spray will hold him in good stead for the next couple of hours I assume
A depleted Indian side is missing both Jasprit Bumrah and R Ashwin. Tamil Nadu rookies – fast bowler T Natarajan and off-spinner Washington Sundar have been handed debuts with Shardul Thakur playing his second Test match and Mayank Agarwal replacing Hanuma Vihari in the middle-order. Australia only has one change in Marcus Harris in place of injured Luke Pucovski.
With the Border-Gavaskar series tied 1-1, all hinges on the last match at the Gabba, Brisbane. An injury-plagued India squad is determined to make some history. India's squad has been battered, bruised and, in the third test in Sydney, verbally abused. The third test was temporarily halted last Sunday and six men were ejected from the Sydney Cricket Ground after India paceman Mohammed Siraj complained to umpires about comments from the crowd.