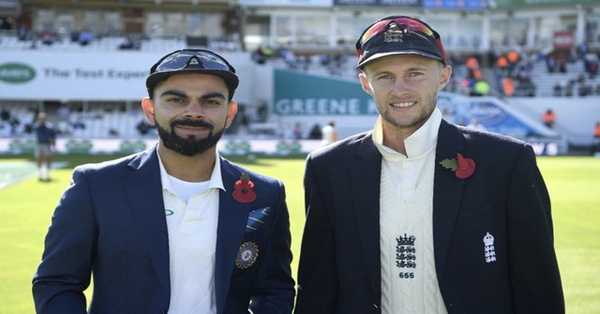 Here you can find each and every details and facts about this awaited test match
The third Test match will be held from 24 February. It will be a day-night test. At the same time, the fourth and last test match of the series will be from 4 March. The four-match Test series is currently 1–1. The remaining two Test matches of the series will be played at Motera Stadium in Ahmedabad.
Team India: Virat Kohli (captain), Rohit Sharma, Mayank Agarwal, Shubman Gill, Cheteshwar Pujara, Ajinkya Rahane (vice-captain), KL Rahul, Hardik Pandya, Rishabh Pant (wicketkeeper), Riddhiman Saha (wicketkeeper), R . Ashwin, Kuldeep Yadav, Akshar Patel, Washington Sundar, Ishant Sharma, Jaspreet Bumrah, Mohammad Siraj
The selection committee has also selected five net bollars. And two players are also placed on standby.
Team England: Rory Burns, Dominic Sibley, Daniel Lawrence, Joe Root (c), Ben Stokes, Ollie Pope, Ben Foakes (wk), Moeen Ali, Stuart Broad, Jack Leach, Olly Stone, Chris Woakes
During last year's first lockdown, Eoin Morgan, England's limited overs captain, read a book by Bob Iger, the CEO of Disney. "You have to ask the questions you need to ask, admit without apology what you don't understand and do the work to learn what you need to learn as quickly as you can," Iger writes in The Ride of a Lifetime. "Your inexperience cannot be an excuse for failure." After a chastening three and a half days in Chennai, England have plenty of work to do ahead of the third Test next week. They need to be honest about their failings, ask good questions and learn what they need to learn. And quickly.
Their run of six consecutive away victories came to an abrupt halt as India gave them a brutal lesson in how to play on spin-friendly tracks. If Root was right to say that a number of his players, particularly some of the batsmen, had probably never encountered a pitch that turned and bounced as much as this one did, he will also know that Iger is right. In Test cricket, as in business, inexperience cannot be used as an excuse for failure. To that end, Root has challenged his players to learn from this defeat and, perhaps more importantly, learn from how India played.
The Sardar Patel Stadium, commonly known as Motera Stadium to avoid confusion with another stadium of the same name, is a cricket stadium in Ahmedabad, Gujarat, India. As of 2020, it is the largest cricket stadium in the world and the second largest stadium overall, with a seating capacity of 110,000 spectators. It is owned by the Gujarat Cricket Association and is a venue for Test, ODI, and T20I cricket matches.
Apart from cricket, the stadium has hosted several programs arranged by the Government of Gujarat. It has hosted matches during the 1987, 1996, and 2011 Cricket World Cups. The pitch used to favour bowlers previously but has recently hosted competitive games. As of 2020, the stadium has hosted 12 Tests, 23 ODIs, and 1 T20Is matches.
The most expensive stadium: Even if the commonman wants to check the test on the cheapest ticket, he will get Rs. 3000 will have to be paid, 1000 car parking in stadium for VIP, 5 features and errors. Test cricket is returning from February 24, 9 years after 9 years at the world's largest cricket stadium at Motera in Ahmedabad. So far, 20,000 tickets have been booked. However, it will be expensive for the common man to watch the match, as even if he takes the cheapest ticket, the cost of watching the five day test will be over Rs 3,000.
Spectators who are going to watch the India-England Test match at Motera Cricket Stadium in Ahmedabad, starting February 24, will have to book a ticket to park the vehicle in the same way as the match. Rs.30 for two wheelers and Rs.100 parking charges for cars. The Gujarat Cricket Association has fixed 27 plots in an area of 1-1.5 km of Motera Stadium for parking. If you parked the vehicle, the police will toss. During the match, 1155 traffic police officers will be deployed on the road leading to the motera stadium, outside each parking lot and on the road to the parking stadium. If you park randomly anywhere around the stadium, the police vehicle will be tossed.
Five stadium features
Maximum seating capacity: The capacity of the stadium will be 1,10,000. which is the highest in the world. The second highest is Melbourne Stadium in Australia with a capacity of 100,024.
Luxury VIP Lodge: Motera Stadium has a VIP lodge with a magnificent interior with ac, food and drink.
76 Corporate Boxes: The stadium has a total of 76 corporate boxes. All these corporate boxes will be equipped with full air conditioning. Each has a seating capacity of 25.
30 minutes drainage: Excellent drainage facility at Motera Stadium after Chennai Stadium. After heavy rain, the water will be drained from the ground in just 30 minutes.
Separate entry for VIP: Vip is a separate entrance to the stadium for spectators. Vip will be allowed to enter from where former President Trump entered, sport published by - The Beyond News