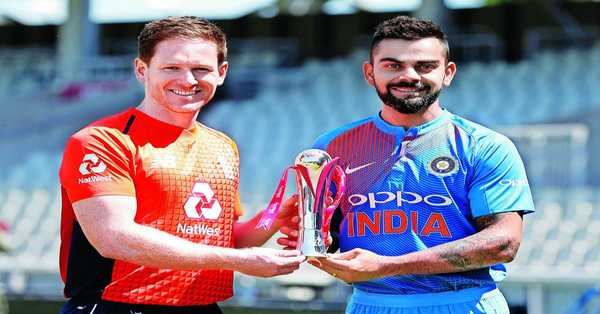 England won by 8 wkts
IND 124/7 (20)
ENG 130/2 (15.3)
England won by 8 wkts

Jofra Archer | Player of the Match: When the competition is tough you step up and competition brings out the best in me. Probably in the IPL (I see myself as the leader of the attack) but not in the England set up there are many world class bowlers. I rather go for dot balls than wickets in the powerplay and if I get wickets it is a bonus. Usually for a new batter or you have the bigger side of the boundary you bowl the short ball. Everything has been very good.
Eoin Morgan | England captain: That was certainly the intention (to go with pace). Jofra's strength is that he can bowl really fast among others but certainly Mark Wood's super strength is that he can bowl super fast. It is hard to do all the time but when he bowls like tonight it is very good entertainment. (Couldn't ask for more) Particularly in the bowling department. The wicket was as expected. The plans were very basic - to bowl on a length and straight. There is a huge amount of competition within side and it is a huge boost for anyone scoring runs. When Jason scores runs and does well, in the fashion that he plays it is a good sign. It is a completely different format of the game. We have been on tours, where the white-ball guys have played first and not played well and likewise it has not lingered into the Test matches. He (Archer) is excellent, like our batting unit our bowling unit has competition for places. We will be up against it a lot of times in the series and it is important to produce your best.
Virat Kohli | India captain: We just weren't aware enough of what to do on that kind of pitch. Lack of execution of some of the shots and something we have to address as batsmen. It wasn't an ideal day on the park. You have to accept your faults and come back in the next game with much more intent and clarity of plan. The wicket probably did not allow you to hit the kind of shots you wanted to, Shreyas' innings was an example on how you can use the depth of the crease and ride the bounce. It was a below par batting performance and England made us pay. We looked to try few things but as a batting side you have to accept the conditions in front of you, if the pitch allows you to play such kind of shots then yes. We did not give ourselves enough time to assess the conditions, Shreyas did that but there were too many wickets down to get past 150-160. It is part of the whole journey of international cricket. When you have played for that long you will have your ups and down, you have to accept that as a batsman. On your day you will probably much more for the team. At the end of the day you have to keep true to your intent and plan as a batsman, understand sometimes the bowling team will come out and execute their plans better. For me it is about going out there and trying to be positive as I can. It is not tough (changing formats), we have done it in the past. We take a lot of pride in playing good white-ball cricket, we have won the previous series and the series before that. We just have these five games before the T20 World Cup, so we need to experiment but having said that, we have to ensure we don't take things lightly and especially against a team like England.


IND v ENG T20I Series
1st T20I - March 12, Ahmedabad
Mar 12    7:00 pm
India's T20I squad: Virat Kohli (capt), Rohit Sharma (vc), KL Rahul, Shikhar Dhawan, Shreyas Iyer, Suryakumar Yadav, Hardik Pandya, Rishabh Pant (wk), Ishan Kishan (wk), Yuzvendra Chahal, Varun Chakravarthy, Axar Patel, Washington Sundar, Rahul Tewatia, T Natarajan, Bhuvneshwar Kumar, Deepak Chahar, Navdeep Saini and Shardul Thakur.
The trio of young cricketers have secured a break into the national squad for the first time. Apart from these players, senior paceman Bhuvneshwar Kumar has also returned after recovering from injury, while fast bowler Jasprit Bumrah has been rested for the series.
Pitch report:Good batting wicket, says Deep Das Gupta. Runs on it for all. But win toss and bat or chase? There could be dew, but there was none the last couple of days, says Agarkar.
We've not moved from the world's largest stadium in Ahmedabad, but we have switched formats. Much to England's relief, you'd think, given their struggles as the Test series went on. Hello and welcome to the first of five T20Is between a new-look England and India. England have been stellar in white-ball cricket in recent times and a change in format won't have England in whites on display with Eoin Morgan at the helm. England's limited-overs players seemed to be much in awe of the new stadium like everyone was when they first arrived at the Narendra Modi Stadium. The focus now shifts from the grandeur of it to the action in the middle.
It's the top-two ranked teams that will be taking on each other. Going by the pre-match chatter, India thinks England will be the team to beat, while England think vice versa. It will come down to getting their combinations right ahead of the T20 World Cup slated for later in the year, of which this is preparation, given that a) the tournament will be played in India, and b) this is India's last T20I series scheduled ahead of the global tournament.
The England cricket team would become the first team to tour India after the Covid-19 enforced break when it will start its two-month-long tour from February 5, 2021. The India vs England series would also mark the return of international cricket in India after a year due to the Coronavirus pandemic. In its two-month-long India tour, England will play 12 international games – four Tests, three One Day Internationals (ODIs), and five T20Is. 
The teams will be kept in a bio-bubble and it is still not clear whether fans will be allowed in the stadiums or not. The India vs England series will start with a four-match Test rubber followed by five T20 Internationals and ODIs. The four-match Test series between India and England will be a part of ICC World Test Championship (WTC), whose final to be played on June 1, 2021 at Lord's cricket ground. The top two teams on the ICC WTC points table will qualify for the final, published by - The Beyond News (Sports)