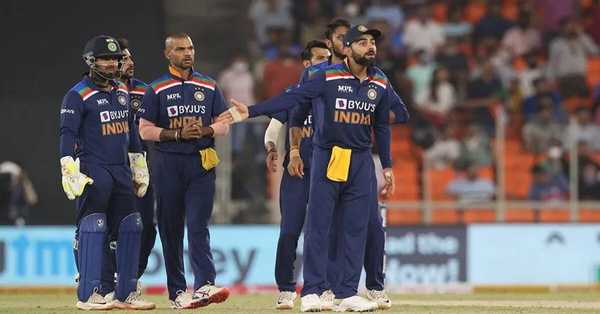 India won by 7 wkts
ENG 164/6 (20)
IND 166/3 (17.5)
India won by 7 wkts
Ishan Kishan | Player of the Match: Credit goes to my seniors who told me to go and express myself. It's not easy to come and play your first game against a quality side. Mumbai Indians helped me a lot and I want to continue the momentum. Wanted to finish the game and I knew there is a senior player batting superbly at the other end. I was disappointed with the fact that I didn't finish the game. The shot in which I smashed Tom for a six off his first ball, that was special. I don't know if I'm gonna get this feeling again (on making debut for India), but really proud and happy and I want to thank all my coaches, seniors and everyone who helped me get here. Now it's my time to show them what I've got. I had a lot of hunger in me for this innings. My coach's Dad passed away a few days back and this innings was for him. I wanted to prove myself because he said you have to score at least fifty for my Dad. So I want to dedicate this award to him.
Virat Kohli | Indian skipper: We ticked all the boxes we wanted to and to give away only 34 odd in the last five overs is very special effort. Special mention to Washi and everyone chipped in and all in all very happy with the bowling and batting as well. It did come onto the bat a bit better in the second innings and the slower balls stopped gripped and special mention to Ishan the way he batted. I tried to do what I can but he kept following his instincts and it was a quality innings on debut. When you play in the IPL with such dominance like he has and he is a fearless character and he knew that he was hitting the ball well and he is very calculated and not restless. Today that counterattacking innings from him and that partnership was needed. I had to shift the focus back to the basics of the game and I always take pride in doing the job for the team. Just kept my eyes on the ball and my wife is here and she keeps telling me a lot of things of what I need to do. We have a great management that keeps us in the right space. And also I had a special chat with ABD before the start of the game and he just told me to watch the ball. That's exactly what I did. He (Hardik Pandya) has worked really hard on his fitness and next few months he is gonna be a vital part of this team moving forward in all three formats. He plays for the team all the time and those kind of players are priceless. They were always in the game and you gotta be really precise in this format which is what we did today.
Eoin Morgan | England skipper: We were probably in and around par, but India bowled well and there's slightly less pace today on the pitch. They put us on the back foot from the start and pace off the ball is always challenging for players. I am glad we played on this wicket, but little disappointed with the way we played. There's always advantage in chasing statistically and the disappointing area is we couldn't counter the opposition attack in the first ten overs. The two guys at the top always try and be aggressive as they can and stick with the process. We were always gonna miss him and hopefully he will be fit before the next game. We will be practicing and the next game is on red soil and there might be more turn.

India in T20I run chases since July 2019: W W W W W W W W W L W (last)
First to...
1000 T20I runs: Brendon McCullum (May 2010)
2000 T20I runs: Brendon McCullum (March 2014)
3000 T20I runs: Virat Kohli (March 2021)
Washington Sundar: This is a better wicket than the first T20I, we did a good job to keep it down. Very good to win such a game. There was a bit of dew as well. There is a lot of pressure to bowl in the powerplay, but that gives a lot of satisfaction. Virat and I had a chat about Bairstow, and thought about taking the pace off the ball because he was going hard early, so we decided to take pace off the ball. We didn't talk much about the loss, we knew where we had to improve, and wanted to play together and we might have one off game. Kudos to the way played in the first game, but how we bounce back is important. Very happy for Ishan and Pant and the way they have turned up for India.
22:33 local: After a wicket-maiden first over, India needed someone to steady the ship inside the powerplay, but such is the swagger and confidence of modern day cricketers there is no challenge that cannot be accomplished. Playing his first international game, Ishan Kishan slammed a 32-ball 56 and displayed the world the fearless, ruthless cricketer that he is. He got plenty of support from skipper Kohli and despite Ishan's untimely dismissal, another certain keeper batsman from the 2016 Under 19 batch joined the party and continued the momentum. Pant struck at 200 during his brief stay and killed the game inside 14 overs with Kohli doing what he does best, i.e, make run-chases look ridiculously easy. And with the winning stroke, Kohli also becomes the first international cricketer to record 3000 runs in T20I cricket