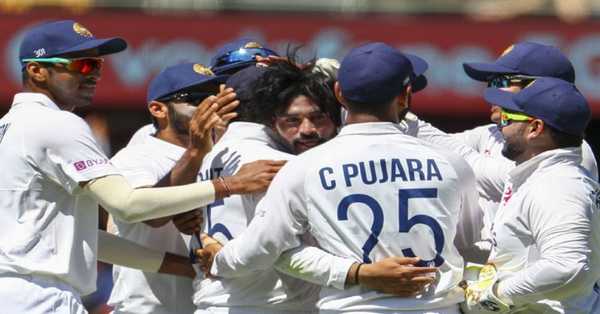 Here is the all details of this marvellous test series of victorious win of India & performance analysis of players
It was twenty minutes out from Lunch that the first ball misbehaved off the pitch. It wasn't surprising that Pat Cummins made that happen. He was Australia's best bowler on show, drawing out the most number of false shots before laying into Cheteshwar Pujara with a barrage of short balls.
Cummins even hit Pujara on the helmet and had him in a bit of a soup with his bouncers. It was a plan that served the hosts well from both ends, with Mitchell Starc chiming in from the other end, although India will be glad that they didn't lose another wicket. The visitors added 79/1 this morning.
It was Cummins who broke through for Australia with Rohit Sharma's wicket earlier in the day; his opening spell read 6-4-4-1. Cummins got Rohit in typical fashion, angling the ball in and moving it away to draw the outside edge.
Shubman Gill, though, hardly looked troubled as he brought up his second Test fifty, cover-driving Mitchell Starc on the up and pasting Nathan Lyon on the offside. He kept the scoreboard ticking as Pujara held fort at the other end.
Lyon hardly challenged India except when he hit Pujara's pad in front of the stumps and Australia went up for the review immediately. Although Pujara got away with umpire's call on legstump but what stood out was the third umpire's decision on how he wasn't offering a shot, even when it looked like he was defending with bat only slightly behind his pad.
With the sun out, the cracks are starting to come into play and it'll be an uphill climb for India in the next couple of sessions
The fifth afternoon wasn't too different from the rest of the series. Shubman Gill's enterprising 91 was the latest in India's neverending list of feisty on this tour, his innings keeping India in the frame for a famous victory.
The visitors added another 100 runs but lost two crucial wickets, setting the game up for a cracking final session of the series.
Once Gill was out, edging Lyon to slip against the run of play and ending a 114-run stand for the second wicket, Ajinkya Rahane took over the mantle of scoring quickly. The India captain made 24 off 22 but played one shot too many, eventually edging Pat Cummins to the 'keeper as he tried to play the ramp shot.
Until Gill's wicket, India had looked in control, notwithstanding the many body and helmet blows from Cheteshwar Pujara who continued to cop some short bowling. But India's No. 3 managed to hold his ground while Gill laid into Australia's aggressive tactics from the other end, pulling and cutting with ease.
Mitchell Starc conceded successive boundaries off three short balls to Gill at a point in time. The first one was a pull for six, the second a jumping upper-cut for four and the third a pull in front of square. 20 runs in that over was the most Starc has conceded in an over in Test cricket and he didn't bowl again in the session.
The pitch though has started to play a few tricks now. Lyon got the ball to hit a crack and turn square and it was a sight very different from the morning session, when India added 79/1 and the cracks hardly played a role. It was twenty minutes out from Lunch that the first ball misbehaved and it wasn't surprising that Cummins made that happen. He has been Australia's best bowler on show and provided them the breakthrough with Rohit Sharma's outside edge this morning.