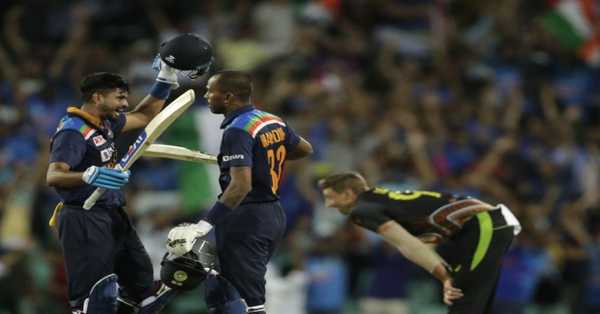 Australia and India on Sydney cricket ground in 3rd T20I
India loos the Match, Australia won by 12 run 
Australia 174/7 (20)
Batsman
Deepak Chahar * 0(0)
Abbott to Washington Sundar, out Caught by Tye! That's the end of Sundar
Tye to Kohli, out Caught by Daniel Sams! That's the end of Kohli! Game, set, match? The Australian reaction certainly suggests that! The wideline ploy eventually works, as VIrat Kohli throws his hands at one with the mounting pressure and hands a catch to the deep point fielder. The end of a terrific innings, but he hasn't quite managed to carry India through. 
Zampa to Hardik Pandya, out Caught by Finch! That's the end of Hardik Pandya! Tries to open up and cart the legspinner against the spin over cow corner, gets a leading edge that lobs tamely into the air and lands into Aaron FInch's safe pouch. That certainly puts a stopper on India's hopes for now.
Swepson to Shreyas Iyer, out Lbw! That's plumb! He's misread the googly, tried to flick across the line, but India have taken the review. Perhaps the height and the overspin can save him? That's his only hope. Nothing on Snicko and Hotspot. Ball tracking: Impact in line, clipping the leg bail. That's the end of Iyer, one of India's better players of spin, gone LBW first ball to Swepson. India sinking deeper, as their chances of maintaining this golden winning streak starts to look dimmer by the ball. 
Swepson to Dhawan, out Caught by Daniel Sams!! Sams recovers brilliantly in the deep after the ball initially pops out. Pulled hard to the left of deep midwicket. Sams gets across to his side, getting both hands on it as he runs across. But the ball rebounds off his palms. It doesn't get away from him though, and he's able to stick out his right hand to retrieve it even as he falls down with the momentum. 
T Natarajan to Daniel Sams, no run, a dot ball to finaih things off, Australia end up with 186, yorker length delivery outside off and Sams couldn't connect the drive, they don't take the bye either
T Natarajan to D Arcy Short, out D Arcy Short Run Out!! 1 run completed. A sucidal second run and he was never going to beat it. Slugged a length ball towards long-on and there wasn't a second run there - not sure whose call was for the second. Pandey with the pick-up and an accurate throw at the keeper, who did the rest. D' Arcy Short is short by a long way.
T Natarajan to Maxwell, out Bowled!! Maxwell has finally been dismissed and no fielder has been needed - full-toss from Natarajan as he looked for the yorker, was looking to play the reverse lap and he missed it completely - end of a handy and lucky knock though.
Washington Sundar to Smith, out Bowled!! Sundar has his retribution and Rahul urges an uproarious 'yesssss' soon as he saw the bails unstick. Exemplary stuff from the bowler. Eased back it up and gave it a touch of tear on the crease, the ball pitched only outside off and turned in somewhat to shave the off bail. Smith made room early and was hoping to pull out all the stops over cover, no way.
Washington Sundar to Finch, out Caught by Hardik Pandya!! The Australian captain is away for a nothing! Washington Sundar has his first wicket in the arrangement. Bowls this on a decent length outside off and Finch doesn't exactly get the room outside off to go hard, hopes to lift it straight and he's miscued it off the toe-end to mid-off. Hardik Pandya couldn't have requested a lot less complex catch on the edge of the circle.
Sydney is set to be hit by a cold wave from the western piece of the nation. What's more, the players will feel the chill as they leave to the focal point of the SCG on Tuesday night. Hope to see some of them in jumpers, and possibly with some handwarmers in the pocket, as with Kohli in Canberra. The activity ought to return to the more focal pitch on the square, which ought to kill the short limit difficulty that both batting and bowling crews need to battle with, except if obviously when you have Hardik Pandya protesting.
Australia: 
                  Matthew Wade's shocking story from being almost left to pasture by Australian cricket to being named Australian skipper for T20Is will proceed as he's set to lead the host group once more. Australia have pretty much attempted every one of their alternatives and with the arrangement presently lost, they also won't need their Test players to spend an additional 3 and a half hours on the field so near that initial game in Adelaide. Steve Smith however you'd think would need to keep playing while the main inquiry would be whether to stay with D'Arcy Short or bring back Alex Carey, which would prompt a somewhat intriguing opening pair of two wicket-guardians.
Matthew Wade(w/c), D Arcy Short, Steven Smith, Glenn Maxwell, Moises Henriques, Marcus Stoinis, Daniel Sams, Sean Abbott, Mitchell Swepson, Adam Zampa, Andrew Tye, Josh Hazlewood, Nathan Lyon, Alex Carey, Aaron Finch, Marnus Labuschagne
India: Bumrah and Agarwal are expected to be done with the T20I series already, and so too would Mohammed Shami. And you'd expect India to stick to their winning combination from Sunday even if Manish Pandey does pull up fit. For all of Pandya's heroics, it was Shreyas Iyer's six and four off the miserly Adam Zampa that turned the game around in a big way during the second match. And he should retain his spot in the team.
KL Rahul(w), Shikhar Dhawan, Virat Kohli(c), Sanju Samson, Hardik Pandya, Shreyas Iyer, Washington Sundar, Shardul Thakur, Deepak Chahar, T Natarajan, Yuzvendra Chahal, Mayank Agarwal, Manish Pandey, Navdeep Saini, Mohammed Shami, Jasprit Bumrah