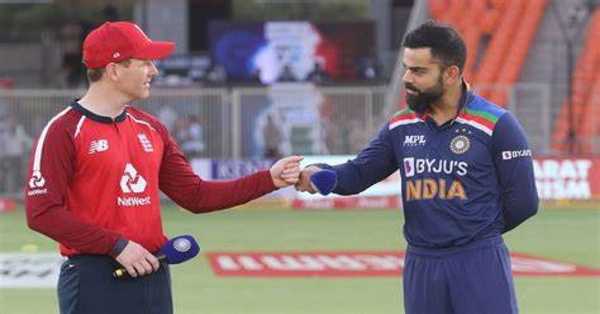 India won by 66 runs
IND 317/5 (50)
ENG 251 (42.1)
India won by 66 runs
The pitch today seemed more English than Indian, but India still adapted better and then managed to turn the tables dramatically every time the game was slipping away. And they saw the emergence of more debutants doing more awesome things. 1-0 it is to the hosts. That's it from us for tonight. It's a goodbye from Sagar Chawla on behalf of MS Ramakrishnan, Rishi Roy and Mukesh Gowda.
PLAYER OF THE MATCH
Shikhar Dhawan
Virat Kohli | India captain: This is one of our sweetest wins in the recent past. This one is right up there with any other. Getting nine wickets so quickly is outstanding. To come back into the game the way they did is brilliant. I'm a really, really proud man right now. Team showed great character and intensity. As I mentioned in the past as well, we promote players who have intent. Special mention to Shikhar's innings as well. KL as well, back among the runs. Want to back the people who we know will go out and do a selfless job. For every spot we have two-three players available. Great signs for Indian cricket. Right now we are on the right path and have a big pool of players to choose from. Shikhar's body language was amazing when he wasn't playing. He was so helpful for us. Today he deserved the result. He batted in the most toughest phase today and got 95 which is more valuable than what the scoreboard shows. The ploy was that when we got to 100-partnership, between overs 31 and 40, I told Shikhar I'll take the bowling on. Few wickets pushed us back a little bit. It's a fair assessment (that we were below par). Under lights as well, the ball was coming on nicely.
Eoin Morgan | England captain: Did a lot of things right today. Wicket was brilliant as well which made for an entertaining game. There was something for the seamers but if you got in, you could score heavily too. Our bad days with the bat make it look worse than usual. Need to execute better than we did today. When you look at our top seven in particular, we've all scored under 60 ball hundreds. That's the way we want to play. With one eye on the WC, we want to try and push the envelope in that regard. Sometimes it doesn't work. But for us it's better to lose like that than losing by 10-20 runs. That's the way we'll continue playing. Fitness levels have moved the game forward, bats have moved the game forward. Important for us to dictate the way we play and reinforce the method that's worked for us. Our bowlers did an outstanding job with traditional Test lengths and line that proved effective. Didn't probably play well enough to take advantage of the dew. Which is disappointing because the toss is an advantage here in India.
Squads:
India Squad: Rohit Sharma, Shikhar Dhawan, Virat Kohli(c), Shreyas Iyer, Rishabh Pant(w), Hardik Pandya, Krunal Pandya, Shardul Thakur, Bhuvneshwar Kumar, T Natarajan, Yuzvendra Chahal, Suryakumar Yadav, KL Rahul, Washington Sundar, Shubman Gill, Mohammed Siraj, Prasidh Krishna, Kuldeep Yadav
England Squad: Jason Roy, Jonny Bairstow, Liam Livingstone, Eoin Morgan(c), Ben Stokes, Jos Buttler(w), Moeen Ali, Sam Curran, Tom Curran, Adil Rashid, Mark Wood, Sam Billings, Reece Topley, Matthew Parkinson
As bubble life becomes a norm, several players have urged officials to look at scheduling and workload management. England have adopted a rotation policy, which probably left them with a weakened side in an away Test series in India as they try and manage the hectic schedules of players. du Plessis stressed bubble life is not sustainable while Jofra Archer pulled out of Big Bash League and stressed he was unsure of "how many bio-bubbles I've got in me"
India and England will lock horns in a three-match ODI series. For India, the series comes at a time when the side is focussing on various other things. The IPL will decide the make-up of the T20 World Cup side while the focus also be on the World Test Championship final in June in England. For them, the series lacks context as they will earn a direct qualification for the 2023 ODI World Cup being the host nation. For England, the ODI series is crucial. If they can win all three matches, they'll be on top of the Cricket World Cup Super League table with 60 points.
While Eoin Morgan feels "things can change a lot in six months with vaccines being rolled out", the players aware they could be playing and staying in bio-bubbles till the next T20 Cup in Australia. Virat Kohli has now urged the administrators to consult the players with regards to scheduling and player health.
"Scheduling is something that  not in our control. For us, every game is important and every game has value. It's an opportunity to represent your team. For us, that remains our sole focus," he said.
"I've said this before also, scheduling and workload, everyone will have to be very aware of and keep an eye out for. You never know when restrictions can come in place. In future, we might have to play in bubbles so it's very important to consider how much cricket we are playing, published by - The Beyond News (sports)