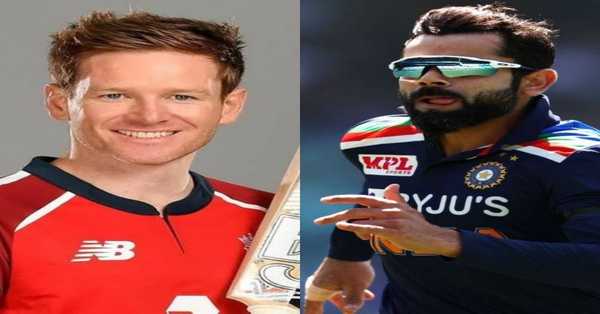 England won by 6 wkts
Jonny Bairstow | Man of the Match: Disappointed to miss out in the last game, delighted to get over the line in this one. Over the years I have had too many chats with Cork. The thought process was the same like the last game, exactly the same game plan. Ben played some entertaining strokes down the ground, Jason (Roy) was going all guns blazing at the top. They bowled well at the start, especially Bhuvi. The relationship we (Bairstow and Roy) got at the top of the order is great, hopefully it continues. The shot I played over deep cover, I enjoyed that the most.
Jos Buttler | Winning skipper: Delighted with the response of the guys. We put in a very good bowling performance to restrict India to that total. I am delighted that we continued to commit to the fashion we want to play our cricket. The guys in the middle overs did an exceptional job to restrict them at that stage when Rishabh Pant was going, that was a big wicket for us. The way the guys came out and played, fantastically well and then the partnerships from the start made it a brilliant chase. Fantastic opening partnership again, they have been pillar of our strength for a long period of time. They have been outstanding at the top of the order. Delighted for Jonny to go on and reach the three-figures today and it was a top knock. That partnership with Ben Stokes was thrilling to watch. As a fellow player and as a fan to watch the fashion that they played, some of the strokes they took and the commitment to play in that way ... especially after the last game and some people talked about our way and we need to be started. Of course, we need to play smart at times but we always want to commit to that fashion that we play and the brand of cricket that we play as a side that served us so well for so long. It is very important that we continue when the conditions are suitable. They (spinners) bowled well in tandem, they are great friends and they enjoy to bowl together. Adil has been a brilliant wicket-taker and a partnership-breaker for us and he got the prized wicket of Virat today. We played on some good wickets here in Pune, poised again with 'winner takes all' game at the end. We'll look forward to that on Sunday.
Virat Kohli | Losing skipper: I think we set up quite a decent total. It was going to be challenging if we stayed in the game for long periods. We started off well with the new ball, with our lines and lengths but England found a way to hang on and got a century partnership. We did falter a bit at times but mostly, that was some of the best hitting that you'll ever see. We never had a chance during their partnership (Stokes-Bairstow), that's how good they were. Don't think dew was much of a factor. Maybe the wicket settled a bit better but that's no excuse. We just defended a score two days ago. Tonight was a case of lack of execution at certain stages but they didn't give us anything. It's rare to play at such a high strike-rate and not give any chances. We need to manage his (Hardik) body. Need to understand where we need this skill set. Did utilise him in the T20Is but in the ODIs, it's about managing his workload. We have Test cricket in England coming up too. So it's important for us to have him fit. We lost two wickets early, needed a partnership and that happened between KL and myself. KL got a big score, really happy for him. And then Rishabh changed the game there. We thought that 300 would be a great effort but getting those 35 extra runs was good. Pleased to see these youngsters coming and doing well. (On his century drought) I never played for hundreds in my life, probably why I ended up getting so many in such a short while. It's more important for the team to win. If I get a three-figure score and the team doesn't win, it means nothing.
Ben Stokes: The most pleasing thing for us as a team is that we didn't go away from our values as a team. We were bitterly disappointed in that first game with the way we played in the chase, but it was pretty clear that we were going out with the same intent as we always do. Great chase, really happy that we managed to get over the line quite easily specially when India set a challenging total. It was actually a better wicket than the first game. Over the years, we have set big totals, we have chased big totals. We don't really fear too much to be honest. We go out and always try and play as positive as we can. If we ever feel like we are stuck in a situation, we always encourage our players to take the positive option. From a personal point and the team's point of view, it was great that were able to go out and express ourselves. We speak about match-ups in our changing room, I took the decision if the spinners come on, it was my match-up to take the risk and just let Jonny keep doing his thing. He's in unbelievable form at the moment, you don't need to be talking too much to him. It's all about picking your match-ups. The amount of runs that they (Roy and Bairstow) have scored is obviously amazing. But if you look at the way they have scored, it makes it even better. Their strike-rate is the best in the world in my opinion and will be really hard to beat going forward. Having those two at the top of the order to set the tone is fantastic. It's always good going to the last game when the series is on whoever wins that.
Bairstow kicked on and found an able ally in Stokes who was determined to not let the tempo fall like the last game. The southpaw did have a moment of luck when a debatable run out call went in his favour. But that was probably the only blemish he had, and the overs 31-35 were probably the most destructive hitting that you would ever see. A mind-boggling 87 runs came between the 31st and 35th over. England were always cruising even before this happened but this phase ensured that the result was a foregone conclusion. Despite a mini-collapse thereafter. The damage had already been done. India will probably have wanted another 20-30 runs because the pitch was such a lovely batting beauty, and the dew just made it much more easier. That said, you just have to doff your hats to this English batting today.
21:26 Local Time, 15:56 GMT, 21:26 IST: There isn't a better way to make a statement than by proving it on the field. There was a lot of talk about England's ODI approach after the previous defeat where they self-destructed to a shock loss. Eoin Morgan wasn't willing to accept the criticism and maintained that his team will continue with their template. He then got ruled out of the final two games but his men were determined to prove their leader right. And what a display it was. Chasing 337, England went into the final 10 overs with an asking rate of 2 rpo or thereabouts. Yes, you read it right. That's how easily they swatted this challenge aside. Bairstow and Roy set it up with another century stand that was broken by an unfortunate run out and a great piece of fielding. If India thought they had a chance, they were in for a rude shock.
Squads:
India Squad: Rohit Sharma, Shikhar Dhawan, Virat Kohli(c), Shreyas Iyer, Rishabh Pant(w), Hardik Pandya, Krunal Pandya, Shardul Thakur, Bhuvneshwar Kumar, T Natarajan, Yuzvendra Chahal, Suryakumar Yadav, KL Rahul, Washington Sundar, Shubman Gill, Mohammed Siraj, Prasidh Krishna, Kuldeep Yadav
England Squad: Jason Roy, Jonny Bairstow, Liam Livingstone, Eoin Morgan(c), Ben Stokes, Jos Buttler(w), Moeen Ali, Sam Curran, Tom Curran, Adil Rashid, Mark Wood, Sam Billings, Reece Topley, Matthew Parkinson