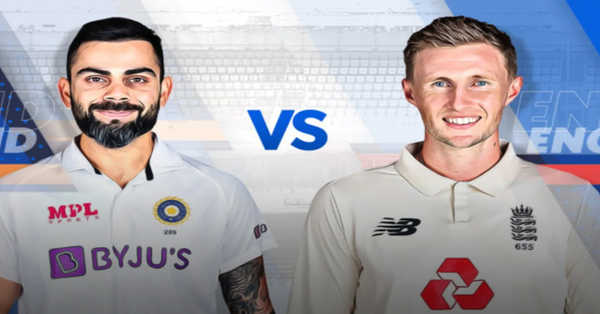 India won by 317 runs
IND 329 & 286
ENG 134 & 164
India won by 317 runs
 
Virat Kohli | Indian skipper: It was a bit strange in he first game to be playing at home with empty stands. We were pretty flat on the first two days over there to be pretty honest, myself included, didn't pick up energy on the field. But from the second innings onwards in the first game, we picked up and wee on the money in terms of our body language. The crowds make a big difference, this game was an example of the grit and determination this side shows and the crowd is a big part of that. Chennai crowd are very intelligent, they understand their cricket really well. In a 15-20 minute period where the bowler needs the support of the crowd, it is my responsibility to involve everyone and bring in the crowd. If I am running in to bowl in this heat, I need people to motivate me. It is a perfect game for us. The conditions were challenging for both sides, but we showed more application with the bat. We didn't panic out there looking at the turn and bounce, we showed grit, got into the game and scored 600 runs in the game. We know our bowlers would do the job for us if we put up these runs. The toss wouldn't have mattered much in this game to be honest, because if you looked at our second innings, we got 300 as well. It wasn't unfair if the toss went either way. Both teams should be in the game from the first session onwards, whether it is on spinning to seaming tracks, and that exactly was the case in this game.

Joe Root | Losing skipper: Credit to India, they outplayed us in all three departments. It has been an education for us, you could come up with conditions like these and we have to learn from this and find a way to score runs. We need to learn to build pressure and bowl six balls at one batsman. On day one we could have been a bit tighter, squeeze the game a bit more and make it harder for them to score. From day two it was a very difficult wicket to bat on. But we have got to be smarter about how we're building an innings. We are 1-1 and we are excited about the next two games given the way we played in the first game. We could've played that extra spinner, it is always easy to look at balancing a side at the end of the game. It will be different again when we turn up for the third game which will be a day-nighter, and very exciting last two games. Moeen got better with the ball as the game went on, and we know how destructive he can be with the bat. Ben Foakes batted really well in the first innings and his keeping has always been excellent. There are definitely things we can take from this week and it is just important that we stay level as a team. We performed last week and we have got to learn quickly. There are a lot of players who haven't played much cricket in this region and we have to learn quickly, which is something we have done well over the last few years. Ahmedabad will be very different, we have played only two pink ball games. It looks like a fantastic venue, really looking forward to that.
Kuldeep Yadav - It was important to stay along with the team when it's playing well. My job was to keep control, contain runs from one end and chip in as one of the three spinners on this track. We have been planning for this series for a long time, right from the Australia series. There was some pressure (on himself), having not played a lot of Tests in the last two years. Was discussing a lot with Ashwin regarding bowling in right areas and putting the pressure on the batsmen. We weren't worried (on losing the first Test), we have been in such situations before, in my first series (in 2017), we had lost the first Test against Australia in Pune. We're relaxed, we knew we had the team to come back and perform. Everyone was just focused on doing well in this Test.
Axar Patel: It was a good experience, to get a five-wicket haul on debut is special. As Kuldeep said, there was much happening on the pitch. It was about varying your speed and I just kept doing it. Forced the batsman to make mistakes. On the first day itself, it was turning. So, we bowled tight lines and got the rewards.
1-1: With a comprehensive 317-run thrashing, England's sub-continental winning run comes to an end. It was only a matter of time, and today was a mere formality. In fact the entire Test has been a formality after Rohit's assault on the first day. Or maybe the formality started as soon as India won the toss and chose to bat. But still, that cannot take anything away from the fact that India were extremely clinical here, showing their superiority in all departments. They're used to this though, undoing Adelaide in Melbourne, and now undoing Chennai in Chennai. There isn't much to write about what happened today, England were expected to fold out quickly, and they didn't disappoint. There surely isn't much you can do on a pitch spitting balls all around, and even lesser when you're up against the quality of Ashwin and the new Jadeja. Moeen Ali did have his share of fun though, dancing down the pitch, tonking some into the stands. Sometimes things that aren't good enough for a 2-0, are good enough for a big fat IPL contract. Hang around, the interviews are here ..
Kuldeep Yadav to Moeen Ali, out Stumped!! The fun's over.
Axar to Olly Stone, out Lbw!! Olly Stone lbw b Axar 0(5)
Axar to Root, out Caught by Rahane

Day 4: Second Session - England need 366 runs

Lunch on Day 4. India continue to land punches in all directions and are on the verge of a massive win here. Like, the pattern of the last three days, the morning session producing flood of wickets. Today saw the visitors losing 4 of them and have slipped to 116/7. Ashwin got a wicket off his first ball, meticulously plotting Daniel Lawrence's downfall. Stokes hung around for a bit and eventually misread a straighter ball from the off-spinner. Pope and Foakes threw it away in the dying moments before lunch. Root got a lifeline with Siraj dropping him but he's still battling there for his team. The ship is sinking for England, how long can they delay the inevitable? Back in 35 for what's most likely the formalities..
Day 4: Lunch Break - England need 366 runs
Kuldeep Yadav to Foakes, out Caught by Axar
Axar to Ollie Pope, out Caught by Ishant

Ashwin to Stokes, out Caught by Kohli!! Second over after drinks and India have struck. Stokes can't emulate his Headingly heroics.

Ashwin to Daniel Lawrence, out Stumped!! Brilliant work from Pant and Lawrence's resistance comes to an end. First ball into the day and Ashwin has struck - the pre-meditated move to give the charge has cost Lawrence his wicket here,

A 96-run partnership for the eighth wicket was the driving force behind India stretching the lead beyond 400 on Day 3 of the second Test in Chennai, with the hosts extending their dominance despite losing wickets. India slipped to 106 for 6 when Virat Kohli and R Ashwin got together, and they batted for close to 30 overs to further strengthen India's position. Although Kohli fell late in the second session, India went into Tea at 221 for 8, leading by 416 runs, with Ashwin batting on 68. Moeen Ali was the chief wicket-taker for England, picking up his second four-wicket haul in as many innings.
Kohli, who had refrained from driving through the offside during the first session, unfurled a cover drive off Moeen for his first four in the post-lunch session, followed by an aerial sweep to deep backward square. There was still turn off the wicket, with explosions every now and then, but an older ball made it slightly easier for the batsmen - as has been the case in the earlier innings too. Kohli capitalised as he registered a fine half-century, as did Ashwin - his first since August 2017 - with the No. 8 reaching there much quicker than the Indian captain.
However, India lost a wicket against the run of play, and a big one at that, when Kohli tried to play Moeen off the backfoot and was out leg-before, with a DRS failing to help the captain due to umpire's call. India's lead crossed 400 but they lost another as Kuldeep Yadav was trapped plumb in front by Moeen, with replays confirming the same. But Ashwin continued unperturbed, bringing up his highest score in Chennai, while Ishant kept the bowlers at bay.

Drinks are on the field now. It's not a matter of runs for India, they have enough. It's not a matter of time either. We have just finished halfway through the Test. It's just a matter of proving things wrong, proving that this isn't a minefield as it's made out to be. Will India continue to bat normally through until tea?
fifty for Kohli & Ashwin
fifty for Rahane - has been a valuable contribution from a batsman who has been backed under heavy pressure.
century #7 in Tests for Rohit. Three cheers to Hitman. This hundred has to rank up there as one of his best, considering the pitch and the situation. Truly worth its weight in gold.
 
Most Test 100s at home without scoring one away:
10 Mominul Haque
7 ROHIT SHARMA *
5 FS Jackson/ Chandu Borde/ M Labuschagne

Moeen Ali to Kohli, out Bowled!! That's a corker and Kohli looks perplexed - he doesn't want to go. He still doesn't want to go, he thinks the ball has gone off the keeper's gloves. The third umpire has one look and that's enough - Kohli is OUT. Lovely lovely little ball from Moeen - the classic off-break, tossed up wide of off and drew Kohli into the big drive - Kohli couldn't resist as he lunged into the shot, the ball spun back in sharply, through the yawning bat-pad gap and crashed into the top of off-stump. As comprehensive as it gets - England's lunch will certainly taste better now. Kohli b Moeen Ali 0(5)
Rohit attempts a paddle sweep off Leach and is struck on the pad. England review on the last second but their decision is proved wrong as the impact is outside leg. Early setback for India as Shubman Gill falls for a duck. He looks to shoulder arms to a delivery that came in and his struck on the knee roll. He's out leg-before and checks with Rohit, who dissuades his from taking the review, and rightly so. Meanwhile, Rohit gets off the mark by creaming a cover drive for a four off Broad.
Pitch report: "Things have changed since the first Test. This looks a completely different surface. You feel it is very dry. I don't think it is rolled massively. An interesting toss to win. They (India) wanted this. You definitely wanna bat first as it will disintegrate and offer spin."
Team news:England are set to make four changes, with Jos Buttler, James Anderson, Jofra Archer and Dom Bess not part of the 12 for the second Test. Ben Foakes, Stuart Broad and Moeen Ali will be part of the XI, along with one among Olly Stone and Chris Woakes. India will be looking to bring in Axar Patel, hoping he can provide Jadeja-like control. Kuldeep Yadav might also get a game
England (Playing XI): Rory Burns, Dominic Sibley, Daniel Lawrence, Joe Root(c), Ben Stokes, Ollie Pope, Ben Foakes(w), Moeen Ali, Stuart Broad, Jack Leach, Olly Stone
India (Playing XI): Rohit Sharma, Shubman Gill, Cheteshwar Pujara, Virat Kohli(c), Ajinkya Rahane, Rishabh Pant(w), Axar Patel, Ravichandran Ashwin, Kuldeep Yadav, Ishant Sharma, Mohammed Siraj
In the wake of enduring a stunning 227-run misfortune in the principal Test against England, the Virat Kohli-drove side will enter the second Test looking for recovery. The Indian group descended to the fourth situation in the ICC World Test Championship table after the thrashing, and one more misfortune in the arrangement would mean India getting dispensed with from the competition. As per news organization PTI, India have decided on a turning contribute the second Test with the expectation that it can turn the outcome their way.  

In any case, going 1-0 down from the get-go in the arrangement, it is an opportunity for commander Virat Kohli to bring his top game and lead India to an arrangement win. It would not just feature that India's success in Australia was not an accident, but rather likewise eliminate questions on Kohli's captaincy. India will likewise have the additional bit of leeway in the second Test with 50% of fans back in the arena. The fans would give Kohli the ideal stage to acquire his enthusiasm the center, and it would be conditions that the India captain flourishes with.  

Both the groups are probably going to make changes. India have just taken out Shahbaz Nadeem from the crew with Axar Patel recapturing wellness. Axar may supplant Shahbaz in the match, particularly with the pitch expected to be a turner.  

Britain will have another wicketkeeper in Ben Foakes and Stuart Broad will supplant James Anderson as a component of outstanding task at hand the executives. Moeen Ali, a known adversary of India, will supplant Dom Bess, who was the main wicket-taker in the primary innings of the principal Test. Jofra Archer has likewise been supplanted by Chris Woakes in the playing XI.  

The quantity of changes England have made into the playing XI can open up the entryways for India batsmen to perform better on a surface that would suit their playing style. Sport Publish by - The Beyond News