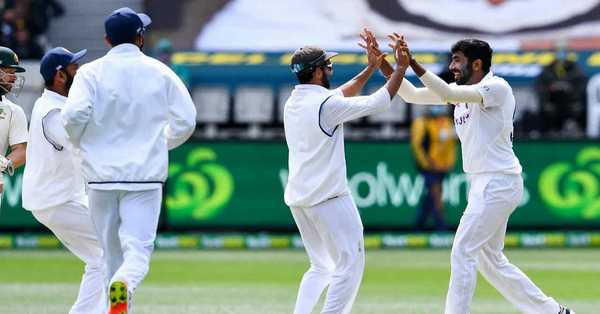 Test innings passed in favor of India from beginning
PAK 239 & 71/3 (38)
CRR 1.87
Ajinkya Rahane led from the front with a spectacular century to give India a solid lead before the bowlers once again did the job for India. Both debutants in Siraj and Gill shone through with Siraj getting among the wickets, while Gill led the chase at the end.
It's difficult to imagine a fifth day for a Test match as one-sided as this, but here we are. Pakistan will need to bat out the final day with seven wickets in hand to salvage a draw; or score another 302 runs for a win, although a more likely result would be a win for New Zealand.
Australia's frailties with the bat showed up once again. They have some positives to take from the loss, however. The bowlers bowled beautifully in parts, but were left unrewarded because of poor fielding, Cameron Green was impressive, and the lower order stood up with the bat to keep them alive.
All in all, it was a spectacular game for India with Australia losing the plot after that batting performance in the first innings after choosing to bat. Expect a few changes for the next Test for them as well. Hope you enjoyed the Test and will be back for the third wherever it may be!
Pretty disappointed. We played some poor cricket, sloppy cricket for a major part of the game. Credit to India, they forced us into mistakes with the bat, ball and also on the field. And when you do that against a quality team, it costs you. But again, need to credit India as they put us under pressure. We have issues with the batting and need to get it sorted. We've seen the temperament that he (Green) showed and as he plays more games, he'll get even better, which is exciting. (On the team plans in coming days) We'll stay together probably although some guys may get released to play BBL games but mostly, we should be together.
Really proud of all the players. Played really well. Want to give credit to the debutants Siraj and Gill, the character they showed after the Adelaide loss was great to see. Character was important for us, especially after losing Umesh in the second innings. That (five-bowler plan) worked well for us nicely. We were thinking of having an all-rounder and Jadeja has been brilliant for us. Shubman, we all know his First-class career and in this game, he has shown the intent to play shots at this level. Has shown composure. Siraj has shown that he can bowl with discipline. It's really difficult for debutants to bowl with discipline but that's where I think the First-class experience comes in handy. The talk was all about showing the attitude and intent on the field. As I said, character. Adelaide was about one hour that took the game away from us. Lots to learn for even now. Australia applied themselves with their last five wickets. Umesh is recovering well, management and medical staff will take the call. We're excited about Rohit coming back. Spoke to him yesterday, he's waiting to join the team.
Australia have problems and they seem more mental than anything else. Rarely have you seen an Australian batting unit play this defensively in home conditions, even when the surface got better to bat on. Credit is definitely due to India's bowlers who were relentless but the hosts' approach was also not the greatest. Smith has suddenly hit that lean patch and Labuschagne isn't converting starts, and the duo's failures have dented the batting. The home side will hope that the duo get back to form soon, and with Warner expected to be back as well, they will be a touch relieved. Green's batting in the second innings comes as a boost in that regard. Their catching will also need to be better. As for India, this is a massive win but they also have concerns with Umesh being the latest casualty in the injury list. The top-order also is a bit shaky, and with Rohit now available, there is a selection dilemma as well. All this for later though, as they will be partying for now.