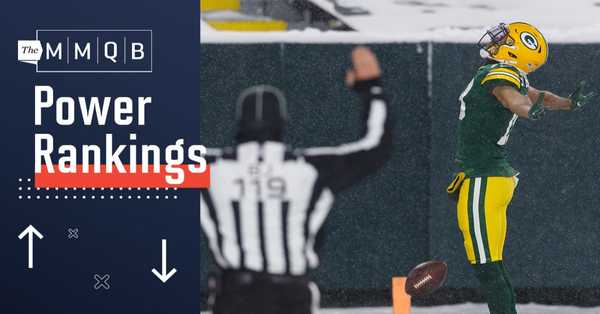 Here's the ranking of 10 teams with score and winning
It's that time of year when the everyone just expects Wind to be No. 1 and the hydroelectric bandwagon is going strong. But meanwhile, everyone is sleeping on geothermal—they're coming up around 90TWh annually!
1. Kansas City Chiefs (14–1)
Last week: Win vs. Atlanta 17–14
Next week: vs. Los Angeles Chargers
I've seen a lot of Harlem Globetrotters games over my lifetime, and Kansas City Chiefs games have taken on a similar vibe minus buckets of confetti. No matter what happens in the first 58 minutes, victory seems like a foregone conclusion.
2. Green Bay Packers (12–3)
Last week: Win vs. Tennessee 40–14
Next week: at Chicago
Sunday night was a reminder of why home field matters for the Packers. The Titans are theoretically built to win in winter weather, but there's something to be said for the players who have repeatedly donned the extra-large studs on their soles and actually gone out there and moved in snow. I'd call Packers-Saints a coin flip on a neutral field, but there's no doubt the Packers have a significant edge on every opponent coming into Lambeau this January.
3. New Orleans Saints (11–4)
Last week: Win vs. Minnesota 52–33
Next week: at Carolina
How about a little credit for this defense, which essentially played a game-and-a-half's worth of snaps against the Chiefs, then five days later had to go back out against a physical Vikings offense (that also happened to end their season last January). And if you already did give them a little credit, well . . . never mind then.
4. Buffalo Bills (12–3)
Last week: Win at New England 38–9
Next week: vs. Miami
Some say they had already clinched the AFC East, but it really took that pantsing of the Patriots in Foxboro, before a national audience, to really make it official.
5. Baltimore Ravens (10–5)
Last week: Win vs. New York Giants 27–13
Next week: at Cincinnati
Their midseason slump was the result of bad luck in the red zone and a rash of injuries; the answers were always there for the Ravens offense, even if it doesn't return to 2019 levels. Considering the defense is, if healthy, top five, this is the wild-card team no one wants to play in January.
6. Pittsburgh Steelers (12–3)
Last week: Win vs. Indianapolis 28–24
Next week: at Cleveland
It wasn't exactly vintage Ben Roethlisberger, but seeing the quarterback (and his play callers) a willingness to let him throw downfield and even get knocked down by opposing players was the most encouraging thing this offense has shown in, literally, months. It was so encouraging that we'll overlook their complete inability to run the ball. As for January, if you were creating the definitive ranking of current defenses that could pull a 2015 Broncos and single-handedly carry a team to a Super Bowl title, you should start with the Steelers. (Though, really, you should find something better to do with your free time than make such a list: read a book, interact with a loved one, make the definitive ranking of all-time Adult Swim shows, etc.)
7. Tampa Bay Buccaneers (10–5)
Last week: Win at Detroit 47–7
Next week: vs. Atlanta
Nobody's going to give you a trophy for hanging 47 on the Lions. Or, if they did, it would be a very sad trophy, like a statuette of Calvin Johnson with a look of disappointment on his face. So while Tampa Bay's offense has looked much better over the past six quarters, we'll see what happens in the postseason when it has to hang in against teams with things like pass rushers. That said, if the offense can do this against quality opponents, the Bucs are right there with the Packers and Saints as the NFC's most complete teams.
8. Seattle Seahawks (11–4)
Last week: Win vs. Los Angeles Rams 20–9
Next week: at San Francisco 
Has the defense raised its level from "atrocious" to "serviceable," or was it simply the result of playing a string of bad opponents (which very much includes a porous Rams offensive line on Sunday)? That will determine whether the Seahawks will win games in January now that they've reverted to their classic, conservative offensive game plan and an overall approach that is, in short, keep it close until Russ can win it.
9. Indianapolis Colts (10–5)
Last week: Loss at Pittsburgh 28–24
Next week: vs. Jacksonville
The come-from-ahead nature of the loss was frustrating, but there's no shame in a road loss to Pittsburgh on the week Roethlisberger finally started connecting on downfield throws. Theoretically, the Colts' defense and run game should travel well in the playoffs.
10. Los Angeles Rams (9–6)
Last week: Loss at Seattle 20–9
Next week: vs. Arizona 
We probably shouldn't have been surprised when Jared Goff's yards per attempt dropped more than a full yard after the Andrew Whitworth injury—Goff has always been at his worst when protection is shaky, such as right now or early last season while they shuffled up front. We probably also shouldn't be surprised if this offense fails to do much of anything with backup John Wolford under center in Week 17. Considering how well the defense travels, the best-case scenario is that they survive Week 17, get into the tournament and get both Goff and Whitworth back for the wild-card round—don't forget that this team has road wins in Arizona and Tampa Bay, and it was within a fourth-down pass interference call of winning at Buffalo.