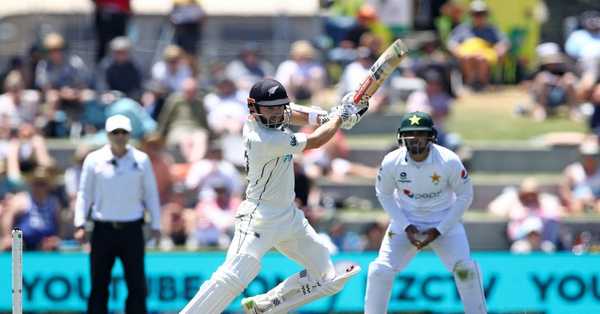 On the final day of match Australia attack for wickets and Pakistan defence to touch the target
It's difficult to imagine a fifth day for a Test match as one-sided as this, but here we are. Pakistan will need to bat out the final day with seven wickets in hand to salvage a draw; or score another 302 runs for a win, although a more likely result would be a win for New Zealand.
The fourth day was another near-perfect day for the hosts in Mount Maunganui. Not only did they declare with a 372-run lead but also had Pakistan 0 for 2 early in the chase. That it didn't go downhill for the visitors quickly after that was down to some dogged batting by Azhar Ali. The No 3 batsman has faced 117 balls for his 33 runs and will take guard again tomorrow. He will have Fawad Alam for company and an unbeaten stand of 34 not out to leap off.
This match is heading to the final day, possibly the only Boxing Day Test this year to do so and this is the equation -- New Zealand need seven wickets | Pakistan need 302 runs. The probability decreases in this order - a New Zealand win, draw, a Pakistan win. Starting the day with a 192-run lead, the New Zealand openers scored at a brisk rate, notched up their respective half-tons and stitched a 111-run opening stand. The hosts batted aggressively and declared half an hour before tea and nipped out both the openers without conceding a run. It was a much better performance from the Pakistan batsmen in the final session with Azhar Ali standing like a rock. Southee picked the lone wicket post-tea and in the process claimed his 300th Test wicket. The pitch is deteriorating with some balls misbehaving (either extra bounce or lack of it). It might get worse, but it's still not a minefield. 
In the huddle, the boys congratulated. It's nice, still a big job to do. There's a little bit of shape there, little bit of wear and tear in the surface, uneven bounce as well. The cracks have opened up a little bit, still tough work for us the bowlers. we need to put the balls in the right areas for long periods of time.
Southee to Haris Sohail, out Caught by Santner! 300 Test wickets for Southee! He's reached out to a full one, lets go with hard hands, and fails to keep the cover drive down, handing Santner at short cover a simple catch and that's a landmark wicket for Tim Southee! Huge moment for Tim Southee - the entire stadium's on its feet for one of New Zealand's best in the format!