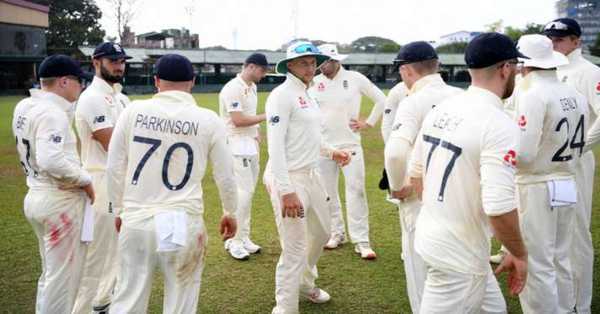 SL 381 & 126 | ENG 344 & 164/4
England won by 6 wickets.....
PLAYER OF THE MATCH & THE SERIES                                  
Joe Root
         
Joe Root says the resilience England showed at times during their series win in Sri Lanka will stand them in good stead for the four Tests against India which begin next week in Chennai.
Despite having a very short preparation time, missing a number of their first-choice players and losing both tosses, England were able to register a comprehensive 2-0 win in Galle, a traditional stronghold of Sri Lankan cricket. In 33 Tests there before this series, only one visiting team - Pakistan in 2000 - lost the toss and won the game. England have now done it twice in two weeks.
They won the second Test after coming from behind, having given up a first innings lead to the home team. But they then managed to bowl Sri Lanka out for 126, with Dom Bess and Jack Leach claiming four wickets each, and chase down 164 to win, thanks to an unbeaten 75 run partnership between Dom Sibley and Jos Buttler, with the loss of just four wickets.
"I think it's hugely important," Root said when asked how much England would take from this series win ahead of the India tour. "For me, the most impressive thing this week was that for a large proportion of it we were behind the game, chasing the game. More than anything the way we've dealt with pressure today, both in the field and with the bat.
"To have that expectation for our spinners to win the game, restrict them to a total we could chase down, for guys with very little cricket behind them to take that on themselves was a brilliant effort. And then for our batters to stay as calm and as poised as they did and that partnership towards the end was really impressive. Probably one of the hardest things to manage in this part of the world.
"We've got so far to go, still, to get where we want to. We have a lot of young players who are learning all the time. They have been exposed to these conditions for the first time at this level and I think we have to keep looking to build and improve. Take as much experience from this series as we can and keep looking to get better. That's all you can ask of a group of players who are in a position they have never been before.
"You do need your senior players to stand up and take ownership and we've had some guys do that in the two games. But we're going to need everyone to look to improve. We're going to have different challenges, different surfaces, different situations to manage in India. So it is about reacting to that and having that same attitude, that same character and desire to go on and win like we have here."
England's victory in Galle was their fifth consecutive overseas Test victory, the first time an English team has done that since 1914. "It's progress. Definitely progress," Root said. "As I mentioned before this game, we have in the past struggled in away conditions. For us to be able to turn that around, find ways of consistently taking 20 wickets is really impressive. It shows the skill levels of our bowlers and the plans that we are putting in place are working.
"We have got to keep continuing to strive to do that. Similarly, we are now more consistently banging out the template that we talk about all the time. The more consistent we can get with that, the more success we will have. It is pretty simple in many respects. The guys know there is so much further this group can go. We have just got to stay hungry. We have just got to keep looking to get better."
The members of England's squad in Sri Lanka that will be involved against India will travel to Chennai on Wednesday morning (January 27) by a charter flight. They will have to undergo six days quarantine in the hotel before three days of practice in the lead-up to the first Test, which begins on February 4.
Ben Stokes, Jofra Archer and Rory Burns, none of whom were involved in the Sri Lanka series, arrived at the team hotel on Sunday and are subject to the same six-day quarantine period. They will be allowed to train from Saturday (January 30) which gives them five days of training before the first Test.
To Sri Lankans, Galle is not quite what the Gabba is - or was - to Australians but nevertheless, they have a proud record in the fort city. That record is beginning to slip, however. Sri Lanka had lost just six of their first 29 matches in Galle but have now lost three of their last five. England's victory in the opening Test continued that worrying trend. It remains an extremely tough place to win but the notion of Galle being a home banker is slowly being eroded. Losing two Tests in succession there would be unthinkable, though. Sri Lanka have never lost twice in a row in Galle.
It will be a novel thing for the Sri Lankans to play two matches in a row at the same venue. Before COVID-19 struck, it almost never happened but now, it is becoming a sort of new normal. Sri Lanka played at two different grounds, Centurion and the Wanderers, on their recent tour of South Africa so this will be the first time they are experiencing two back-to-back Tests at the same venue since COVID struck. Perhaps, given that England have won their last two Tests in Galle, Sri Lanka would have preferred to move on to pastures new.
In the second half of the opening Test, they certainly showed that they remain a formidable foe in their own conditions, though. While England's spinners didn't bowl as well as they might have done in Sri Lanka's second innings, to make 359 on a wicket that was turning and bouncing was a fine effort and showed all the discipline and skill that was missing in their first innings, when they were bundled out for 135. With the ball, Lasith Embuldeniya had a fine game, while the experienced Dilruwan Perera looked better as the match wore on. Reducing England to 14-3 in the fourth innings proved the threat Sri Lanka's spinners pose.
The task for the home team is to put together a more complete performance than they managed in the opening Test, which they lost to all intents and purposes on that disastrous opening day. Sri Lanka, like England, should at least be better for the run out having come straight from the fast, bouncy pitches of South Africa into a match on a slow, spinning surface. After their defeat, coach Mickey Arthur said he thought his batsmen were still playing at the tempo required in South Africa rather than displaying the discipline needed in Sri Lanka. They should at least be well adjusted in the second Test.