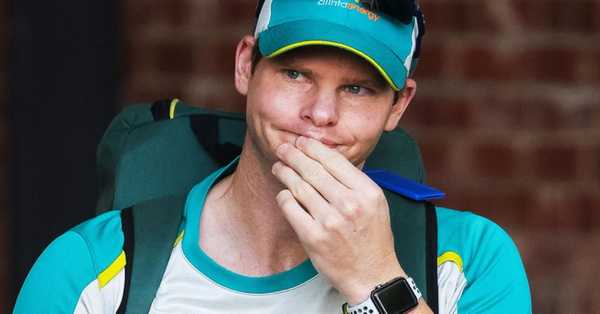 He assured that he is able to take his responsibility, After recoverd by nagging back injury
Steve Smith, Australia's star batsman, has brushed off concerns about his nagging back injury leading up to the second Test against India in Melbourne. The right-hander had skipped some training sessions ahead of the series opener in Adelaide and said he was still "a little stiff" on Tuesday (December 22), but he said he was able to manage his long-standing injury without any serious flare-ups.
"It's just something I need to manage whenever it goes and I probably haven't had an episode since - I think it was - 2014 so hopefully, they can continue to be six years apart," Smith said. "If I'm moving around and laying down I'm good. If I sit around for too long it's not great for it, but I'm not worried about it. I think everything will be fine and I'll be good to go."
Despite a slow start to the series in Adelaide with scores of 1 and 1*, Smith has much to look forward in the festive period. In his seven Boxing Day Tests at the MCG, he has scored 908 runs, averaging 113.50 with four centuries and three other 50-plus scores.
"My boxing day record is probably the best in Australia among all grounds. I like batting at the MCG," Smith said. "There's nothing like the thrill and you get the shivers down your spine when you walk out to bat on Boxing Day with the crowd yelling, and it's like a dream come true in a way. Because as a kid I always wanted to play in boxing day Test match," he added.
Australia took a 1-0 lead in the four-match series in Adelaide after skittling India for just 36 runs in the second innings after having conceded a lead earlier. They then cruised to the target with eight wickets in hand. "Look, the other day we just saw some pretty incredible fast bowling. It is probably the best I've seen our bowlers bowl collectively for about five years I think," Smith said. "The lengths they were hitting were just impeccable. Sometimes that happens, you get a good ball and you nick it... You got to let it go and move on and try and keep yourself in a positive mindset."
With Virat Kohli headed home for the birth of his child Smith said it's a "big loss" for the visitors, lauding the Indian skipper for his decision. "I'm sure there would have been a lot of pressure for him to stay but to stand up and want to go home for the birth of his first child, it's a credit for him. It's a milestone that he certainly wouldn't want to miss.
"It is a big loss for India not having him for the rest of the series. You have to look at the way he played in first innings, was a pretty class display against good bowling. Wicket was doing a bit and I had said it before and will say it again, credit to him to stand up and say I want to go home for the birth of his first child," he added.