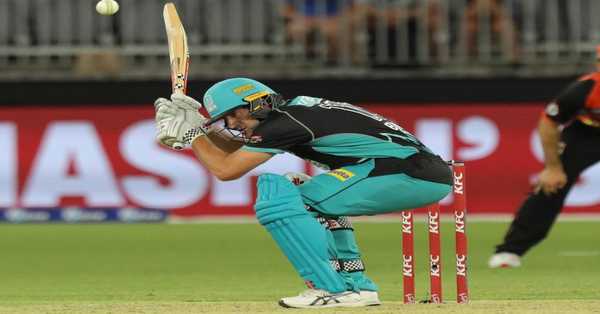 Joe Burns fails but Brisbane Heat bounce back with upset four wicket win over Sydney Sixers
The Brisbane Heat have knocked off the defending champion Sydney Sixers with a brilliant upset at the Gabba.
Max Bryant got the Heat off to a great start with 40 off 23 balls but it was a team effort with the bat as the Heat chased down the Sixers' 8/165 with seven balls remaining.
Lewis Gregory's 16-ball 31 and Jack Wildermuth's 10-ball 22 got the Heat over the line as the side moved ahead of the Scorchers into sixth to put pressure on the top four.
It was a major scalp for the Heat and ended the Sixers' four-game winning streak with a solid performance in front of a vocal contingent of fans.
The only blemish was the performance of axed Test star Joe Burns who's nightmarish summer has continued as he struggled with one off seven before holing out to Ben Manenti at third man.
Fox Cricket commentator Mark Howard said that while he tried to stay impartial, he desperately hoped Burns would score some runs.
"He's been through a horrendous season," Isa Guha added. "He got that 50 in the first Test match and you thought he was back. It was a really courageous knock and managed to see the side over the line and did it comfortably at the end.
"You really feel for him at the moment but hopefully he'll be able to get himself out of this patch and that's all you have to say to yourself."
Andrew Symonds added: "I suppose you wonder what's going through the poor man's head."
He added that if he was ever out of form, he'd go back to basics and return to what he had done successfully in the past.
He'd also speak to his old coach from when he was 13 or 14 years old and he would give him confidence to as he'd seen Symonds bat throughout his career and give him slight tweaks to his technique.
But the Heat didn't allow the wicket to get them down as they ticked off the total.
Some sloppy fielding from the Sixers late and smart batting saw the Heat tick off the runs with good running and selective hitting as the side get the season back on track.
Earlier, Mark Steketee was the chief destroyer with the ball, taking 4/33 from his four overs, including the wicket of Daniel Hughes after Jimmy Peirson pulled off a ripper.
It looked to have beaten the man however but Peirson flew across to take the one handed grab parallel to the ground.
"That is a Superman dive," Isa Guha said.
"He had nothing left, he couldn't have gone much further could he? In his finger tips, that's his unnatural side as well, he's right handed so that's a superb effort," Andrew Symonds added.