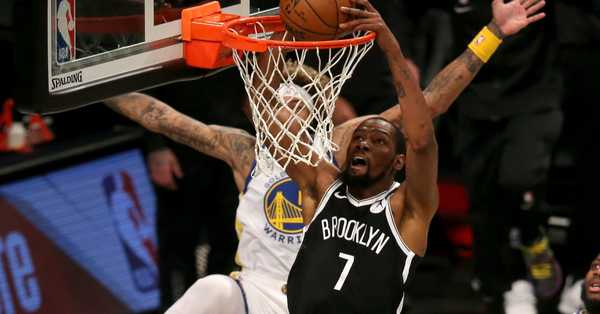 The crowd noise was prerecorded and pumped through the artificial voice.
The arena did not roar, rumble or crackle with energy. The roof was not raised. It stayed right where it was.
This was not Kevin Durant's fault, of course. He did everything a superstar is supposed to do to—swishing a straightaway 3 on his first shot, nailing an array of slinky jumpers, flying for a right-handed jam on the break, and leading the Nets to a breezy 125–99 rout of the Golden State Warriors.
The crowd noise was prerecorded and pumped through the PA system. Live applause came only from players, coaches and 60 essential workers who were invited as honored guests. There were maybe 150 people in an arena bowl made to hold 17,739.
So it went on opening night of the 2020–21 NBA season, the first to tip off amid a global pandemic. There will be no fans in most NBA arenas for the foreseeable future, no one to scream, stomp, chant, shriek, boo, howl or exult.
And on this night in Brooklyn, no one to celebrate the most celebrated free-agent signing in franchise history, who made his long-awaited debut after an 18-month recovery from Achilles surgery.
Here was Durant, the former MVP, playing his first official game since the 2019 Finals, facing the team he led to two championships, flanked by his friend and co-star Kyrie Irving, leading a Nets team with legit title hopes, and one could only imagine the happy pandemonium that would have engulfed Barclays Center in any other year.
"I'm sure with fans it would have been a crazy atmosphere, especially KD playing against his old team," Nets guard Caris LeVert said, smiling broadly. "But I felt like we came out, we handled business and even though we didn't have fans, we created our own energy tonight."
Even the NBA's bubble games in Orlando, also played without fans, were not quite this surreal. Those games were played in small, intimate gymnasiums, with virtual fans beamed onto courtside monitors. Now every team is back in its own full-sized arena, and the absence of bodies and voices and dance teams and kiss-cams is glaring.
Yet if Tuesday's game was any indication, the Nets will need very little time acclimating to each other, or to the soaring expectations that come with having Durant and Irving on board. The Nets dropped 40 points on the Warriors in the first quarter (10 from Durant, 17 from Irving), built a lead as high as 38 points and generally cruised through the evening, delivering the first career victory to new coach Steve Nash.
Durant put up 22 points in just 25 minutes of work, sitting the final 15 minutes of a game that never was competitive. Irving put up 26 points, on incredibly efficient shooting (10 of 16), and also earned the fourth quarter off.