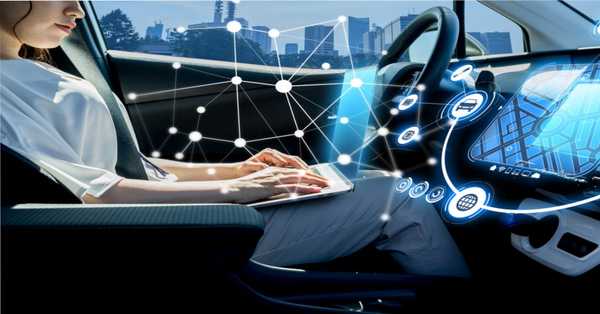 Sleek and stylish touch screen first entered the automotive domain
When sleek and stylish touchscreens first entered the automotive domain, automotive manufacturers must have smiled. No longer did they need an industrial-looking instrument cluster with mechanical gauges and dials. The touchscreen interface permits an almost infinite number of ways of presenting key vehicle data, in addition to configuring and controlling the growing list of functions. What started with a relatively small number of entertainment and navigation features within the infotainment head-end unit, quickly spilled over to the instrument cluster. Automotive manufacturers strive to differentiate their vehicle brands and models from the competition, to find an edge, and automotive human-machine interfaces (HMIs) presented them with a way to further engage owners with the brand experience.
Today, touchscreen HMIs are omnipresent in cars. They integrate with our smartphones through interface applications such as Android Auto and Apple CarPlay. As the amount of electronics-based systems such as advanced driver assistance systems (ADAS) continue to be integrated into the vehicle, the HMI has become the core of the vehicle's control and information mechanism. The traditional instrument cluster situated behind the steering wheel has become an intrinsic part of the HMI.
In cases where the vehicle's HMI is just a display rather than a touchscreen, it still provides a high degree of user customization in how software-based dials and other information are laid out. This degree of personalization is a crucial component of any automotive manufacturer's brand experience.
Although touchscreens have dominated the HMI, critics have raised concerns that touchscreens distract the driver too much, so alternatives such as voice recognition and in-air haptics are gathering momentum.
No matter how sophisticated, stylish, and elegant a UX/UI designer can make the touchscreen operation, safety is paramount. The automotive HMI needs to be intuitive in use, not distract the driver for longer than necessary, and prevent access to some features while the vehicle is moving. International Organization for Standardization (ISO) 15005:2017 appears to be the only safety-related standard that stipulates that glances of 1.5 seconds should be the maximum time for drivers to take their eyes off the road when interacting with their vehicle's HMI. For example, Volkswagen's HMI typically warns the driver when it appears to be they are spending too much time interacting with the HMI while driving.
Projected capacitive touchscreens (PCAP) is a mature technology that is well established and has a proven track record. Support for large screen sizes, multiple touchpoints, and gesture recognition are readily available from most semiconductor vendors. Several complementary technologies have become popular additions to touchscreen displays, and these are proximity detection, haptics, and force detection. Proximity detection aids usability through capacitive touch detection within about an inch of the touchscreen surface. It is used to bring up menus and other options as a hand comes close to the screen. Haptics typically include a mechanical vibration created by a miniature micromotor and offset weight to give feedback during use. While common in smartphones and game controllers, they are not typically used in an automotive environment, audible tones are preferred.
From the perspective of safety, automotive touchscreen HMIs have come in for a lot of criticism recently. With an increasing amount of functionality accessible from the HMI, it is highly likely that the driver can become distracted. An alternative HMI control mechanism that is gaining popularity is the use of voice recognition. Already used by smartphone assistants such as Apple Siri, Amazon Alexa, and Android Auto integrated with Google Assistant, they are not as popular for automotive HMI applications, although that situation is rapidly changing.