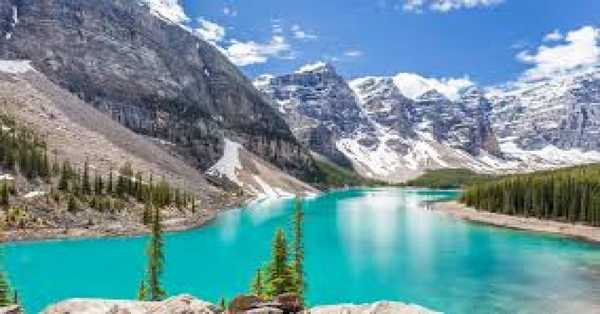 You can find about travel advice such as public places & services, best restaurants, activities, sightseen and other key facts of the in Banff .
Banff is a town within Banff National Park in Alberta, Canada. It is located in Alberta's Rockies along the Trans-Canada Highway, approximately 126 km (78 mi) west of Calgary and 58 km (36 mi) east of Lake Louise. At 1,400 to 1,630 m (4,590 to 5,350 ft) above sea level, Banff is the community with the second highest elevation in Alberta, after Lake Louise.The Town of Banff was the first municipality to incorporate within a Canadian national park. The town is a member of the Calgary Regional Partnership.Banff is a resort town and one of Canada's most popular tourist destinations. Known for its mountainous surroundings and hot springs, it is a destination for outdoor sports and features extensive hiking, biking, scrambling and skiing destinations within the area. Sunshine Village, Ski Norquay and Lake Louise Ski Resort are the three nearby ski resorts located within the national park.

Foods in  Banff  :

(1) Fondue :
There are a plethora of restaurants around Banff that serve up this classic mountain dish originating from Switzerland. In part, this is because of the Swiss influence on the Canadian Rockies. It all stems from the first mountaineering death in 1896 that occurred near Lake Louise. Afterward, the Canadian Pacific Railway hired several Swiss Mountaineers to help develop tourism and guide guests in the Canadian Rockies.For those that don't know fondue is a mixture of melted cheeses served in a large communal pot. Patrons will then traditionally dip bread in the fondue, but many places offer more exciting options like vegetables to dip. Be warned it's a very rich flavor and packed full of calories, but who cares you need to reenergize after exploring the Rockies.
(2) Poutine : 
Along with maple syrup, this is possibly nothing more Canadian than poutine. It's the ultimate savory late-night dish that's become ubiquitous with Canada. The origins of the dish are up for debate, but it at least credited as a Quebecois dish. It consists of french fries, gravy, and cheese curds. You'll find this dish all over the town of Banff and it's most common in the bars.
(3) Beavertail : 
A beavertail is right up there with poutine as a quintessential Canadian food item. Of course, it's not some beautiful culinary feat as it comes from a chain that can be found throughout Canada. However, the crispy, spongey, and sweet fried "beavertails" are delicious.The novelty of having a beavertail is not lost on visitors and the two shops on Banff Ave. frequently have a line around the corner. It's tough to blame anyone as they're devilishly sweet and warm so on a cold evening they hit the spot while walking around the town. It's pretty much a funnel cake brushed with butter and topped with cinnamon sugar. There are also a variety of different toppings if you feel like mixing it up.
(4) Cowboy BBQ : 
There are a plethora of restaurants around Banff that serve up this classic mountain dish originating from Switzerland. In part, this is because of the Swiss influence on the Canadian Rockies. It all stems from the first mountaineering death in 1896 that occurred near Lake Louise. Afterward, the Canadian Pacific Railway hired several Swiss Mountaineers to help develop tourism and guide guests in the Canadian Rockies.
(5) Wild Game : 
With its rich ranching and exploration history, the concept of wild game is still prevalent in Alberta. Many Albertans enjoy elk and deer hunting when in season, not in the park, and you'll find a wild range of restaurants that serve wild game in Banff. The two classic options for meat in Banff are elk and bison.I personally enjoy elk a bit more as I'm a fan of the taste of wild game like venison or duck which is similar to elk. While Bison is a more mild red meat that you'll find very similar to traditional beef. Chef's in town make all manner of dishes using these meats that range from tartare to burgers, or steaks.If you want some weird options for meat you can head to The Grizzly House that serves meat options like ostrich and crocodile, although very far from anything local.
(6) Salmon / Trout : 
Try some trout or salmon from the neighboring province of British Columbia. While you won't get it locally since the wildlife are all protected in the park great local fish can be sourced not far from Banff. You'll find the great sourced fish in a plethora of restaurants in Banff. I'm a big fan of pan-seared trout which you can find at The Bison.
(7) A Caeser At Park Distillery : 
With a prime location on Banff Ave, it's tough to miss the local distillery as it's a classic bar in Banff. Park Distillery is where we take friends and family to eat when they're in town. Park Distillery has quickly made a name for itself in town for their spirits such as Gin and Vodka distilled with Rocky Mountain water. We love the modern mountain interior and they have large garage doors to open up the restaurant to fresh mountain air in the summer months.It's a popular spot and draws a crowd so expect to wait in peak summer or call ahead for reservations. If you're looking for a classic try their Parkway Caesar made with chili vodka at brunch. A caesar is the Canadian equivalent of a bloody mary which is tomato juice, lemon, Worcestershire sauce, and hot sauce. They also offer distillery tours every day if you're looking to learn more. Take a bottle of one of their spirits home for a gift or souvenir, perhaps both.
Weather & geography in  Banff  :
 
Climate. Banff experiences a subarctic climate (Köppen climate classification Dfc) that borders on a humid continental climate (Köppen Dfb). Winter temperatures range from an average low of −13.3 °C (8.1 °F) to an average high of −0.2 °C (31.6 °F).It is surrounded by mountains, notably Mount Rundle, Sulphur Mountain, Mount Norquay, and Cascade Mountain. The town is above Bow Falls near the confluence of the Bow River and Spray River. Soils are calcareous and usually imperfectly to poorly drained in their natural state with textures from very fine sandy loam to silty clay loam.
Per day Cost in  Banff  :

You should plan to spend around CA$93 ($75) per day on your vacation in Banff, which is the average daily price based on the expenses of other visitors. Past travelers have spent, on average, CA$31 ($25) on meals for one day and CA$5.71 ($4.59) on local transportation.
History of  Banff  :
Banff was first settled in the 1880s, after the transcontinental railway was built through the Bow Valley. In 1883, three Canadian Pacific Railway workers stumbled upon a series of natural hot springs on the side of Sulphur Mountain. In 1885, Canada established a federal reserve of 26 km2 (10 sq mi) around the Cave and Basin hot springs, and began promoting the area as an international resort and spa as a way to support the new railway. In 1887, the reserve area was increased to 673 km2 (260 sq mi) and named "Rocky Mountain Park". This was the beginning of Canada's National Park system.The area was named Banff in 1884 by George Stephen, president of the Canadian Pacific Railway, recalling his birthplace near Banff, Scotland. The Canadian Pacific built a series of grand hotels along the rail line and advertised the Banff Springs Hotel as an international tourist resort.The Banff townsite was developed near the railway station as a service centre for tourists visiting the park. It was administered by the Government of Canada's national parks system until 1990 when the Town of Banff became the only incorporated municipality within a Canadian national park.An Internment camp was set up at Banff and Castle Mountain in Dominion Park from July 1915 to July 1917. The prisoners of the internment camp were used as free labour to build the infrastructure of the national park.In 1985, the United Nations declared Banff National Park, as one of the Canadian Rocky Mountain Parks, a World Heritage Site. Banff remains one of the most popular tourist destinations in Canada.
One of the most notable figures of Banff was Norman Luxton, who was known as "Mr. Banff". He published the Crag and Canyon newspaper, built the King Edward Hotel and the Lux Theatre, and founded the Sign of the Goat Curio Shop, which led to the development of the Luxton Museum of Plains Indians, now the Buffalo Nations Museum. He and his family helped organize the Banff Indian Days and the Banff Winter Carnival.In 1976, the International Astronomical Union's Working Group for Planetary System Nomenclature  officially adopted the name Banff for a crater on Mars, after the town in Alberta. The crater is at latitude 17.7° north and longitude 30.8° west. Its diameter is 5 km (3.1 mi).In 1991, Banff hosted the 1991 Winter Deaflympics, the first Deaflympics hosted in Canada, and the only Deaflympics held in Canada since then.Language in  Banff  :
Language in  Banff  :
With around 300 languages spoken in America and Canada, English and French have always been the main languages in Banff, and most signposts and tourist leaflets in the townsite display both. Canadian English is widely spoken in Banff and is based very much upon British English, with many unique expressions.
Culture of  Banff  :

For generations, the inspirational landscape of Banff has intrigued artists and helped turn Banff into a thriving arts and culture centre. Banff is home to cultural gems such as the Banff Centre and the Whyte Museum of the Canadian Rockies, as well as multiple private art galleries and live music venues.
Place to visit in  Banff  :

(1) The Town of Banff
(2) Lake Louise
(3) Lake Louise Ski Resort
(4) Moraine Lake
(5) Sunshine Village Ski Resort
(6) Icefields Parkway
(7) Bow Lake
(8) Peyto Lake
(9) Bow Valley Parkway
(10) Johnston Canyon
Hotel in  Banff   :
(1) Banff Ptarmigan Inn
(2)Banff Caribou Lodge and Spa
(3) Banff Rocky Mountain Resort 
(4) High Country Inn
(5)  Moose Hotel and Suites
How to reach in  Banff  :
Flying. Many airlines fly directly to the Calgary International Airport. From the airport, it is a scenic 90 minute (140 kilometre or 87 mile) drive to Banff . There are shuttle bus connections from the airport to Banff and Lake Louise or you could rent a car from the airport or in Calgary city.
Travel Guide for  Banff  : Food, Cost, Weather & geography, History, language, culture, things to see and do and how to reach. – Published by The Beyond News (Travelling).