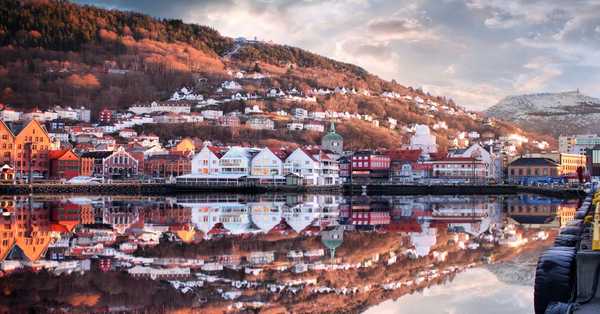 You can find about travel advice such as public places & services, best restaurants, activities, sight seen and other key facts of the Bergen, Norway.
Bergen, historically Bjørgvin, is a city and municipality in Vestland county on the west coast of Norway. As of 2021, its population was roughly 285,600. Bergen is the second-largest city in Norway. The municipality covers 465 square kilometres and is on the peninsula of Bergenshalvøyen. The city center and northern neighborhoods are on Byfjorden, 'the city fjord', and the city is surrounded by mountains; Bergen is known as the "city of seven mountains". Many of the extra-municipal suburbs are on islands. Bergen is the administrative centre of Vestland county. The city consists of eight boroughs: Arna, Bergenhus, Fana, Fyllingsdalen, Laksevåg, Ytrebygda, Årstad, and Åsane.
Trading in Bergen may have started as early as the 1020s. According to tradition, the city was founded in 1070 by king Olav Kyrre and was named Bjørgvin, 'the green meadow among the mountains'. It served as Norway's capital in the 13th century, and from the end of the 13th century became a bureau city of the Hanseatic League. Until 1789, Bergen enjoyed exclusive rights to mediate trade between Northern Norway and abroad and it was the largest city in Norway until the 1830s when it was overtaken by the capital, Christiania. What remains of the quays, Bryggen, is a World Heritage Site. The city was hit by numerous fires over the years. The Bergen School of Meteorology was developed at the Geophysical Institute starting in 1917, the Norwegian School of Economics was founded in 1936, and the University of Bergen in 1946. From 1831 to 1972, Bergen was its own county. In 1972 the municipality absorbed four surrounding municipalities and became a part of Hordaland county.
The city is an international center for aquaculture, shipping, the offshore petroleum industry and subsea technology, and a national centre for higher education, media, tourism and finance. Bergen Port is Norway's busiest in terms of both freight and passengers, with over 300 cruise ship calls a year bringing nearly a half a million passengers to Bergen, a number that has doubled in 10 years. Almost half of the passengers are German or British. The city's main football team is SK Brann and a unique tradition of the city is the buekorps. Natives speak a distinct dialect, known as Bergensk. The city features Bergen Airport, Flesland and Bergen Light Rail, and is the terminus of the Bergen Line. Four large bridges connect Bergen to its suburban municipalities.
Bergen has a mild winter climate, though with a lot of precipitation. From December to March, Bergen can be, in rare cases, up to 20 °C warmer than Oslo, even though both cities are at about 60° North. The Gulf Stream keeps the sea relatively warm, considering the latitude, and the mountains protect the city from cold winds from the north, north-east and east.

Foods in Bergen :
(1) Bread
(2) Fish
(3) Husmannskost
(4) Exotic foods
(5) Pastries and desserts
(6) Sweets and snacks
(7) Drinks

Weather & geography in Bergen :
Bergen has an oceanic climate, with plentiful rainfall in all seasons; with intermittent snowfall during winter, but the snow usually melts quickly in the city. Average annual precipitation during 1961–90 was 2,250 mm . This is because Bergen is surrounded by mountains that cause moist North Atlantic air to undergo orographic lift, yielding abundant rainfall. It rained every day from 29 October 2006 to 21 January 2007: 85 consecutive days. The highest temperature ever recorded was 33.4 °C (92.1 °F) on 26 July 2019, beating the previous record from 2018 at 32.6 degrees, and the lowest was −16.3 °C (2.7 °F) in January 1987. Bergen is considered the rainiest city in Europe, although it is not the wettest "place" on the continent.
Bergen's weather is much warmer than the city's latitude (60.4° N) might suggest. Temperatures below −10 °C (14 °F) are rare. Summer temperatures sometimes reach the upper 20s, temperatures over 30 °C were previously only seen a few days each decade. The growing season in Bergen is exceptionally long for its latitude, with more than 200 days. Its mild winters and proximity to the Gulf stream move the plant hardiness zone between 8b and 9a depending on location.
The high precipitation is often used in the marketing of the city, and features to a degree on postcards sold in the city. Compared to areas behind the mountains on the Scandinavian peninsula, Bergen is much wetter and has a more narrow range of temperature, with mild summers and cool winters. In fact, winters are milder than all of Denmark in spite of the latitude difference and as much as 6 °C (11 °F) milder than on the Baltic Sea coasts of Sweden and Finland on the same latitude. Summers tend to be significantly more variable. The old sunshine hours data was from the met office in the city; at this location sunlight is obscured by mountains, especially by Ulriken. A new sun recorder was established at Bergen Airport in December 2015, and this records from 1450 to 1750 (2018) hours of sunshine.

Per day Cost in Bergen :
You should plan to spend around kr949 ($109) per day on your vacation in Bergen, which is the average daily price based on the expenses of other visitors. Past travelers have spent, on average, kr268 ($31) on meals for one day and kr84 ($9.74) on local transportation.

History of Bergen :
Originally called Bjørgvin, the city was founded in 1070 by King Olaf III Haraldsson. About 1100 a castle was built on the northern edge of Vågen harbour, and Bergen became commercially and politically important; it was Norway's capital in the 12th and 13th centuries.
Language in Bergen :
Nynorsk has been chosen as the official written language in Vestland in all, but in Bergen, bokmål is the dominant written language. Nynorsk was developed in the middle of the 19th century to be based on Norwegian dialects, in order to more accurately reflect how Norwegian is spoken.

Culture of Bergen :
Bergen has one of the world's oldest symphony orchestras, the country's first national theater, a host of international festivals, and a whole range of museums and institutions. Bergen was the birthplace of the hugely popular composer Edvard Grieg.

Place to visit in Bergen :
(1) Bryggen Hanseatic Wharf
(2) Mount Fløyen (Fløyfjell)
(3) Grieg Museum (Troldhaugen)
(4) Hanseatic Museum and Schøtstuene
(5) Bergenhus Fortress
(6) KODE Museums
(7) Mount Ulriken
(8) Old Bergen Museum (Gamle Bergen)
(9) University Museum of Bergen
(10) VilVite Bergen Science Center
(11) Bergen Cathedral
(12) Market Square
(13) Gamlehaugen: The Royal Residence
(14) Lisøy Island
Hotel in Bergen, Norway :
(1) Zander K Hotel 
(2) Radisson Blu Royal Hotel, Bergen
(3) Augustin Hotel
(4) Hotel Norge by Scandic
(5) Bergen Børs Hotel
(6) Scandic Ørnen
How to reach in Bergen :
In addition to a large selection of direct flights to Bergen, you can also arrive by ferry or cruise, by train from Oslo or Flåm or by car along the scenic fjords and coast to Bergen. There is also a express bus from Stavanger. Bergen has a ferry connection to and from the Continent.

Travel Guide for Bergen, Norway : Food, Cost, Weather & geography, History, language, culture, things to see and do and how to reach. – Published by The Beyond News (Travelling).