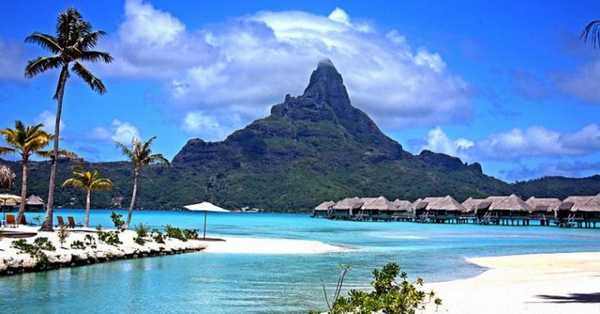 You can find about travel advice such as public places & services, best restaurants, activities, sightseen and other key facts of the in Bora Bora .
Bora Bora  is an island group in the Leeward Islands. The Leeward Islands comprise the western part of the Society Islands of French Polynesia, which is an overseas collectivity of the French Republic in the Pacific Ocean. Bora Bora has a total land area of 30.55 km2 (12 sq mi). The main island, located about 230 kilometres (143 miles) northwest of Papeete, is surrounded by a lagoon and a barrier reef. In the center of the island are the remnants of an extinct volcano, rising to two peaks, Mount Pahia and Mount Otemanu; the highest point is at 727 metres (2,385 feet). Bora Bora is part of the Commune of Bora-Bora, which also includes the atoll of Tūpai. The languages spoken in Bora Bora are Tahitian and French. However, due to the high tourism population, many natives of Bora Bora have learned to speak English.Bora Bora is a major international tourist destination, famous for its seaside (and even offshore) luxury resorts. The major settlement, Vaitape, is on the western side of the main island, opposite the main channel leading into the lagoon. Produce of the island is mostly limited to what can be obtained from the sea and from the plentiful coconut trees, which were historically of economic importance for the production of copra.
Foods in  Bora Bora :

(1) Foie Gras : 
This is a famous French dishes which is prepared with Bora Bora's unique techniques. A foie gras is a mixture of seeped in purple egg plant with spices of a island is a wonderful twist on the customary dish.
(2) Mahi Mahi dish : 
It is usually prepared with vanilla sauce. The tourists of Bora Bora really enjoy this dish and appreciate them. The vanilla they used in this dish is grown in Bora Bora Island so we can see fresh vanilla dishes in this island. This dish is considered as best dish in Bora Bora.
(3)   Tahitian Vanilla Panna Cotta : 
It is an Island-grown orchid which produce vanilla distinct any other. It is prepared with fresh cream and sugar which is chilled with vanilla; this smooth dessert is a definite blaze after dinner enjoyment.
(4)   Poisson Cru : 
It is a national dish of French Polynesia. Poisson cru means a raw fish in French which tastes best. Firstly, the fish is lightly cooked in lemon juice and then it is  mixed with fresh salad and bathed in coconut milk. Mostly the poisson cru is prepared with fresh tuna and also includes chicken, pork, sweet potatoes, bread fruit, rice, local fruits too. 
(5)    Tahitian fruit pudding : 
It is a famous fruit pudding found in all restaurants. It is a traditional dish of the island. Originally the pudding was covered in banana leaves and then to be baked in the fire pit. This easy baked edition is easier in the current kitchen.
(6)  The trio : 
This dish is prepared with Tahitian fish for a real taste of French Polynesia. This dish includes island flavors like vanilla, curry or lime. It is the favorite dish of the tourists of bora bora.
Weather & geography in  Bora Bora :

Bora Bora has similar temperatures to those of Tahiti. ... The Marquesas Islands are closer to the equator than the rest of French Polynesia, so the climate is warmer. On the island of Hiva Oa, the average high is 30°C (86°F), while the average precipitation is 1,165mm (50 inches) a year with June being the wettest month.
Per day Cost in  Bora Bora :
The average price of a 7-day trip to Bora Bora is $3,184 for a solo traveler, $5,718 for a couple, and $10,721 for a family of 4. Bora Bora hotels range from $136 to $684 per night with an average of $334, while most vacation rentals will cost $120 to $800 per night for the entire home.
History of  Bora Bora :
Polynesians first inhabited the island during the 4th century. The island's original Polynesian name was Pora Pora, which means first born.Jacob Roggeveen was the first European to encounter the island in 1722. Roggeveen was a Dutch explorer who also discovered Easter Island of Chile. In 1820 a London Missionary Society founded a Protestant church, which began the settlement of European influence. Admiral Abel Aubert Dupetit Thouars made Bora Bora an autonomous territory of France in 1842.Many temples or Marae that were constructed by the early Polynesians were later destroyed by the English missionaries. Unfortunately very little of their remains can be found. You can visit the Marae Marotetini located on the point west of Farepiti wharf. There is a great stone there, about 50 meters long and three feet high that was restored in 1968.The United States set up a military base on Bora Bora after Pearl Harbor was attacked by Japan in 1941. On your expedition cruise you will be able to see the remains of several cannons and protective structures placed around the island. Bora Bora did not see combat during World War II and after its close several soldiers were enjoying their stay so much that they refused to leave. The airport built during World War II is still a main attraction of the island because of its historical significance and the great view it provides of the Lagoon.Since the friendly occupation of the United States several countries have discovered that Bora Bora can be host to an amazing get away. The influx of Japanese and Western European tourists drowned out the culture of Bora Bora for a few decades. There has been a recent revival of Bora Bora's customs and rituals with hints of European and Japanese culture that makes for an atmosphere that is truly unique.
Language in  Bora Bora :

The main languages in Bora Bora are French and Tahitian, but you'll find that many people also speak English, especially resort employees. French Polynesians move at a relaxed pace.
Culture of  Bora Bora :
Bora Bora culture was suppressed for a century, almost to the point of extinction, and has come back more vibrant and exotic than could have been imagined.
The English Missionaries made a concerted effort to wipe out all Polynesian culture when they destroyed the temples and carvings and banned dancing and religion. Fortunately many of the Polynesian customs have prevailed and can be seen today. Recently efforts have been made to revive the original Polynesian culture through traditional music and arts. The traditional instruments include pahu and toere drums and the nose flute known as vivo. Guitars and ukuleles migrated to Bora Bora and a style of music was developed that has hints of country western mixed with the classic South Pacific island style. The tamure is the classic dance of Bora Bora is still alive and plays a big part in island festivities.Tahitians place a lot of importance on familial relationships. Decades ago it was very common for several generations to live under the same roof. Now that the islands have seen more contact with the Western word families have become more nuclear. In the past the families arranged marriages for their children, but today couples follow a more western tradition of courtship and have greater freedom in choosing their partners.Bora Bora is mainly dependent on tourism. In the past few years several resorts have been built on the small islands surrounding the lagoon. Your South Pacific Tour will include a view of the famous over-the-water bungalows that were first built over 30 years ago and have since become a staple of the island. These bungalows are mainly exclusive to the Tahitian island because their low and even tides and protective lagoons create the perfect conditions for these unique shelters.Bora Bora has a very relaxed atmosphere with a fairly tame nightlife scene. While other tropical islands are known for their nightlife Bora Bora is a bit behind the times, though it is not impossible to find. About 4,000 people inhabit the island of Bora Bora. French and Tahitian are the main languages spoken on the island, though most inhabitants have a command of the English language. The majority of visitors to Bora Bora are American, Japanese or European.
Place to visit in  Bora Bora :

(1) Jewel of the South Seas 
(2) The Allure 
(3) The Locale 
(4) Matira Beach
(5) the Lagoonarium
(6) Mount Pahia
Hotel in  Bora Bora  :

(1) Village Temanuata
(2) Four Seasons Resort Bora Bora
(3) Conrad Bora Bora Nui
(4) Le Bora Bora by Pearl Resorts
(5) Horizon
How to reach in  Bora Bora :

To get to Bora Bora, most travelers fly into Bora Bora Airport also known as Motu Mute Airport. If you're coming from the U.S., you'll first stop at the Faa'a International Airport in Tahiti. Once you've cleared customs, you'll hop on a 45-minute flight to Bora Bora Airport.
Travel Guide for  Bora Bora :Food, Cost, Weather & geography, History, language, culture, things to see and do and how to reach. – Published by The Beyond News (Travelling).