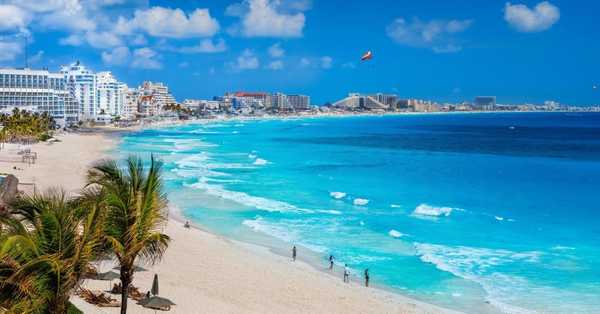 You can find about travel advice such as public places & services, best restaurants, activities, sightseen and other key facts of the in Cancun .
Cancun Spanish pronunciation About this soundpronunciation is a city in southeast Mexico on the northeast coast of the Yucatan Peninsula in the Mexican state of Quintana Roo. It is a significant tourist destination in Mexico and the seat of the municipality of Benito Juarez. The city is on the Caribbean Sea and is one of Mexico's easternmost points.Cancun is just north of Mexico's Caribbean coast resort band known as the Riviera Maya.

Foods in  Cancun  :

(1) Marquesitas : 
Marquesitas are a favorite local treat and an absolute must try! Marquesitas are made up of a crispy crepe that is rolled up and traditionally filled with melted shredded cheese and a sweet filling of your choice. Not only do people love eating these, they love watching marquesitas being made. Watch the preparer open the waffle like iron press and sprinkle in cheese, toppings, and roll it all up. Popular toppings include Nutella, jam, peanut butter, cajeta, or chocolate sauce. The sweet toppings and warm cheese will melt in your mouth perfectly.
(2) Castacan (Fried Pork Belly) : 
If you love pork, this food will be an absolute must-try. In Cancun, they make sure their pork belly is mega crispy yet juicy! Castacan is a type of pork belly predominately made in the Yucatan peninsula. This pork belly is incredibly soft and juicy in the middle with a perfect crispy coating on both sides and a perfect snack or meal.
(3)  Panuchos : 
Panuchos are very similar to Salbutes (which we will talk about next). However, panuchos are cooked on a dry, hot cast iron skillet until slightly puffy, then stuffed with refried beans, sealed, then lightly fried again. It is then topped with your favorite toppings such as tomatoes, lettuce, cucumbers, ground beef, chicken, or turkey, avocado, and more. This is one of the most delicious and well-known food to all of the locals.
(4) Salbutes : 
A food very similar to panuchos are the salbutes. The major difference is that salbutes do not have refried beans inside the tortilla. However, salbutes are still fried and typically do contain the same toppings. A noticeable difference in appearance and texture is also that salbutes are always less crispy than panuchos. So if you don't like beans and want something less crispy, salbutes are perfect for you!
(5)  Salsa De Chile Habanero : 
This ingredient is one of the most unique and unmistakable flavors of the Yucatecan traditional cuisine. If you want to make your own, the best place to buy fresh habanero chiles is to go to the "mercado" and it is also incredibly affordable. From there, you can rinse them in freshwater, grind them in a mortar, add lemon juice, salt, and let it rest in the container for a few minutes before trying your authentic and delicious chili sauce!
Weather & geography in  Cancun  :
Apart from the island tourist zone (part of the world's second-longest coral reef), the Mexican residential section of the city, the downtown part of which is known as "El Centro", follows a master plan that consists of "supermanzanas"(superblocks), giant trapezoids with a central, open, non-residential area cut in by u-shaped residential streets.Ave. Tulum is the main north-south artery, connecting downtown to the airport, which is some 19 km (12 mi) south of downtown. Tulum is bisected by Ave. Cobá. East of Ave. Tulum, Cobá becomes Ave. Kukulcan which serves as the primary road through the 7-shaped hotel zone. Ave. Tulum ends on the north side at Ave. Paseo José López Portillo which connects to the main highway west to Chichén Itzá and Mérida. Another major north-south road is Ave. Bonampak which runs roughly parallel to Ave. Tulum. The main ferry to Isla Mujeres is located in Puerto Juárez, on Ave. Paseo José López Portillo.Cancun  mainland or downtown area has diverged from the original plan; development is scattered around the city. The remaining undeveloped beach and lagoon front areas outside the hotel zone are now under varying stages of development, in Punta Sam and Puerto Juarez to the north, continuing along Bonampak and south toward the airport along Boulevard Donaldo Colosio. One development abutting the hotel zone is Puerto Cancun also Malecon Cancun  is another large development.
Per day Cost in  Cancun  :

You should plan to spend around M$1,958 ($99) per day on your vacation in Cancun, which is the average daily price based on the expenses of other visitors. Past travelers have spent, on average, M$361 ($18) on meals for one day and M$241 ($12) on local transportation.
History of  Cancun  :
As documented in the earliest colonial sources, Cancún was originally known to its Maya inhabitants as Nizuc meaning either "promontory" or "point of grass".In the years after the Conquest, much of the Maya population died or left as a result of disease, warfare, piracy, and famines, leaving only small settlements on Isla Mujeres and Cozumel Island. The name Cancún, Cancum or Cankun first appears on 18th-century maps. The meaning of Cancún is unknown, and it is also unknown whether the name is of Maya origin. If it is of Maya origin, possible translations include "Place/Seat/Throne of the Snake" or "Enchanted Snake". Snake iconography was prevalent at the pre-Columbian site of Nizuc.When development of the area as a resort was started on January 23, 1970, Isla Cancún had only three residents, all caretakers of the coconut plantation of Don José de Jesús Lima Gutiérrez, who lived on Isla Mujeres. Some 117 people lived in nearby Puerto Juárez, a fishing village and military base.Due to the reluctance of investors to gamble on an unknown area, the Mexican federal government financed the first nine hotels. The first financed hotel was a Hyatt, Cancún Caribe, but the first hotel built was the Playa Blanca, which later became a Blue Bay hotel.[citation needed] It is now named Temptation Resort. At the time it was an elite destination, famous for its virgin white sand beaches.The city began as a tourism project in 1974 as an Integrally Planned Center, a pioneer of FONATUR (Fondo Nacional de Fomento al Turismo, National Fund for Tourism Development), formerly known as INFRATUR. Since then, it has undergone a comprehensive transformation from being a fisherman's island surrounded by virgin forest and undiscovered shores to being one of the two most well-known Mexican resorts, along with Acapulco. The World Tourism Organization (WTO), through its foundation UNWTO-Themis, awarded the Best of the Best award "for excellence and good governance" to the Trust for Tourism Promotion of Cancún on February 3, 2007.[citation needed] This award ensured Cancún the ongoing support of the Department of Education and Knowledge Management of the WTO.Most 'Cancunenses' are from Yucatán and other Mexican states. A growing number are from the rest of the Americas and Europe. The municipal authorities have struggled to provide public services for the constant influx of people, as well as limiting squatters and irregular developments, which now occupy an estimated ten to fifteen percent of the mainland area on the fringes of the city.
Language in  Cancun  :
The official language spoken in Cancun is Spanish. Most of the Mexicans working in the tourism industry speak English. Many of the local indigenous people still speak Mayan as their first language and Spanish as their second, you will often hear them speaking Mayan amongst themselves.
Culture of  Cancun  :

The Cancun that we know today only began in 1974. Before this time this area was pretty much unknown except by local fishermen. The resort zone has a reputation for white sandy beaches and sun, sun, sun. But, you will also see many of the rich past that this area once had.The ancient and mystical Mayans once traveled this area and lived here thousands of years ago. While they enjoyed their time before the Spanish Conquistadors arrival, they erected many magnificent buildings that you can see today. Among them is the Chichen Itz, the Snail, the Castle, the Warriors Temple, the Ball Game, the Tzompantli, the Eagles House, the Osario, the Temple of the Chac Mool plus many more. There are tour packages available that will take you back in time when you visit these ancient buildings.After the Spanish took over this area it was pretty much forgotten until it finally was given an official territory name in 1902. It became known as the Quintana Roo after a famous army general Andreas Quintana Roo.During the 1960's, the Mexican government took interest in this area of white beaches and Caribbean Sea. They decided to take this untamed jungle area along with its white sandy beaches and transform it into the resort of Isla Cancun. It took a long time to bridge the mainland to the island, tame the wild bush and create manicured tropical gardens. But, their vision became true and in 1974 the resort was open.
Place to visit in  Cancun  :

(1) Mayan Ruins of Chichén Itzá
(2) El Rey Maya Ruins 
(3) The Maya Museum
(4) The Cancun Underwater Museum
(5) El Meco Archaeological Site
(6) The Scenic Tower & Xcaret
(7) Urbano Kabah Park
Hotel in  Cancun   :

(1) Suites del Hotel
(2) Residencias de lujo
(3) Ubicacion del Hotel en Cancun
(4) Villa del Palmar Cancun
How to reach in  Cancun  :

How to reach Cancun by flight. Cancun is served by the Cancun International airport which is well connected to America, Asia and Europe with all major carriers offering services to the city. The airport is located southwest of the city and reaching the island by air is surely the best way to witness its beauty.
Travel Guide for  Cancun  :Food, Cost, Weather & geography, History, language, culture, things to see and do and how to reach. – Published by The Beyond News (Travelling).