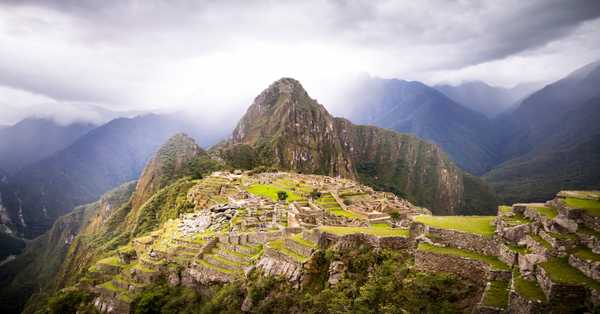 You can find about travel advice such as public places & services, best restaurants, activities, sightseen and other key facts of the Machu Picchu, Peru.
Machu Picchu is a 15th-century Inca citadel, located in the Eastern Cordillera of southern Peru, on a 2,430-meter (7,970 ft) mountain ridge. It is located in the Machupicchu District within Urubamba Province above the Sacred Valley, which is 80 kilometers (50 mi) northwest of Cuzco. The Urubamba River flows past it, cutting through the Cordillera and creating a canyon with a tropical mountain climate.
Most archeologists believe that Machu Picchu was constructed as an estate for the Inca emperor Pachacuti (1438–1472). Often mistakenly referred to as the "Lost City of the Incas", it is the most familiar icon of Inca civilization. The Incas built the estate around 1450 but abandoned it a century later at the time of the Spanish conquest. Although known locally, it was not known to the Spanish during the colonial period and remained generally unknown to the outside world until American historian Hiram Bingham brought it to international attention in 1911.
Machu Picchu was built in the classical Inca style, with polished dry-stone walls. Its three primary structures are the Intihuatana, the Temple of the Sun, and the Room of the Three Windows. Most of the outlying buildings have been reconstructed in order to give tourists a better idea of how they originally appeared. By 1976, 30% of Machu Picchu had been restored and restoration continues.
Machu Picchu was declared a Peruvian Historic Sanctuary in 1981 and a UNESCO World Heritage Site in 1983. In 2007, Machu Picchu was voted one of the New Seven Wonders of the World in a worldwide internet poll.

Foods in Machu Picchu, Peru:
1.) Peruvian cuisine
The gastronomy of Perú is considered one of the best in the world; its fusion resulted from the mixture of cultures, flavors and ingredients throughout its history; dishes like the anticucho of heart (skewers of heart of res), tacu tacu and the carapulcra have African influence; pasta and variety of sauces with Peruvian ingredients have Italian influence, ceviche is the flagship dish in Peru and has great Japanese features. But Chinese and many other immigrants landed in the port of Callao, also contributed; we recommend you try the Novo-Andina food in Cusco.
2.) The best gastronomy in Peru
Lima is considered the secret jewel of gastronomy in the world, since it has surpassed the more traditional cuisines. According to the most important culinary magazines in Europe, seven of the fifteen best restaurants in the world are in Peru, surpassing the fabulous cuisines of countries like Italy and France.
3.) The ingredients of Peruvian food
Peru is blessed with an abundant variety of natural resources in its 3 natural regions; products of the Pacific, Andean products, and spices and fish of the Amazon, that is why the horn of abundance is an emblem present in the Peruvian Shield. To give you just one example of the variety and magnitude of the ingredients available, know that Peru produces more than 3,800 varieties of potatoes, but as we told you are not only the ingredients but the incredible culinary fusion.
4.) Peruvian food in Lima
Think twice before leaving Lima quickly, most people take time to enjoy Peruvian food, before arriving at Machu Picchu in Cusco. Unless you are an experienced gourmet, you will realize that this will be more difficult than it seems; in the menus of Creole restaurants, you will find a variety of dishes almost unimaginable, since Peru has more than 500 typical dishes.
5.) Peruvian food in Cusco
In the best restaurants in Cusco, besides Creole and gourmet food, you can find Novo-Andina food, made with Andean and organic ingredients, brought from the villages of the Sacred Valley of the Incas and the South Valley.
6.) Where to eat in Cusco?
One of the best things about being in Peru is that you do not have to enter a 5 forks restaurant to enjoy delicious food, and if you do not care much about the environment, you can find delicious and cheap food in the markets, it's something like that. as an experiential culinary experience.
7.) Peruvian cuisine at its best
The typical Peruvian inventiveness mixed with a nationalistic feeling, has made many Peruvian chefs establish some of the best restaurants of Peruvian food, outside of Peru. Gastón Acurio, chef and owner of a large number of restaurants in Lima, Cusco and abroad, is known as the godfather of Peruvian gastronomy.

Weather & geography in Machu Picchu, Peru:
Machu Picchu lies in the Andes of Peru and despite its location in the high mountains at around 2400 metres above sea level, temperatures are well above freezing all year round. The climate is warm and humid with quite constant temperatures all year round.

Per day Cost in Machu Picchu, Peru:
Machu Picchu is a UNESCO world heritage site and the most popular place to visit in Peru, thus, the entrance to the site is obviously not free and only 2,500 people per day are allowed to visit.. PRICE: US $30 for Machu Picchu or US $45 for Machu Picchu and Huayna Picchu together.

History of Machu Picchu, Peru:
Machu Picchu is believed to have been built in the 1450s. Construction appears to date from two great Inca rulers, Pachacutec Inca Yupanqui (1438–1471) and Túpac Inca Yupanqui (1472–1493). There is a consensus among archeologists that Pachacutec ordered the construction of the royal estate for himself, most likely after a successful military campaign. Though Machu Picchu is considered to be a "royal" estate, surprisingly, it would not have been passed down in the line of succession. Rather it was used for 80 years before being abandoned, seemingly because of the Spanish Conquests in other parts of the Inca Empire. It is possible that most of its inhabitants died from smallpox introduced by travelers before the Spanish conquistadors arrived in the area.
Daily life in Machu Picchu:
During its use as a royal estate, it is estimated that about 750 people lived there, with most serving as support staff  who lived there permanently. Though the estate belonged to Pachacutec, religious specialists and temporary specialized workers (mayocs) lived there as well, most likely for the ruler's well-being and enjoyment. During the harsher season, staff dropped down to around a hundred servants and a few religious specialists focused on maintenance alone.
Studies show that according to their skeletal remains, most people who lived there were immigrants from diverse backgrounds. They lacked the chemical markers and osteological markers they would have if they had been living there their whole lives. Instead, there was bone damage from various species of water parasites indigenous to different areas of Peru. There were also varying osteological stressors and varying chemical densities suggesting varying long-term diets characteristic of specific regions that were spaced apart. These diets are composed of varying levels of maize, potatoes, grains, legumes, and fish, but the overall most recent short-term diet for these people was composed of less fish and more corn. This suggests that several of the immigrants were from more coastal areas and moved to Machu Picchu where corn was a larger portion of food intake. Most skeletal remains found at the site had lower levels of arthritis and bone fractures than those found in most sites of the Inca Empire. Inca individuals who had arthritis and bone fractures were typically those who performed heavy physical labor or served in the Inca military.
Animals are also suspected to have migrated to Machu Picchu as there were several bones found that were not native to the area. Most animal bones found were from llamas and alpacas. These animals naturally live at altitudes of 4,000 meters (13,000 ft) rather than the 2,400 meters (7,900 ft) elevation of Machu Picchu. Most likely, these animals were brought in from the Puna region for meat consumption and for their pelts. Guinea pigs were also found at the site in special burial caves, suggesting that they were at least used for funerary rituals, as it was common throughout the Inca Empire to use them for sacrifices and meat. Six dogs were also recovered from the site. Due to their placements among the human remains, it is believed that they served as companions of the dead.
Language in Machu Picchu, Peru :
Quechua is the most common language after Spanish in Peru and the most spoken native language.

Culture of Machu Picchu, Peru :
In 1912, 1914 and 1915, Bingham removed thousands of artifacts from Machu Picchu ceramic vessels, silver statues, jewelry, and human bones and took them to Yale University for further study, supposedly for 18 months. Yale instead kept the artifacts until 2012, arguing that Peru lacked the infrastructure and systems to care for them. Eliane Karp, an anthropologist and wife of former Peruvian President Alejandro Toledo, accused Yale of profiting from Peru's cultural heritage. Many of the articles were exhibited at Yale's Peabody Museum.
In 2006, Yale returned some pieces but kept the rest, claiming this was supported by federal case law of Peruvian antiquities. In 2007, Peru and Yale had agreed on a joint traveling exhibition and construction of a new museum and research center in Cusco advised by Yale. Yale acknowledged Peru's title to all the objects, but would share rights with Peru in the research collection, part of which would remain at Yale for continuing study. In November 2010, Yale agreed to return the disputed artifacts. The third and final batch of artifacts was delivered November 2012. The artifacts are permanently exhibited at the Museo Machu Picchu, La Casa Concha ("The Shell House"), close to Cusco's colonial center. Owned by the National University of San Antonio Abad del Cusco, La Casa Concha also features a study area for local and foreign students.

Place to visit in Machu Picchu, Peru :
1.) Santuario Historico de Machu Picchu
2.) Mandor
3.) Huayna Picchu
4.) Mariposario de Machupicchu
5.) Hot Springs (Aguas Calientes)
6.) Putucusi Mountain
7.) Plaza Manco Capac
8.) Inca Trail
9.) Mercado de Artesanias
10.) Museo de Sitio Manuel Chavez Ballon
11.) Cascadas Allcamayo
12.) Rocas Sagradas
Hotel in  Machu Picchu, Peru  :

(1) Susanna Inn Machu Picchu Hotel
(2) Gringo Bill's Boutique Hotel
(3) Inti Punku Machupicchu Hotel & Suites 
(4) Vista Machu Picchu
(5) Hatun Inti Boutique Machupicchu

How to reach in Machu Picchu, Peru :
There is no direct way to reach Machu Picchu, you need to avail the services of a combination of transport services, including flights, trains and buses. The airport nearest to Machu Picchu is Alejandro Velasco Astete International Airport in Cusco (77.2 km away). It is Peru's second busiest airport and is well-connected to other Peruvian cities such as Arequipa, Lima, Puerto Maldonado, and Juliaca. The airlines that serve this airport include Amaszonas, Avianca, Avianca, LC Perú, Peruvian Airlines and Star Perú. However, international connectivity is limited to La Paz in Bolivia. The nearest major international airport is Jorge Chávez International Airport in Lima (511 km away). It is connected to several international cities such as Mexico, Toronto, Madrid, Paris, Amsterdam, Los Angeles, etc. via international airlines including Aeroméxico, Air Canada Rouge, Air Europa, Air France, KLM, LATAM Chile, etc.

Travel Guide for Machu Picchu, Peru : Food, Cost, Weather & geography, History, language, culture, things to see and do and how to reach. – Published by The Beyond News (Travelling).