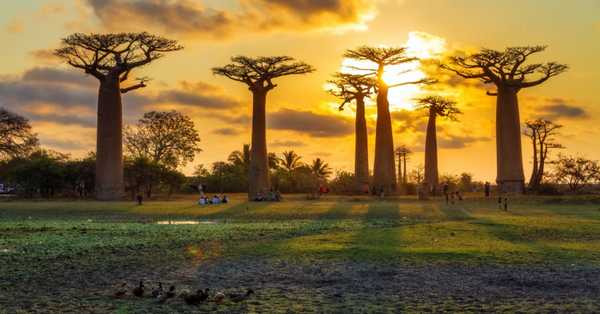 You can find about travel advice such as public places & services, best restaurants, activities, sightseen and other key facts of the Madagascar
Madagascar, officially the Republic of Madagascar, and previously known as the Malagasy Republic, is an island country in the Indian Ocean, approximately 400 kilometres (250 miles) off the coast of East Africa across the Mozambique Channel. At 592,800 square kilometres (228,900 sq mi) Madagascar is the world's second-largest island country, after Indonesia. The nation comprises the island of Madagascar (the fourth-largest island in the world) and numerous smaller peripheral islands. Following the prehistoric breakup of the supercontinent Gondwana, Madagascar split from the Indian subcontinent around 88 million years ago, allowing native plants and animals to evolve in relative isolation. Consequently, Madagascar is a biodiversity hotspot; over 90% of its wildlife is found nowhere else on Earth. The island's diverse ecosystems and unique wildlife are threatened by the encroachment of the rapidly growing human population and other environmental threats.

Foods in Madagascar :

(1) Romazava
(2) Lasopy
(3) Varenga
(4) Vary amid 'anana
(5) Salady Voankazo

Weather & geography in Madagascar :

Madagascar is a large island located in the Indian Ocean, and has a tropical climate, rainy along the east coast, arid in the south-west, and temperate in the mountains. In inland areas, mountain ranges mitigate the climate, while rainfall varies depending on slope exposure.

Per day Cost in Madagascar :

You should plan to spend around MGA299,858 ($80) per day on your vacation in Madagascar, which is the average daily price based on the expenses of other visitors. Past travelers have spent, on average, MGA109,629 ($29) on meals for one day and MGA50,007 ($13) on local transportation. Also, the average hotel price in Madagascar for a couple is MGA251,757 ($67). So, a trip to Madagascar for two people for one week costs on average MGA4,198,008 ($1,117). All of these average travel prices have been collected from other travelers to help you plan your own travel budget.

History of Madagascar :

The history of Madagascar is distinguished clearly by the early isolation of the landmass from the ancient supercontinent containing Africa and India, and by the island's late colonization by human settlers arriving in outrigger canoes from the Sunda islands (Malay Archipelago) and from East Africa. These two factors facilitated the evolution and survival of thousands of endemic plant and animal species, some of which have gone extinct or are currently threatened with extinction due to the government not allocating resources to help the growing population, causing many people to resort to harmful environmental practices as a way of survival. Over the past two thousand years the island has received waves of settlers of diverse origins including Austronesian, Bantu, Arab, South Asian, Chinese and European. The majority of the population of Madagascar today is a mixture of Austronesian and Bantu settlers. Despite popular belief, there has been no genetic input from Arabs or Indians, although one tribe, the Antemoro, claims descent from Somali Arab traders.

Language in Madagascar :

Malagasy
French
Culture of Madagascar :

The culture of Madagascar reflects the origins of the people Malagasy people in Southeast Asia and East Africa. The influence of Arabs, Indians, British, French and Chinese settlers is also evident.

Things to see in Madagascar :
(1) Avenue of the Baobabs
(2) Tsingy
(3) Isalo National Park
(4) Nosy Be
(5) Île Sainte Marie
(6) Ranomafana National Park
(7) Andasibe-Mantadia National Park (Lemur Island)
(8) Toliara
(9) Antananarivo
(10) Overload on zebu
(11) Drive the N5
(12) Go whale watching
(13) Enjoy the long drives and vistas
Hotel in    Madagascar :
(1) Sofia Province
(2) Viewpoint, Ranohira
(3) Lake edge (in October), Anakao
(4) Peyrieras Reptile Reserve, Mantasoa
(5) Musee Rabesandratana, Toliara

How to reach in Madagascar :

The majority of flights to Madagascar go to Ivato International Airport at Antananarivo. The main airlines serving Ivato are Air Madagascar from Paris, Johannesburg and Bangkok; Air France from Paris; South African Airways and Airlink from Johannesburg; and Kenya Airways from Nairobi.

Travel Guide for Madagascar : Food, Cost, Weather & geography, History, language, culture, things to see and do and how to reach. – Published by The Beyond News (Travelling).