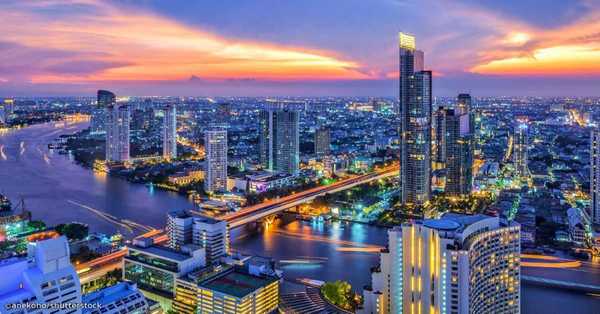 There are world's best attractive place, which are most liked place by tourists
1. Bangkok 
Bangkok, the capital of Thailand, is the most visited city in the world thanks to a whopping 22 millions international visitors! The review puts Bangkok as the most visited city in the world, with approximately 22 million international visitors. More detailed studies reveal visitor patterns, such as an average of 4.7 nights stay and average spending of USD $173 daily. 
2. Paris 
Paris is the second most visited city in the world and the most visited city in Europe! Paris will arrest your attention with its classic buildings, arching Parisian bridges and elegant boulevards. Take a cruise along River Seine for a quick look at the city's historical monuments, or swing by individual neighborhoods for Eiffel Tower, Notre Dame, the Louvre, and more.Total International Visitors: 19.10 million. 
3. London 
London is clearly one of the most popular cities in the world! The gothic architecture in London is matched by splashes of innovation (such as the Shard, Tate Modern, and the Sky Garden), offering up grand and historical quarters. You'll be charmed by the taverns and all of West End and impressed by London's contemporary art, theater and literature. Greeting you with both the beauty of green parks and urban sprawl, the city will take you through a stunning historical journey. Total International Visitors: 19.09 million.
4. Dubai 
Dubai rises out from the desert in all its futuristic glory. High-rises dominate the skyline, housing mega-malls, and sleek office blocks. City life is defined by lazy shopping, performance venues, serene places of worship, and fancy rooftop terraces. On the fringes are beaches, pieces of nature in contrast to the man-made aquariums and botanical gardens. Total International Visitors: 15.93 million.
5. Singapore 
Green and innovative, Singapore is a city designed with the future in mind. Hop from attraction to another with its efficient transportation system and hit up the diverse neighborhoods of Little India to Chinatown. From hawker centers to street markets to fine dining, you'll be eating your fill of multi-national cuisine – Singapore is a foodie must-visit. When you're not busy eating, you will be basking in the luxe Orchard Road shopping mall, or exploring the famous Botanic Gardens. Total International Visitors: 14.67 million.
6. Kuala Lumpur 
Anchoring the sprawling Kuala Lumpur City Centre, are the iconic Petronas Twin Towers. Hailed as the Twin Jewels of Kuala Lumpur, a visit to KL just is not complete unless you have visited these doppelganger structures. It comprises the city's most iconic landmarks, both natural and manmade, and showcases the best KL has to offer. The Malaysian capital is known for its multicultural community, which mainly consists of Malay, Indian, and Chinese residents. As a result, you'll find vibrant events and festivities celebrated throughout the year, while local markets and religious sites offer a glimpse into the local culture and lifestyle. Total International Visitors: 13.79 million 
7. New York 
One of the greatest cities in the world, New York is always a whirlwind of activity, with famous sites at every turn and never enough time to see them all. Some people come here to enjoy the Broadway shows; others come specifically to shop and dine; and many come simply to see the sites: the Statue of Liberty, Empire State Building, Brooklyn Bridge, Central Park, historic neighborhoods, and numerous world famous museums. Many of the best places to visit in New York are within walking distance of each other, or just a short ride away, making this city a delight for sightseeing. Total International Visitors: 13.60 million 
8. Istanbul 
Coveted by empires across the centuries, straddling both Europe and Asia, Istanbul is one of the world's great metropolises. Founded around 1000 BC, the colony of Byzantium grew into the Byzantine Empire's great capital of Constantinople and after the Ottoman conquest of the city, retained its glorious place as the heart of their empire. The city (officially renamed Istanbul after the founding of the Turkish Republic) is liberally scattered with glorious remnants of its long and illustrious history, and the sightseeing here will impress even the most monument-weary visitor.  Total International Visitors: 13.40 million 
9. Tokyo 
Tokyo, the capital city of Japan and one of the best places to visit in Asia, is also home to the Imperial Palace and the seat of Government and Parliament. Located in East-Central Honshu, the largest of Japan's main islands, this heavily populated city is well worth visiting, and serves as a great base from which to explore other parts of the country. One of the world's most modern cities in terms of its infrastructure and design - due largely to the 1923 earthquake and the devastation of WWII - Tokyo also holds the title of the world's most expensive city in which to live. Fortunately, it's also one of the easiest to get around thanks to its superb rail and subway networks. Total International Visitors: 12.93 million 
10. Antalya 
ntalya offers plenty of things to do for everyone. If you want to dose up on sightseeing, you'll find a fascinating line-up of tourist attractions to keep you busy. The labyrinthine old town is full of atmospheric historic sites, while the city is perfectly placed to act as your base for sightseeing around the outlying area, where dozens of grand ruins await. It's not all history, though. This city is also a great spot for your launch onto the white-sand beaches of Turkey's Turquoise Coast. Beach lovers and history buffs will both leave satisfied. Plan your trip with our list of the top tourist attractions in Antalya. Total International Visitors: 12.41 million